Making a logo for your venture seems like common sense, however, sometimes, due to so many things happening all at once, we seem to forget even the important things. It's crucial that you do not forget your photography logo. A logo is what represents a company without using a description, it defines your venture and the design gives away the theme and motto of your work. So, as you can see, it is important to have a logo for your phone venture.
108+ Photography Business Templates in PDF, Word, Excel, PSD, Google Docs, InDesign, Apple Pages, HTML5, Google Sheets, Publisher, Apple Numbers, Illustrator - START DOWNLOADING
5 Steps to Write a Photography Logo
Step 1: Fonts are Important
Photography, or any logos for that matter, have to be brief. So, it is important that you pay attention to the little details. In the case of photography, it is all the more important that the visuals are good because your venture deals entirely on visual outlook. Make sure you use fonts that speak to you can represent you.
Step 2: Choose the Right Colors
Like mentioned before, small details in logos are crucial. When using colors for your logo, make sure that the color combination doesn't break the harmony or theme of your phone business. Using appropriate colors will not only appeal to the eye but will also create a good atmosphere for your venture.
Step 3: Select Goof Patterns
Logos being brief, it is important that you use the brief space for good and make the most out of it. When designing a logo, you can add a few patterns, however, make sure that the patterns are minimal and won't overwhelm the space of the logo. Go with something light yet meaningful for your pattern on the photography logo.
Step 4: Set a Theme
It is obvious for you, as a creative venture, to have a theme for your work. If you do have a set theme that you are bent on, make sure that the theme plays a role in the logo. Be it with colors or patterns, your logo design had to be connected to the theme on which you run your venture.
Step 5: Leverage Creativity
Understand that logos are used by every business, small or large scale, everywhere. You cannot make a logo on the basis of what's popular or has been used for a long time. Use your creativity to make your logo correspond to your photographer soul. Add personal touches to the logo that only you can do. Make sure that the logo is unique to you.
10+ Photography Logo Templates
1. Elegant Wedding Photography Logo
Download
The font and the colors used in this logo compliment the style of a photographer who covers family events such as weddings. The font is a cursive tone, whereas, the color used for it is white. This photography logo template is a premium to download and is easily customizable. The template is available in JPEG, PNG, SVG, EPS and AI.
2. Watercolor Photographer Logo Samples
Download
The uniqueness of this free logo template lies in the fact that the watercolor design used to make the camera is utterly gorgeous and admirable. The digital watercolors used on the camera are purple, pink and blue, making for a sublime combination.
3. Creative Tiara Photography Logo
If you want to go the extra mile with designs and patterns for your photography logo, this logo template is the perfect match for you. The tiara design on top of the signature really adds another level to the template. The template is premium to use and is customizable to suit your style.
4. Creative Photographer Logo/Insignia
Download
Against the background of black, the cursive font represents the color of pastel pink. The design of this photography logo template is simple and yet quite efficient. The contrast of colors here are classic and effective. The blank logo template is premium to download and is available in a PSD file, making it customizable.
5. Simple Photography Calligraphy Logo
Download
The calligraphic tone of this photography logo template makes all the difference to its design. The template is simple, but due to the font, it looks a lot for complex and layered. The logo template is a premium to download and use and is customizable. When you purchase this template, you will get two JPEG and one PNG files.
6. Minimalist Photographer Logo Sample
Download
The pattern on this photography logo template resembles the work of modernist art movements. The splatter of color around the initial give this template a great and beautiful look. The backdrop here is black, while the colors around are silver. The modern logo is premium to use and download.
7. Modern Photography Logo Design
Download
The only way to define and describe this photography logo template is regal. The feel this photography logo template gives off is of sheer elegance and sophistication. The usage of a black background combined with the golden fonts brings the template together. The template is a premium to download.
8. Standard Photography Logos Examples
Download
If you decide on getting this template, you will be receiving a total of two hundred photography logo templates. All the logo templates use the same theme of black backdrops with white fonts and patterns. The templates are premium to download and are easily customizable. Upon purchasing this creative personal logo design, you will receive the files in AI, EPS and PSD formats.
9. Vintage Photographer Logo
Download
Like the name suggests, the design and fonts on this vintage photography logo follow a vintage style and design. The splattering lines around the name make for a beautiful visual effect. The template has a background of white with black patterns.
10. Brush Stroke Photography Logo
This set of photography logos contains several creative logo designs that are quite unique and different from each other. Some of them look like oil colors have been used to create them, while some look digitally created and executed. Some even have watercolour tones to them.
11. Elegant Logo Designs for Photographers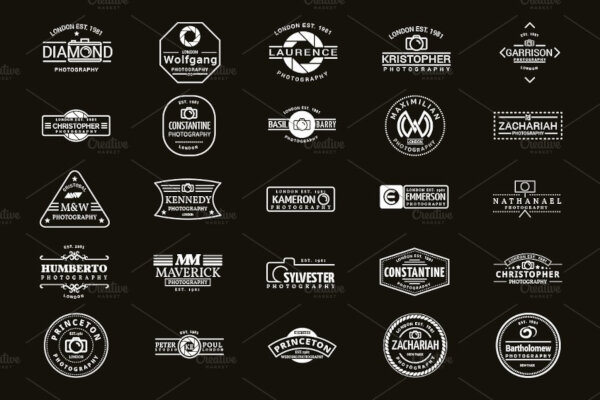 Download
This is not just one template design, this package contains a total of twenty-five photography logo templates, so you can pick and choose according to your liking. The patterns here are quite standard, with most logos using a camera design. The black and white logo is easily customizable.