Logo
27+ Electrical Logo Templates
While electrical logo makers continue to be ever popular, our collection of electrical logos is an asset that you can hardly afford to pass on. These free and sometimes paid (for the more premium ones) logo vectors come from a vast pool of design elements.These electrical logo creators have drawn inspiration from a range of electrical logo examples. These logos are symbols of an age where catchy visuals determine the accessibility of the consumer to the producer, which inspires us to work towards providing you with a vast range of electrical logos for download.Simplicity With Style: Stories Of A Creative Harmony People say that the best things in life are often the simplest ones, which is what our design aesthetics guarantee when you look at our range of top electrical logo design template. Themed to be a perfect companion to your more complex design, these electrical logos are humble yet dominating, attractive yet simple.The easiest way to portray your message is through an evocative logo, and these design assets ensure that you are able to do just that.(electrical logos,electric logo,electrical logo design,electricity logo)Brighter Than The Brightest.In the event that we haven't emphasized this enough, these logos are simply the best electrical-styled insignias that you'll ever find anywhere on the internet. From greenery and energy efficiency, to clean, cutting edge technology, our collection of electrical logos is designed so as to portray the message in the medium.If you have any DMCA issues on this post, please contact us! You can also see Company Logos.
Vintage Electrical Logo Template

The Vintage Electrical Logo Template are best suited for websites for electrical equipments and fittings. This electrical logo vector is in JPG format of 4000x4000px size. This template comes with an EPS 8 file.
Bold Electrical Logo Template

The Bold Electrical Logo Template is best suited for any website which will help it get better with its communication ability. This template has high resolution symbols and ready to use files. It has Read-me files along with links.
Storm Electrical Logo Template

The Storm Electrical Logo Template has EPS files along with it. It has clean and stylish logo designs with six variants of colour layouts. It is a 100% vector customisable template and helps represent one's institution uniquely.
Splash Electrical Logo Template

The Splash Electrical Logo Template is unique design for all kinds of websites and has both horizontals as well as vertical versions. This electrical logo images has unlimited high quality dimensions so that they are easy to print.
Home Electrical Logo Template

The Home Electrical Logo Template is a 100% vector image template in which texts and contents can be easily re-defined. This template comes with EPS files with CMYK colour layouts. The logo can be easily resized depending on requirements.
Volt Electrical Logo Template

The Volt Electrical Logo Template is very much suitable for websites related with communication, technology and electronic devices. This template has black and white as well as colourful variations. This electrical logo psd are in Al and also EPS file format.
Hexa Electrical Logo Template

The Hexa Electrical Logo Template is absolutely editable and re-sizable with 100% vector designs. It has both vertical and horizontal layout. It has colour mode in CMYK with high resolution symbols. It has a Read-me link along with a font link.
Shine Electrical Logo Template

The Shine Electrical Logo Template is conceptualised on the basis of Leaf and contains CMYK files. It is based upon Ai and EPS files and are absolutely editable with variable shapes, sizes, colours and vector files.
Scheme Electrical Logo Template

Scheme Electrical Logo Template is professionally designed for various kinds of websites. This electrical logo creator is filled with EPS, PDF and Al files. This responsive template is ready to print and is 100% vector.
Plant Electrical Logo Template

Plant Electrical Logo Template is a resizable template with JPG image and vector EPS files. It is best suited for websites catering to industries, energy, electricity, and much more. This template has numerous colourful layouts and colour schemes to choose from.
Shield Electrical Logo Template

Shield Electrical Logo Template is an illustrative logo design for industrial websites. The logo is absolutely re-sizable vector files. This vector is available Al and EPS formats. Various Google Web Fonts are used in this and are also easy to customize.
Unique Electrical Logo Template

The Unique Electrical Logo Template is available in three different colour versions of greyscale, colour and even single colour. One can anytime resize the logo without much difficulty, whenever needed. Also, the colours, texts, fonts can also be edited quick and easy.
Industry Electrical Logo Template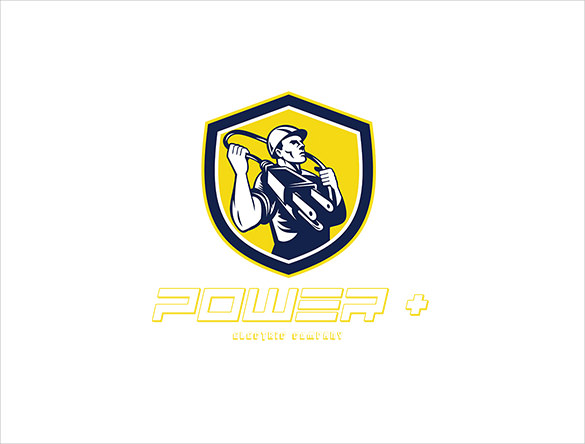 The Industry Electrical Logo Template displays how an electrician is holding an electric plug around his neck. It is a 100% resizable vector design with retro design in EPS vector format. The template has fonts and colours which can be easily customised.
Trade Electrical Logo Template

The Trade Electrical Logo Template are ideal designs for illustrating the power of several industrial businesses. This template has 100% vector format and has Ai and EPS files included with itself. Several PSD files are incorporated in this template with free font link.
Letter C Electrical Logo Template

The Letter C Electrical Logo Template is a very stylish and sleek design for modern industrial template. This logo template psd is entirely vector graphic in nature. This logo is best suited for c-letter related projects.
Neo Electrical Logo Template
Thunder Electrical Logo Template
Modern Electric' Logo
Battery Electrical Logo Template
Clean Electrical Logo Template
Modern Electrical Logo Template
Cable Electrical Logo Template
Dots Electrical Logo Template
Hardware Electrical Logo Template
Electric Cube Logo Template
Pole Electrical Logo Template
Plug Electrical Logo Template
> Conclusion
These electrical logo download are very much stylish and well designed. All these templates are logo vectors with various attractive visuals to attract viewers. These logos are indicators of what the websites are trying to convey and also helps the consumers to access easily. These templates are also easy to download.