Logo
19+ Best Train Company Logos & Designs for Download
Logo plays an integral role in identifying a brand. Hence, it goes without saying that if you own a business, you should aim at building a very unique and appealing logo for your business. A logo that you should use for your business should be simple and easy to remember.It is not easy to decide on logo for a company mainly because there are many things that needs to be taken into consideration before choosing a logo. Things such as aims and objectives of your business should reflect through your logo. You may also see Construction Company Logos. Before you spend your money to hire a web designer to create an exclusive logo for your brand, you should consider looking at some of the high quality logos that are available online. You will find thousands of logo samples spanning across diverse niches.If your business requires a railroad or train logo, you can browse high quality Best Retro Style Logo Designs that are created by highly professional graphic designers. Most of the train logos that are available are mainly designed taking into consideration the requirements of the travel industry.
Old Train Logo

This is a simple train company logo design that you can use. It depicts an older steam engine in black and white with the name of the business and slogan underneath.
National American Rail Logo

If you want something patriotic, then this is the option for you. The diesel engine is in the background with 3 stars over it in a blue background and red and white stripes on the bottom.
Bullet Train

This image is of a bullet in the shape of a train with flames coming out of the left side. The name of the business is put underneath and you can get it in different colors.
Traines Logo

Simple is what this train company logo design is and it shows a bullet train in grey and black inside a square with rounded edges. It has the name of the business underneath along with the tagline.
Payload Railway Logistics Logo

This circle shaped emblem has a train in the middle in dark blue and orange. The name of the company is placed under the image and this can be easily customized.
Train Logo

This is another simple option and it shows a bullet train running on the tracks. It is surrounded by half an oval and the business name and slogan are listed beneath.
Golden Age Steam Powered Tours Logo

For those who are giving tours, then this is the ideal design to use. The company name and slogan are on the top with the train image underneath in grey and yellow.
DentoTrain

If you want something that doesn't portray the entire engine, then this is the best one. It shows just the grills of the train along with the smokestack in blue and green. The business name surrounds the image.
Seminole Gulf Railway Logo
Old Train Logo
Continental Journey by Rail Logo
Precipice Alpine Rail Guided Tours Logo
Cinema Train
SeoulTrain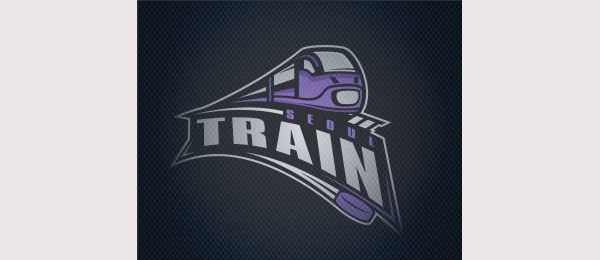 InkTrain
Rail
If an upcoming project requires you to make use of a railroad symbol, you will surely find couple of options that will suit your requirements. Some of the train logos can be used for free but there are other premium logos that can truly accentuate of your business website. So, what are you waiting for? Choose a pre-made train logo so that your audience can connect to your business. You can also see Sports Logos. If your business has anything to do with trains, or even if you just love them, then you can create your own logo or stationary. These are just some of the best ones that you can enjoy.