Icons
21+ School Icons
School Icons are building their importance in the education sector as they are much appealing than a plain text. All these school icons grab a lot of attention and connect you towards the school/ college. These icons can be used for school banners, ads, websites, greeting cards, magazines, brochures, etc. Even these icons are available in high resolution and in different file formats. We have listed below the list of 15 School Icons which you can use for your school or education purposes. You can also see Smiley Face Icons.
School Bus Icon
This yellow color school bus icon looks realistic with a ribbon banner on the background. This icon is available in JPG and EPS formats. Click here to download.
Book Icon
Kids will definitely love to read the books if these yellow and blue colored Book Icons are used. These book icons are available in various file formats. To download, click here.
High School Icon
These high school icons contain images of school, college, universities, libraries etc. All the icons are available in high resolution and are thin lined designs. Download this now. You can also see Book Icons.
School Building Icon
These school building icons give the aerial view of the school building with the bus, benches and the surroundings of the school. Icons are available in editable EPS and JPG formats.
These beautifully designed School Map icons are available in various formats. These thin lined navigation and direction icons are perfect ones for your school projects. Click here to download.
Pencil Icon
This black pencil icon with white background reminds us of our old school times. These high-resolution icons are available in various sizes and it gives a realistic look of the pencil.
School Folder Icon
This school folder icon contains icons of a microscope, mathematics, blackboard, bus, graduation hat, bell, backpack etc. These thin lined icons with green background look great and are available in JPG, EPS, and Illustrator formats. You can also see Star Icons.
Board Icon
These Board icons consist images of school books, microscope, chalkboard, welcome ribbon background etc. Also, the color combination of icons and background can be changed. Download the evergreen board icons here.
School Teacher Icon
This cool School Teacher Icon with students, teacher and blackboard takes you to the classroom. This vector icon is available in high resolution with several sizes. Click here to download.
School Bell Icon
This School Bell Icon with bell, calendar and red marked day reminds us of going back to school. This icon is available in JPG and EPS format. So download this icon to inform reopening of school. You can also see Car Icons.
School Group Icon
This School Group Icon contains icons of thin lined, colored and black & white icons. There are group icons of students, parents and children, books etc. Click here to download these various types of group icons.
School Boy Icon
This School Boy icon with a cute boy with a bag is simply amazing. This icon with wrinkles and shadows makes it realistic. Click here to download.
School Icon Pack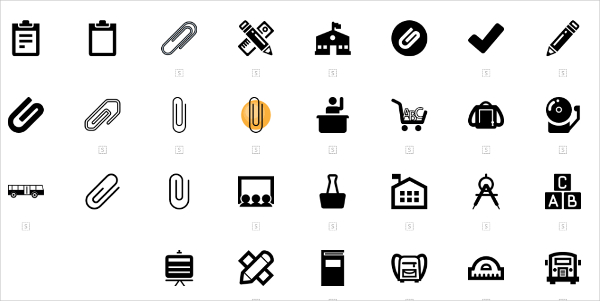 Here you can find a collection of School Icon Pack which includes computer, school, alphabet blocks, paper pad, teacher, etc. Download here for all your education projects. You can also see Free Icon Set.
School Icon Set Free Download
Here you can find a set of School Icon Set which contains images of schools, students, certificates, painting and much more. All these icons are free to download and such a colorful icons will make students happy.
Collection of School Icons
These collections of School icons are colorful as well as black & white. All these school icons are available in vector graphics and relate you to your school time.
Set of School Icons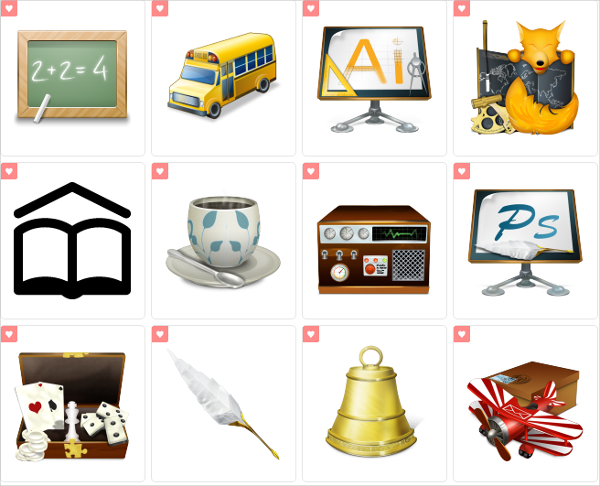 School Student Icon
School Bag Icon
> Conclusion
These are the 15 School icons which every school-goer, as well as the parents, will like. These designs will definitely tell the message you want to tell even without the text. So, select any one of the above school icons for education purpose and make students and parents happy.
More in Icons