Weddings are such specials both for the couple and for the people around them such as their respective families and friends. One good way of gathering memories from the event is through photos, but these can also be used effectively prior to the wedding. Below are some invitation templates that'll allow you to showcase stunning photos.
7 Steps to Create a Photo Wedding Invitation
Step 1: Prepare a guest list
You should start the process of creating wedding invitations by listing the guests that you wish to invite in the event. This is referred to as the guest list and this will serve to determine how many copies of the invitation you will need to print as well as how you should compost your invitation statement.
Step 2: Gather fabulous photos
When gathering photos, never just choose mediocre ones, you should always go for those that are exceptional, vibrant, and captivating. According to experts, you should use photos between 150 to 300 DPI (dots per inch). Photos of this quality can increase the value of your invitation and make people want to hold on to it as a keepsake.
Step 3: List down the wedding details
Wedding invitations usually consist of the names of the bride and groom, the date and time of the wedding, the venue for the wedding ceremony and the reception, and the instructions for the RSVP. To make sure that nothing gets left out, it is best to prepare a list of all of these details on a separate sheet of paper.
Step 4: Customize a photo wedding invitation template
We've got over ten photo wedding invitation templates below for you to choose from, simply pick out at least one and download it. Afterward, you can start customizing it by adding the content and the photos. To do this easily, make sure that your downloaded template is in a format that's compatible with your editing tool.
Step 5: Create an RSVP card
While RSVPs aren't really required for casual events, they are a must for formal ones including weddings. If you're lucky enough, your invitation design template might already come with an RSVP right off the bat. Otherwise, you might need to look for one that would match the look of the invitation.
Step 6: Check the accuracy of the details
It's very important to ensure that all the details written on the invitation are correct especially for the schedule of the event and the street address, you wouldn't want to mislead your guests. And while you're at it, you might as well evaluate the look of the invitation and decide if it's already worth showing off and treasuring.
Step 7: Print your invitations
Printing your invitations is actually no stress regardless if you choose to do it yourself or by professionals. Just remember to always use durable and high-quality materials or ask professionals to use them for printing your invitation cards. Also, try to print more copies of your invitation than the number of people indicated on your guest list.
7+ Photo Wedding Invitation Templates
1. Creative Photo Wedding Invitation
Go the extra mile by adding a photo to your wedding invitations. It may seem like a very subtle addition to the design but it can greatly enhance the presentation and the value of the invitation. See the invitation template above as your reference, you'll see that you don't need to a full-page photo just to make your invitation impactful.
2. Photo Wedding Invitation Sample
It's very common for every engaged couple to go out and have a prenuptial photoshoot either days, months, weeks, or even months prior to the wedding. The photos from this pictorial are commonly presented during the wedding reception but you may also use it on your wedding invitations or your invitation brochures.
3. Wedding Photography Invitation Card
The addition of photos can take your invitation cards to an entirely new level if you only know how to use them. One good way of doing it is by creating a collage of all your photos for one side of the invitation card and use just one photo for the other. For more about collages, check out our photo collage flyer template as well.
4. Photo Wedding Invitation Format
Download
Not all invitation cards are created in the portrait format and you shouldn't just for diversity. If you want to make square-shaped invitation cards, you can although the template above is intended for making landscape invitations. For information purposes, this template is in PDF format which means you may need to edit it using Adobe Acrobat.
5. Monochrome Photo Wedding Invitation
Download
If you're planning to pull off a dramatic and formal-looking invitation card for yours or someone else's wedding, you might want to give the template above a try. One side of this wedding invitation template is chalkboard-inspired look while the opposite side contains a monochrome collage of photos.
6. Creative Photograph Wedding Invitation
Download
All templates that you can find in this article are fully editable, the one provided above is a very good example of an invitation template that offers an optional back page that you may or may not use. Whether you plan to go dual-paged or not, this formal invitation template looks just as elegant thanks to its choice of font.
7. Modern Photo Wedding Invitation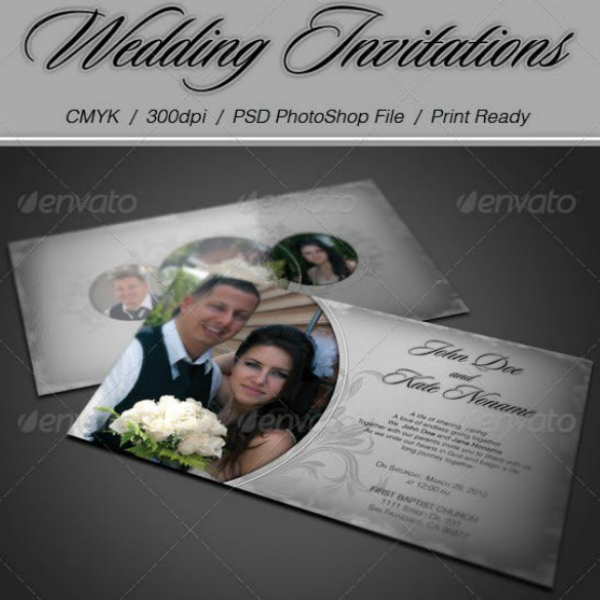 Download
If you're like most people, Adobe Photoshop may be your go-to editing tool. If indeed you are, then this invitation template in PSD might be perfect for you. If that alone impressed you, take note that this template is in 300 dpi, which means its quality should be beyond expectations.
8. Editable Photo Wedding Invitation Layout
Download
Always remember that filling up a given layout with too many elements and not leave room for white space will make the design look cluttered. A way around this is to decrease the saturation of some elements. Check out the elegant wedding invitation template above and see how desaturating the background can help declutter the design.