Invitation Templates
Mickey Mouse Invitation Templates – 26+ Free PSD, Vector EPS, AI, Format Download
Think Disney and you think of Mickey Mouse, and vice versa. People of all ages continue to be charmed the famous cartoon character, and why not? Mickey is adorable and most endearing, which is why when kids get asked which cartoon character would they like featuring on their birthday invitations? More often than not, Mickey Mouse takes the prize. That's why we have compiled wonderful Mickey Mouse birthday invite templates! Download, customize, print and distribute! You can also see Kids Invitation Templates Here.
Mickey Mouse Birthday Invitation Card Template
Download
Printable Mickey Mouse Invitation Card Template
Download
Mickey Mouse First Birthday Invitation Template
Download
Mickey Mouse Birthday Invitation Template in PSD
Download
Mickey Mouse Birthday Invitation Template
Download
Chevron Mickey Mouse Chalkboard Invitation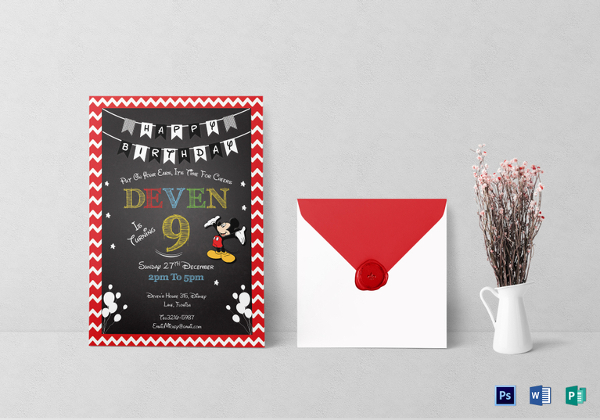 Download
Mickey Mouse Clubhouse Invitation Birthday Party
Download
Mickey Mouse Birthday Invitation Card Template
Download
Editable Mickey Mouse Birthday Invitation
Download
Wood Work Mickey Mouse Invitation Card
Download
Sample Mickey Mouse Birthday Invitation Template in Word
Download
Birthday Minnie Mouse Invitation Card Template
Download
Mickey Mouse Invitation Photo You Print Printable

Mickey Mouse Birthday Party Invitation Template is a colourful and beautiful template for birthday party invitation. Highly editable and featuring a Disney like font this template catches your fancy easily.
Mickey Graduation Invitation Card Mickey Mouse Photo Invitation Mickey Mouse Party
Invite your friends, family and neighbours to your child's kindergarten or preschool graduation party by using this Mickey Mouse party invitation. It features Mickey in a graduation robe with spaces left for venue, time and date of the party.
Mickey Mouse Birthday Party Photo Invitation

Use this Mickey Mouse template to print out the perfect invitation card. This template lets you incorporate one or more photos into it. This Mickey invitation is perfect for printing out a photo of the birthday boy along with party details.
Simple Black Mickey Mouse Invitation Birthday Mickey Mouse Party

This Mickey Mouse template is of what you call less is more. On a simple black ground the party details are printed out in bright colours along with a photo of Mickey Mouse and the birthday boy.
Mickey Mouse Birthday Invitation Printed Mickey Mouse Invitations

Put the template to good work by using it to generate Mickey Mouse party invitations in bright colours of the Mickey Mouse font. You can also attach it to your mail address and email Mickey Mouse invitations.
Birthday Party Invitations Mickey Mouse 8 cards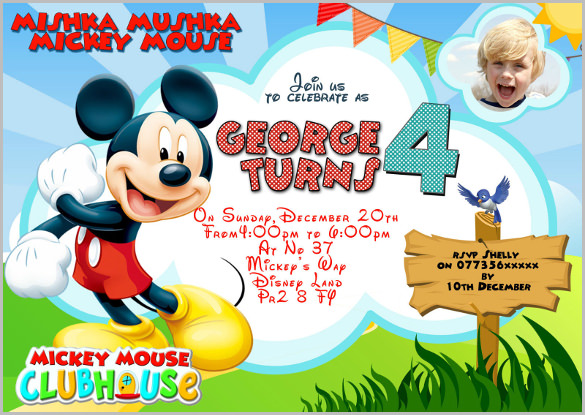 Put the template hard at work by making it churn out Mickey Mouse invitations that are all exquisitely designed to impress children and nostalgic adults both. This template for Mickey Mouse invites very popular among users.
Baby Mickey Mouse Baby Shower Invitations

Announce to the world the imminent birth of your child and invite your near and dear ones for a baby shower. Design the cutest Mickey Mouse invites using this template that features baby Mickey wearing pyjamas and a bib. This is also used to generate baby shower e-invitation.
Mickey Mouse Clubhouse Birthday Invitation

Delight all those children who receive this invitation by putting a picture of Mickey's clubhouse on it. Not only that the bright colours and Mickey Mouse font make this a popular Mickey Mouse invitation template among children as well as their parents who grew up with Mickey.
Mickey Mouse Clubhouse Invite, Mickey Mouse Invitation, Personalized, Printable, Pink Frosting Paperie

Print out the perfect birthday invitation with this Mickey Mouse invitation that comes preloaded with many images of the titular character as well as the world renowned Mickey Mouse font the template is easy to use and after printing it looks quite glossy and attractive.
Cute Mickey Mouse Clubhouse Birthday Party Invitation with Images

This template for generating Mickey Mouse invitation is one of the most popular templates available on the internet. The template comes preloaded with many images and the iconic Mickey Mouse fonts. The template is quite easy to use and once completed will be very attractive.
Black Chevron Mickey Mouse Invitation, Mickey Birthday Invitation, Mickey Mouse Clubhouse, Photo Invitation

This Mickey Mouse invitation template uses a dark but very beautiful theme to make the invitations. The template is loaded with various images of Mickey Mouse and the world renowned Mickey Mouse font. This is the perfect for making Mickey Mouse clubhouse invitations.
Free Mickey Mouse Birthday Invitation
MaryAnnColors Disney Mickey Mouse Birthday Party Invitation Card
Mickey Mouse Gender Neutral Baby Shower Invitation
Mickey Mouse,Disney Thank you Card
Look for colorful Invitation Templates available online. There are many choices on various websites.Look for discounts and do not settle for poor quality. There's no dearth of options online but again, the wrong ones can spin the entire invite experience around and you will regret not having researched enough.Look for accessories and DIY options. The thing with Mickey Mouse templates is that even if you use a bit of their part, you can use them on any invite to give the look and feel of the theme.Credit it to the online world that there are plenty of options to dig from. You can pick whatever you want at the price you want. Look for the best choice online and make the invites an all-time favourite element.
> Bring smiles and joy with the Mickey Mouse
Regarded as the most popular face among cartoon characters all over the world Mickey Mouse is the most recognizable cartoon character of all time. He is the mascot of the Walt Disney Company and Walt Disney Studios. He was created by the founder of Disney, Walt Disney in nineteen twenty eight. Ever since his inception he has remained the official mascot and most popular face of Disney Studios. Mickey is a mouse with large round years and a smile on his face. He is depicted as wearing yellow shoes, red shorts with two white buttons and white gloves on his hands. For this reason he is popular with not only children but also adults and so it is hardly surprising that Mickey would have soon made inroads in other ventures as well. From Mickey mouse masks, erasers, crayons, chocolates to lunch boxes, pillows, toys and lots and lots more there exists nearly one form every product in the world which has a Mickey Mouse shape template. The cartoon character with the most products to his name has to be without the shadow of a doubt Mickey Mouse. Nearly a century after his inception Mickey's popularity is still raging strong among fans, both new and hardcore.
> Mickey Mouse Templates
With the perennial popularity of Mickey Mouse remaining almost constant Mickey Mouse has also been featured on many templates. These templates are specially designed especially for children. The templates feature either Mickey Mouse thank you template or Mickey Mouse along with his friends like Donald Duck, Minnie Mouse and Goofy etc. These templates are all professionally designed and brightly coloured to impress and attract the young ones. These are highly decorative as well and are guaranteed to delight all the young ones when they lay their eyes on it. The templates come loaded with many images of Mickey Mouse and also many of them contain images of Mickey's friends, other popular Disney characters such as Donald Duck, Goofy, Pluto, Minnie Mouse and Daisy Duck. The default font style for the templates is also the world renowned font designed and copyrighted by Walt Disney and that has been exclusively used alongside the Disney logo.
> Using
There are numerous templates with the Mickey Mouse theme and most common among them are templates for birthday invitations templates, graduation invitations templates, birthday party photo invitation templates and lots and lots more. These templates are available either in PDF or are MS Word format and are thus easy enough to edit to your specifications. The bright and attractive colours look quite glossy when printed out and makes it look quite attractive to all those who cast their eyes on it. Children are attracted by bright colours and objects and hence the templates are all coloured very brightly for it is the children who are the target audience.
> Tips
Just download the template you find appropriate for the event and then easily customize the size, font and design to your own specific needs. It is quite easy enough to do. The bundles also come with samples that teach you how to do it as well. Mickey Mouse is not only popular with children but popular with anyone who was born after nineteen twenty eight and anyone with a sense of humour. So do not limit the templates to only for children. For all you know your friend who you work with was a big fan of Mickey Mouse and Disney in his younger days.
> Do's and Don'ts
Don't be afraid to experiment with different designs and styles. Many of the templates can be combined with other templates so mix and match to find one that suits you very well. Remember the principal of just because something can be done does not mean that it should be done. The templates are all designed professionally, tweak them here and there to your liking but do not go completely overboard with the editing otherwise you will end up with a mess. Do not limit yourself to using only Mickey's image, as all fans know Mickey and Donald are best friends and hence be sure to use Mickey Mouse and Donald Duck along with a host of other Disney characters in the clubhouse templates. For birthday templates find the image of Mickey and Minnie Mouse celebrating the birthday together. For the baby shower templates don't limit yourself to only the image of Mickey Mouse birthday invitation template as a baby look for the entre gang in their younger days and especially puppy Pluto and Goofy.