Invitation Templates
26+ 80th Birthday Invitation Templates – Free Sample, Example, Format Download
Planning to rejoice the birthday of your grandmother/grandfather? No worry, since the 80th birthday invitations of your loved ones would be the best and the most mesmerizing ones to date. Make the event more unforgettable and full of love and cheer with the help of any of the templates that are mentioned below. You can easily create a nice ambiance with beautiful innovative thoughts that would earn real-time admiration.
80th Birthday Party Invitation Template
Download
Get this mysterious black and white 80th Birthday Invitation Template that's perfect for the next birthday party of your loved elder one. Open high-quality photos in 300 dpi resolution and color space print standard. Edit using your choice of application. It is another added advantage that this template is not just limited to a computer or PC, but you can also download it on any electronic device with ease. Comfortably print at home or send out for commercial printing.
80th Birthday Invitation Template
Download
Is a special loved one turning 80? Celebrate that significant event with everyone by inviting them with this modish 80th birthday party invitation that is mentioned above. Easy to modify in Photoshop, MS Word, and Publisher. YOu can also share this digitally or take a print out and distribute it with ease. You can make sure to give out an expertly designed invitation that appeals to people of all ages. Download the template now!
Editable Chalkboard Birthday Party Invitation Template
Download
The chalkboard birthday party invitation template is bound to create more buzz and excitement for your party than ever before. See everything in crisp, clear, 300 DPI resolution: high-quality photos, eye-catching titles, standard fonts among others. Since it is available in many file formats, you can pick the one that suits your preferences and needs as you wish. Save a lot of time and effort since you do not have to create one right from scratch, just download and edit it. Check it out now!
Birthday Party Invitation to Edit
Download
Here is a black and white chalkboard birthday party invitation template that is great for any birthday party. This professionally drafted invitation contains standard fonts and licenses. Choose between printing at home or sending out for commercial print. All you would have to do is download the template, edit and modify it as per your needs. Share it on any social media or print it. Grab this template now!
Vintage Car Themed 80th Birthday Invitation
Wine Gold Colour Surprise 80th Birthday Party Invitation
Green 80th Birthday Party Invitation Template
Elegant and Beautiful Floral 80th Birthday Invitation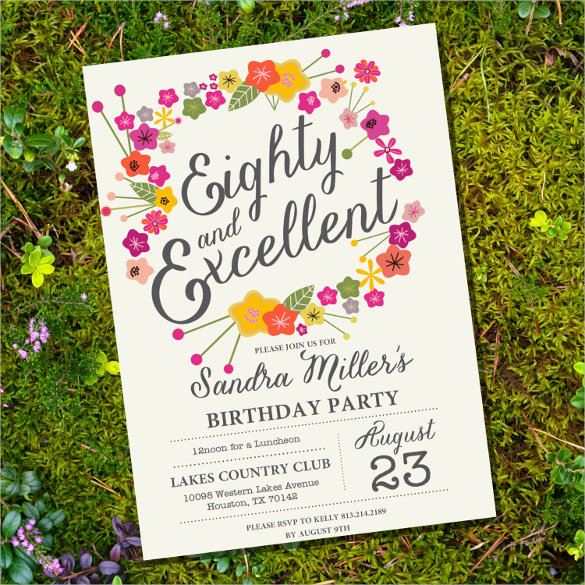 Black And Gold 80th Birthday Party Invitations with Photograph
Personalized 80th Birthday Party Invitation
Adult 80th Birthday Invitation With Custom Photos
80th Birthday Bookfold Invitations in Any Color
Printable 80 Open House Birthday Party Invitation Template
Gold Glittered 80th Birthday Invitation
Beautiful Blue 80th Birthday Invitation
Navy and Grey Modern 80th Birthday Party Invitation
Piano Theme Red 80th Birthday Invitation Template
Vintage Daisy 80th Birthday Invitation For old Women
Pink Diamond And Zebra Print 80th Birthday Invitation
Typography Grunge Vintage 80th Birthday Invitation
Purple Floral Mason Jar 80th Birthday Invitation
Silver Glittered Stripes 80th Birthday Invitation Party Template
Gold 80th Birthday Invitations With Customizable Two Photos
Newspaper Style 80th Birthday Invitation Template With Photograph
Colorful Cake Design 80th Birthday Invitations
Pink 80th Birthday Invitations For Women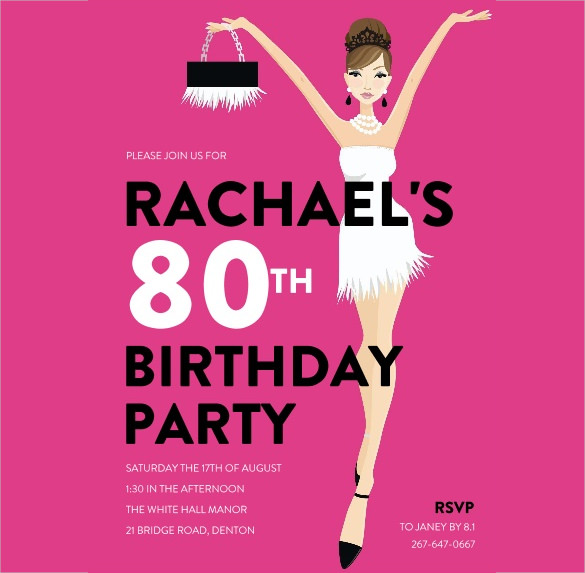 Final Thoughts:
There are many vintage birthday invitations which are available online which you can use for the invitations you want to design for your loved one and that is the retro theme. It gives a different look to the party, making it look retro style, just like good old days. You can pick the theme to either be a movie-style or just a simple black and white combination. The most common software that is used to create any kind of invitation templates is Photoshop, InDesign, etc. You can also use MS Word, Publisher, etc.
With the help of printable invitation templates that are available online, you can design the best and the most amazing invitations. You can also pick any of the templates that are mentioned above. This way, you can pick your theme to make the best invitation needed. You can find out some exclusive birthday sample designs, which would help you to come up with an exclusive outlook. Happy Designing!
More in Invitation Templates