When we hear the word arrow, we are reminded of two different meanings. It could either mean part of the weapon that Native Americans used to shoot down enemies or hunt animals, or it could also mean a symbol used to point or indicate a direction. Either way, this page is all about logo templates with an arrow as the main subject.
A logo, sometimes referred to as a logotype, is a recognizable and distinctive graphic image or symbol, which sometimes includes the company name. Check out our website for a whole gallery of logo designs that you can use for your business or personal endeavors.
Professional Arrow Logo
Free Vector Marketing Logo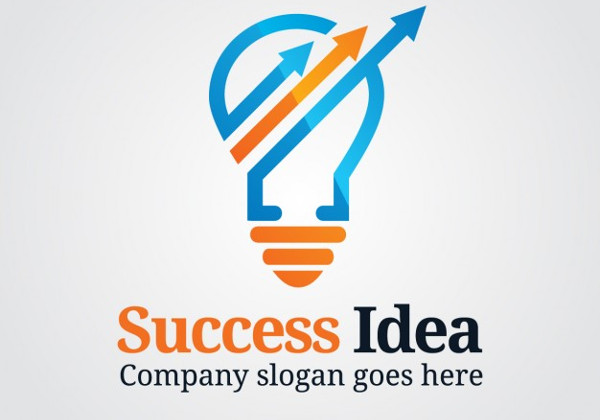 Colorful Arrow Logo
Abstract Arrows Logo
Free Business Arrow Logo
The Importance of Logos
Logos can help in branding, providing an image, or a first impression to your company.

Logos can build initial trust from the customers to the company. It leaves them with a first impression of the company.

An effective logo design will show to the people that you are sincere and committed to presenting your company to the general public.

Logos can help your company stand out from the competitors. The ability to differentiate yourself from competitors with your logo can help in drawing potential customers.

Logos can help in showing professionalism and stability. A professional-looking logo will show customers that you're good at what you do and your business is stable.
For other logo templates with geometric shapes, specifically the triangle, check out this collection of triangle logos from our website.
Designing a Logo
The logo should be describable, and it should reflect to either what the company is about or the kind of services the company offers.

The logo should also be memorable. In relation to being describable, a logo can be easily remembered if it can be described.

Keep it as simple as possible while also making it eye catching. Simplicity includes all elements of the logo—the design, colors used, font, and the size.

Look at the logo through the customer's perspective. You are making the logo for the benefit of the company, but to be able to enjoy those benefits, you will need to consider that your logo can attract the attention of prospective clients.

The logo should last long

. Make it memorable enough that even the next generation can still identify your company based on your logo.
Global Arrow Logo Template
Awesome Arrow Logo
Orange Logo in Arrow Shape
Vector Abstract Arrow Logo
Secure Arrow Logo Template
Why Choose Our Designs?
If you think our arrow logo templates can help you in designing your own logo for your business, then don't wait any longer—download our designs now. These templates were carefully selected from among the best ones all around the Internet and were designed by creative and talented graphic artists with a host of experience in designing logos for companies.
These templates can be easily accessed and downloaded for free, and you can choose to have it saved in either PSD, EPS, or AI formats. (We recommend the PSD format for those who are using Adobe Photoshop for high compatibility.) These templates are fully editable to provide you with the freedom to make the necessary changes that fit your preferences.
For people who enjoy hunting as a pastime or for outdoor and survival gear shops, you might also want to check out our gallery of hunting logos. You'll definitely want to bring your hobby to work. But if you couldn't find what you were looking for on this page, then scroll down and check out the suggested links that will take you to some of the related content on our website.