Icons
115+ Party Icons
Party icons are design-specific icons used for decorations and themes related to parties or celebrations. They generally include several celebratory occasions such as festivals, birthdays, anniversaries etc. They are available for download from various graphic Art rendering websites. You can also see Airplane Icons.
Their use varies from project to project, but mobile Apps such as the Birthday Calendar and social media websites use them to enhance their aesthetic appeal. We'll list their types and popular designs. You can also see Speaker Icons.
Party & Celebration Icons
Decorative icons with party elements such as bells, cakes etc in white, flat shaped design. They are embedded in a colorful image. Downloadable in Vector EPS and AI formats.
Birthday Party Icons
Beautifully designed Birthday icons with hand drawn thin line appeal. The colors are vibrant and a pleasure to the eyes. They are isolated on white with EPS and JPG formats.
Wedding party Icons
Wedding based icon sets with light and appealing colors. They feature various wedding elements which add to the value of the project, available in vector EPS and JPG.
Christmas Party Icons
Christmas is an auspicious occasion for which these icons are a must to download. They feature a cool and minimalistic design with short icons. They are available in vector EPS, PDF, and JPG. You can also see Free Icons.
Isolated Party Celebrated Icon
These party icons are isolated on a white background. The design features Android App interface with a leaning shadow. The symmetry is flat while colors are very well used.
Music Party Icon
The icon displays a saxophone record with a music alphabet marked with vibrant colors. The artist has provided with a resolution 5000×5000 PX, in Adobe Illustrator and EPS formats.
Alcoholic Cocktails Party Icons
These are icons featuring flat symmetrical party cocktails, vines, and tall glasses. Best for web designs of a hotel, pub or bar themed websites. Downloadable in EPS and JPG formats.
Party and Celebration Icon Collection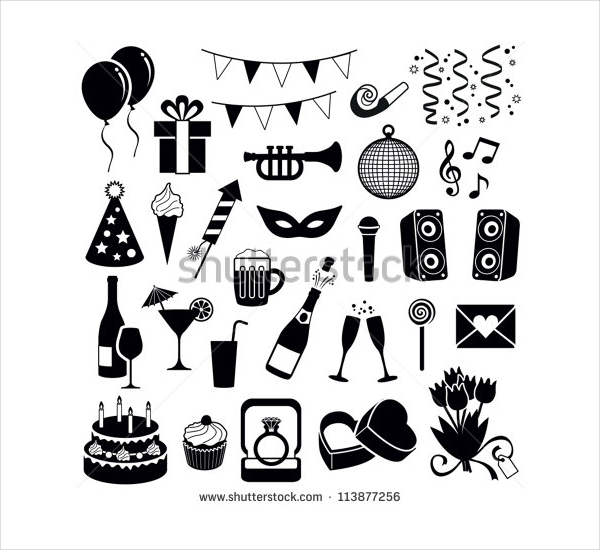 This is a typical party icon collection with a silhouette on white rendition. These are advisable for any amateur design projects as their use is easy. You can also see Web Icons.
100+ Celebration and Party Icons
This is a collection of about 110 party dedicated icons. These are scalable and can be edited in Adobe illustrator. A number of sizes are available with JPG, EPS, and AI files.
Set of Party Icons
This is an animated set of party icons featuring neat and clean thick lined design. They are made for App icons and mobile platforms with limited color options. You can also see Fashion Icons.
Club Party Icons
These are a little different – club themed icons with cartoon renditions. The design features a thick outline and a hand-drawn style. Dribble hosts them for various sites to download.
Party icons are a unique way to attract people for the theme you are creating for your project. These icons add to the overall appeal of the website and innovative buttons for mobile App platforms. Their eye-catching design and beautiful use of colors are a must for hotel and food related websites. You can also see Folder Icons.