Invitation Templates
16+ Pocket Wedding Invitation Templates- PSD, JPG, Indesign
For the casual invite look, you can go for pocket wedding invitation with contemporary cuts. These cuts will open like a book to reveal your card. Practical and modern, this wedding announcement keep all your wedding details neatly organized giving a clean and trim look to your big day. The guest will find all details inside the pocket neatly in place. The Wedding Card Envelope can be made in different styles and themes to match with different wedding ideas. You can be rest assured to get the best templates for your invites in variety of options like PDF, PSD, MS Word and many more Wedding Invitation Template.

Pocket Fold Rustic Wedding Invitation
Fold your wedding invitation cards and send them out in a brown envelope paper, wrapped in burlap and looking extremely graceful with this pocket fold rustic wedding invitation theme.

Wedding Invitation Pocket Folder
Make your wedding invitation card look beautiful and surprisingly cute with this wedding invitation pocket folder that looks formal from the outside but is very perky and peppy on the inside.
Postcard Pocket Wedding Invitation
Invite your family and friends to your wedding in style and fun with this funny postcard pocket wedding invitation that has a black colour about it. You can add a funny image of you and your betrothed to make it look better.

Gift Box And Flower On Wooden Backgroud
The say a good thing often comes in an excellent package. If you too believe that, send your wedding invitations to your family and friends in a very stylish and quirky manner with this gift box and flower on wooden box background theme.

DiY Printable Pocket Wedding Invitation Template
If you are one of those people who have a very artistic air about yourself and would rather do your wedding card designs yourself than get some else for the job, here is a theme that can help you in doing it yourself!

Wedding Branding Mock-Ups Vol
Make your wedding invitation card look more pleasant and more appealing with this wedding branding mock-up theme that has a very beautiful yellow colour all about it and helps you make your wedding card look more branded.

Fold Style Pocket Wedding Invitation
he best things often come in the smallest of packages, and as much as it holds true for the diamond ring that he will put in your fingers, it holds true for your wedding invitation card too. So use this fold style pocket wedding invitation that is small and beautiful at the same time.
Floral Botanical Wedding Invitation
If you love flowers and if wedding flowers have always fascinated you, here is your chance to use that as the main theme in your wedding invitation card with this floral botanical wedding invitation template.
Floral Panel Pocket Wedding Invitation Suite
Invite your family and friends to join you on the auspicious occasion of your wedding in a stylish manner, Make a statement with this floral panel pocket wedding invitation suite theme that looks utterly beautiful.

Wedding Invites Finished Up
Make your already perfect wedding invitation card look all the more elegant and graceful with this wedding invites finish up that gives your wedding card a final, finishing touch.

Chevron Wedding Invitation
Vintage Lace Gray Wedding Invitation
Custom Wedding Invitation Design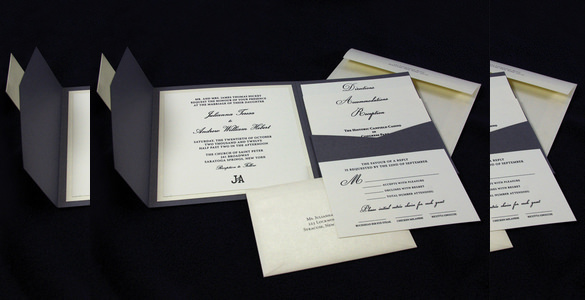 Pocket Wedding Invitation Mock-up
Mediterranean Wedding Invitation and Suite
Wedding Invitation Branding Mock-Ups
Open Diary And Pocket Watch With Gift Box On Wooden Background