Organizing for pool parties is hectic and the least misfortune you need is for your intended guests not to turn up for the event. This is the reason for which you may want to use Pool Party Invitations. They suit clubs, kids, families and friends. Due to their diversity, you can use them for a holiday, single day or weekend event. They feature varying color options, help files, sizes, shapes, styles and technologies for editing.
Club Pool Party Invitaion Template
The features organized and named layers, tutorial file, CMYK colors at 300 dpi resolutions and fonts' links. The 4 by 6 inches file with 0.25 bleeds is easily editable.
Weekend Pool Party Invitaion
Use the creatively designed Weekend Holiday Invitation Template in designing flyers and posters for your upcoming pool party. It features layers, 4 X 6 inches containing bleeds, 300 dpi and CMYK colors for printing.
Swimming Pool Party Invitaion
Invite your friends and family for swimming pool party using the handmade Invitation Card Template for instant download. It contains four PDF files with three invites that are easy to edit using Adobe Reader.
Summer Pool Party Invitation
Take advantage of the downloadable Summer Pool Party Flyers to invite kids to your water-related events. They contain layered file in PSD format, 0.25 bleed area, 300 dpi and print ready layout using CMYK colors.
Birthday Pool Party Invitation Template
Purchase the affordable and beautifully colored Birthday Kids Party Invitation that is availed for download as a ZIP file containing vector EPS and an Adobe Illustrator files. It contains four print ready invites.
Pool Party Flyer Invitation Template
Use the layered Pool Party Holiday Invitation Templates for any summer or beach event. The card that comes in two variations contains font's links, print ready layout, CMYK color code, 300 dpi and bleeds.
Birthday Pool Party Invitation
The hand designed Birthday Pool Party Flyers for shipping suit your invites and appreciation for winter and summer events. The ready to print digital file contains your customized preferences including texts and colors.
Beach Party Invitation Template Card
The professionally designed and colorful Beach Holiday Invitation Template comes in a wide variety of sizes and resolutions. You can modify its vector illustrations and typography for posters and club banners.
Free Summer Pool Party Invitation
Download and modify the Free Summer Pool Party Invitation Card Template that contains beautiful décor, flowers, dress, and gift boxes and different drinks in a variety of glasses. Use it in generating party ideas.
Beach Pool Part Invitaion Template
Priding in layered PSD files are the Beach Kids Party Invitation Templates in elegant blue and white colors. The 4 by 6 inches files contain .25 bleeds, CMYK colors at 3000 dpi resolutions.
Chalkboard Pool Party Invitation
The handmade Chalkboard Pool Party Flyers designed as clipart using PC and Photoshop software come in JPEG, PDF and E-vite formats of standard sizes. They feature customizable colors and texts.
Pool Party Birthday Bash Invitation
Apart from illustrations and graphic design, the Pool Party Holiday Invitation Template features print layout. The birthday invitation utilizing Adobe Illustrator features social stationery, beach ball and editable elements.
Beach Party Invitation Card
The beautifully colored Beach Party Invitation Card is availed in vector format of high resolution. You can change its texts, colors, sizes using Shutterstock Editor when designing summertime flyers and banners.
PSD Design Pool Party Invitation
You can fully edit al elements of the Kids Party Invitation Template that comes in print ready format. It contains CMYK colors, layered PSD file, bleeds, resizable vectors and fonts contained in a link.
Printable Pool Party Invitation Template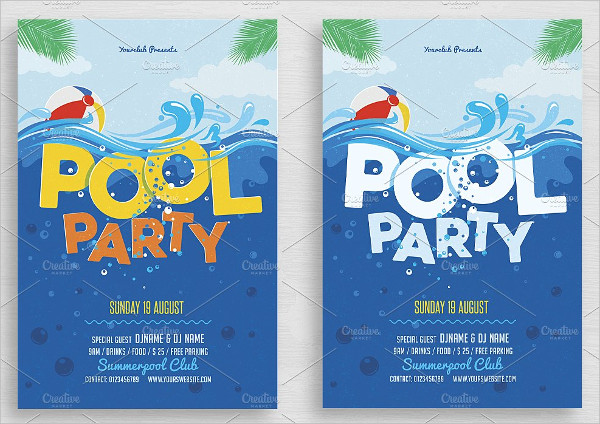 The Printable Pool Party Flyers pride in layers, vector shapes and ready to print CMYK colors at 300 dpi resolutions with bleeds. The resizable invitation templates require Adobe Photoshop CS2+ for modification.
Kids Pool Party Invitation
Download
Float Pool Party Flyer Template
Download
Pool Party Design Template
Download
PSD Design Pool Party Invitation Template
Download
Minimal Pool Party Flyer Invitation Template
Download
Printable Pool Party Invitation
Download
Freely use the premade Printable Pool Party Invitation Templates to ensure your intended visitors show up for your events. The easy to use documents that are ready for printing are at times availed for editing and customization. You can personalize them to enhance their usefulness. Luckily, they are affordable and efficient.