Marketing your business in a unique way can definitely prove useful. That is why it is better to rely on the creative email invitation template that help you to fame a proper email that can be sent to all your clients. A long lasting impression is very necessary and that is why a creative design is required which makes a huge difference. With the help of these templates like word, outlook and html, you can infer more about creating the invitation templates or what design can be opted. So get numerous ideas of creating email invitations that help in proper marketing of your services and targeting the customers.

Email Lunch Invitation Template
Email Party Invitation Template
Potluck Party Email Invitation Template in InDesign
Download
Email Wedding Invitation Template Oscar
This wedding invitation email sample is an elegant template that can be used for inviting through email. It is entirely customisable with high resolution at 72 dpi that comes in a standard size with bleeds. The subtle colour combination adds to its beauty.
Sola EmaiI Invitation Template Builder
This informal invitation email sample is perfect for all kinds of usage. It has high resolution at 600 px with highly organised layers which can be edited without a fuss. Only free fonts have been used here making it more easier to customise.
Invitation Email
This invitation email format can be used for multifarious uses. You don't have to be a professional graphic designer for any kinds of edits or customisations. As a business owner, you can grab in more users by inviting your users for some free gifts and goodies.
Wedding Invitation Email Template PSD
This engagement invitation email sample is one of the best choices for inviting your friends and relatives for your wedding. It has a flawless design with free fonts, free icons and free images used in it so that it can serve your purpose with little bits of edits.
Pulsr Email Invitation
This sample party invitation email a very good choice for inviting people via email for any upcoming event. It has bright pink,and white colour combination with highly organised layers with bleeds can be customised to add your company name and details.
Email Invitation for Leaders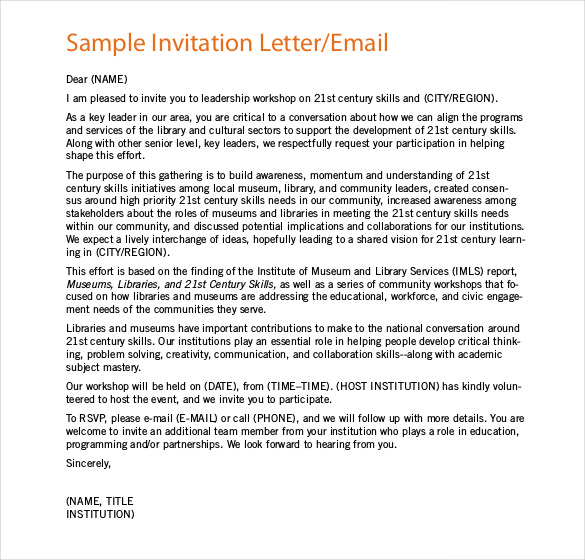 imls.gov | This sample invitation mail is a ready to send email with an impeccable message already included. You can add some more words, remove some that appears redundant and add in your name and other information to help the receiver understand it's you.
Wedding Invitation Email Template $4
Have you been looking for an invitation email sample for event that can more audience to the event? Have a look at this beautifully designed invitation template that can flawlessly serve your purpose with bits of edits.
Wedding invitation Email Template $3
This sample marriage invitation email is one of the best ways to invite your friends and family who stays abroad. They are sure to appreciate your thoughtfulness and come over for your wedding to usher in connubial bliss for a happy married life.
Wedding Invitation Email Template $2
This is a cute wedding invitation email sample which could be easily edited and customised to send over to people staying abroad. It has high resolution at 300 dpi with CMYK colours that adds to the quality of the invitation template.
Wedding Invitation Email Template 1
This engagement invitation email sample is yet another awesome template that can be used for a wedding invitation. It's quite like a printed invitation card and with little bits of edit. It has high resolution at 300 dpi which prevents any loss of quality.
Wedding Invitation PSD Email Template
This sample marriage invitation email is in PSD format and comes with a variety of useful features that makes it perfect for use by a beginner. It's top plus points include high resolution, cent percent scalable vectors, resizable elements and smart objects.
Email Invitation Design
This invitation email sample for event is another ideal template for invitation via email. It has very well structured layers and smart objects for easy customisation, high resolution with flat, clean and professional design that makes it a perfect choice.
Jive Daily Newsletter and Invite Email template
Have you been looking for a sample party invitation email? Have a look at this awesome template with unique colour combination and seamless design with neatly organised layers that can be customised without any difficulties.
When you are required to invite people for an event or a wedding or engagement party, the sample invitation email serves in making the task easier for you. With each of this high definition email templates, you can gather as much crowd as possible with small edits that do not hamper the quality of these ready to print templates.