Wedding invitations are not generic in nature – they are mostly customized and are according to the caste, religion or any other trait of the subject. In the modern times, couples always focus on providing a realistic or a more contemporary look to their invitation card, rather than the old artistic decorations and traditional look to their invitation card. You can also see this Country Wedding Invitation.
Elegant designs such as the pocket designs with beautifully crafted flaps, country-side rustic look to their invitation card are some trends which are increasingly followed now a day. These wedding invitation templates are mostly designed in the form of PSD images with a considerable focus on photo shop skills.
Floral Wedding Bundle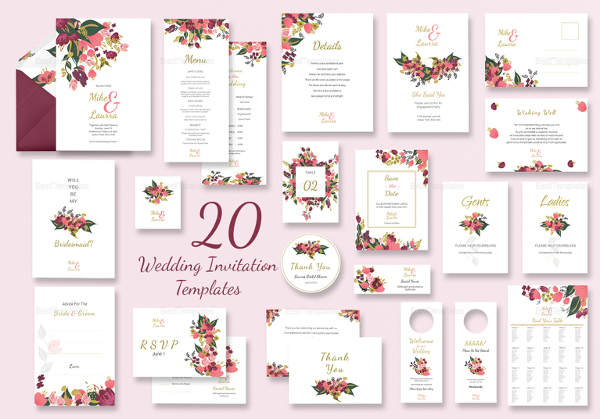 Download
Sample Wedding Suite

Download
Floral Wedding Templates

Download
Modern Wedding Invitation Template

Download
Modern Wedding Invitation Card Template

Download
Wedding Dinner Invitation Template in Word

Download
Modern Wedding Invitation Template in PSD

Download
Floral Wedding Menu Invitation Template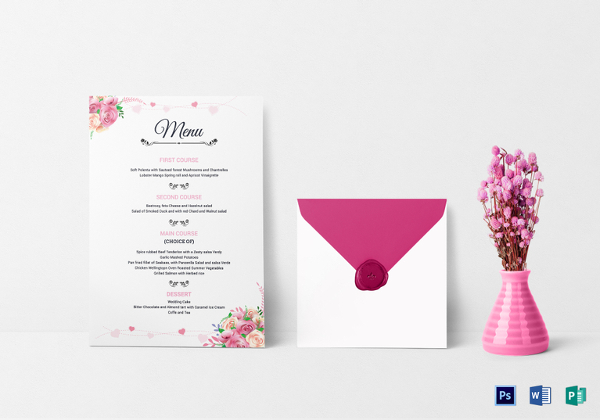 Download
Chalk Board Wedding Breakfast Invitation Template
Simple Modern Wedding Invitation
Make your wedding day's invitation special by keeping it simple yet modern. What better way than expressing your love in the invitation card to reflect eternal bond.
Paper Type Modern Wedding Invitation
Keep your wedding card simple and send the message of simplicity across to your guests. Wedding is about two people uniting forever, do it with elegance and some thought!
Romantic Modern Wedding Invitation PSD Formmat
Make your wedding invitation romantic and spread the word of love across your close ones. You can add your favourite picture to this wedding card and make it memorable.
Classy Modern Wedding Invitation PSD format
Keep it classy and go for this Classy Modern Wedding Invitation PSD format card which is designed especially keeping your needs in mind. You won't find a better deal.
Formal Modern Wedding Invitation
Be it your wedding or reception, invite your guest with a modern wedding card. Especially designed to invite your office colleagues and co-workers this card spreads the message in a formal manner.
Vintage Modern Wedding Invitation PSD Format Template
If you want to keep your wedding invitation vintage type then we have a modern way to do it for you. By adding your favourite picture we try to make it more special for you.
Save the Date Modern Wedding Invitation
Ask your friends, relatives and colleagues to 'save the date' for your special day in a special manner with this Save the Date Modern Wedding Invitation.
Beautiful Modern Wedding Invitation EPS Format
With pink colour in its background this beautiful modern wedding Invitation card is ideal for young couples who have made up their minds to tie the knot.
Navy Blue Coral Watercolor Mordern Wedding Invitation
Announce your special day with this elegant navy blue coral watercolour modern wedding invitation card that adds grace to your invitation and class to your wedding.
Floral Background Modern Wedding Invitation
Love is best expressed with flowers and to add to that we have a wedding invitation card themed on flowers. With floral background this card is ideal for any couple who has decided to get married.
Modern Wedding Invitation And Save The Date Invitation
Elegant Modern Wedding Invitation
6 in 1 Beautiful Modern Wedding Invitation
Diy Printable Modern Wedding Invitation
Romantic Couple Modern Wedding Invitation
Purple Gold Modern Wedding Invitation
Simple Modern Wedding Invitation Mockups