Logo
16+ Coffee Logos
Logos are trending marketing and publicity tool now-a-days. Logo designs are an effective way for companies and local businesses to reach a large audience. Coffee logo designs are very important for cafes or coffee shops; it helps people to remember the brand name. Coffee logos gives the first impression of a business and must include all the essential information to lure their customers. Designing a coffee logo is easy; you just need to have a creative logo design idea and then using Photoshop or other logo designing tool turn your idea into reality. You can also see Music Logos.
Retro Coffee Logo
Retro coffee logos are stylish vintage logo designs used in cafes, mugs, t-shirts etc. They are easily editable and completely re-sizeable. These logos are available in multiple formats like PSD, EPS & Ai + Ai CS6.
Coffee Mug Logo
Coffee mug logo is used for promotion of a brand. Most of the coffee shop logos are made of a mug shape, which are simple and also helps to create an image of a brand. The colors that are generally used for designing this logo are brown, black and white using CMYK color model and this logo is available in Al and EPS file format.
Vintage Coffee Logo
Vintage coffee logo design is very popular as it gives a luxurious look and feel. These quaint logos designs attract a large audience and used in many ways. These logos are available in high-resolution and several sizes.
Hot Coffee Logo
Extremely popular hot coffee logo is used in various ways. This logo design can be seen in cafes, mugs, fabrics etc. This is editable and use CYMK color model which is easily adjustable. This logo is available in PSD format and easy to download.
Funny Coffee Logo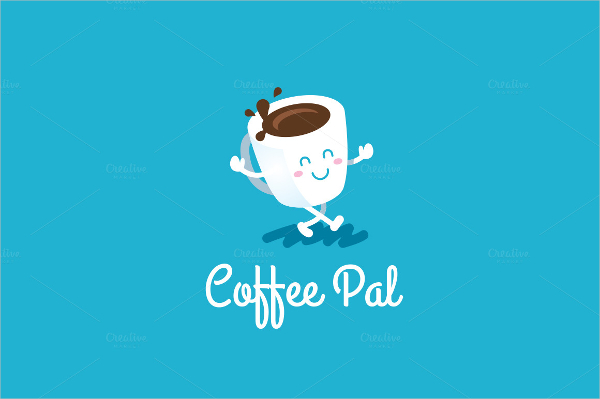 Funny coffee logo is both cute and fun. Cute and smiling coffee cup easily cheers up anybody. This comes in vector Al and EPS format, with high resolution and layered PSD. You can also see Restaurant Logos.
Coffee Love Logo
Coffee love logos are prefect for coffee lovers. This logo is popular among the cafes as people love to relate to this logo. This logo is available in high-resolution and different sizes.
Coffee Bean Logo
Coffee bean logos is used by many cafes. They come in AI CS4, EPS and PDF format. The color model used is CMYK and is easily re-sizable. They are available in 300 PPI.
Red Coffee Logo
Red coffee logos are used by coffee shops to promote their sterling coffee. These logos illustrate red color cup of coffee. These logos are fully editable and available in EPS format.
Steaming Coffee Logo
These logos illustrate a warm, steaming and inviting cup of coffee. The logo of a steaming cup of coffee used in many ways, such as in fabrics, mugs, crafts etc.
Organic Coffee Logo
Organic coffee logo designs are used to illustrate organic coffee. It comes in CDR, AI and EPS file format and with 300 PPI. Colors are in CMYK format and are easily editable. You can also see Photography Logos.
Best Coffee House Logo Free Vector
These logo vectors are used for coffee shop promotions. The logo has typical steaming cup of coffee. Its design though simple attracts large audience as it is easy to remember the brand the name.
Coco Cafe Coffee logo
Coco café coffee logo comes from coconut café and gives a sense of freshness and purity. This logo is formed by the combination of halved coconut and a cup of coffee. The color pattern includes coconut brown color and white.
Coffee Logo Design Template
A coffee logo design template has an illustration of a cup of coffee with steam and includes tag name and company name. These are great for branding of a café. These logos are available in JPEG, PNG and EPS formats.
Clean Coffee Logo Template
These logos generally have a clean and plain background. These logo templates give a sense of good quality and pure coffee served by coffee shops. Logos are available in AI-EPS & PSD file formats and has CMYK color model, so they are easily adjustable.
Cloud Coffee Logo
A cloud coffee logo illustrates a steaming cup of coffee inside a cloud. This logo is easily editable in terms of text, color and size. This logo is available in EPS & AI Illustrator file and colors used are from CMYK color model.
Pure Coffee Brand Logo
Coffee plays an important role in our lives. Cup logos are popular among most of the people. Cups logos are used in coffee and tea business promotions, as a print on mugs, fabrics, cards etc. A steaming cup of coffee serves as a source of relaxation to many, therefore most of the coffee logos consist of a single steaming cup. You can also see Bird Logos.