Whether as a company symbol, school emblem, or a business label, logos can be either of these. They play a very vital role in this industrialized society that we live in. One aspect where logos can also be important and useful is in the music industry. As what you can see in almost all record music companies, they have certain marks that make them distinct from other similar areas. Take Sony BMG Entertainment record as one of the best examples.
Music logos can be in any different forms and styles, depending on what certain aspects for which they are being used. Here, we offer logos made especially for music enthusiasts or start-up record labels. For those who are planning to build their own recording studio, thinking of an album cover, or who are fond of collecting music-inspired memorabilia, these logos are ideal for you. Check below for our music samples.
Music App Logo Designs
Music Game App Logo
Download
Music App Hipster Logos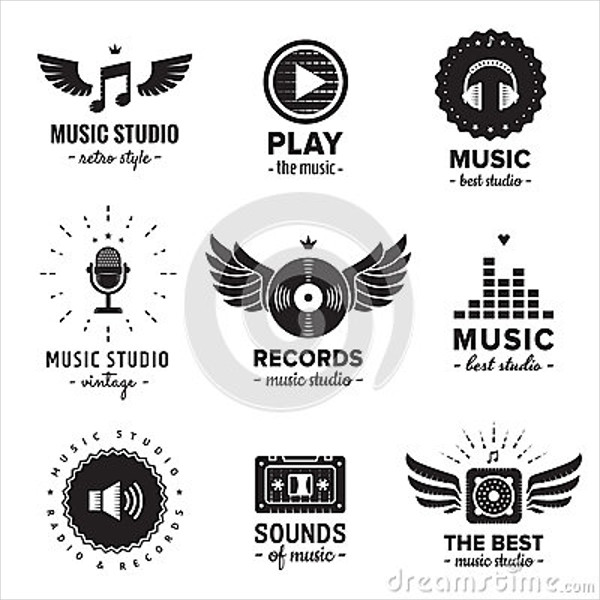 Download
Music Box App Logo
Download
Music Academy Logo Designs
Professional Music Academy Logo
Download
Music Learning Academy Logo
Download
Modern Music Academy Logo
Download
Music Festival Logo Designs
Rock Music Festival Logo
Download
Music Group Logo Designs
Music Services Group Logo
Download
Music Sales Group Logo
Download
Music Youth Group Logo
Download
Music Production Logo Designs
Music Production Company Logo
Download
Music Business Production Logo
Download
Music Media Production Logo
Download
Music: A Great Way to Send a Message
Don't have the courage to say what you feel to someone? Music can help you with that. You know why? Because through music, you can be able to express your true sentiments to a certain person. There are music that contain sweet and meaningful lyrics. There are also others that contain whimsical and cheerful lyrics, and there are some that are a bit scary and chilling. See? You can express almost all types of emotions through music.
Is Music Important to Us?
Music is the essential key to creativity. Music fuels the heart, soul, and mind; hence, it incites our creativity. An artistic mind has the ability to make discoveries and make innovations. Listening to instrumental music challenges one to listen and tell a story about what one hears. In the same sense, playing a musical instrument gives you the capacity to tell the story without words. Both require maximum right brain usage which not only exercises one's creativity but also the intellect.
Music is universal in a sense that there are no boundaries set to understanding music. Even animals can understand music to a certain degree. It surpasses all boundaries of communication because you can speak and tell stories to someone on the other side of the planet, even though you both don't speak the same language.
It is necessary for one to have an open mind so that getting in touch with that a sense of understanding will not be difficult. What is amazing about music is that it is attached within all of us. Everyone can understand it and feel something if they open themselves up, regardless of what race or nationality and country you are in.
The Different Music Genres
Music can also be in different genre since not all people listen to the same type of song that others like. Some prefer rock, while others prefer love songs. Music can be divided into different genres in many different ways. The artistic nature of music means that these classifications are often subjective and controversial, and some genres may overlap. There are even varying academic definitions of the term genre itself.
Below are the most common genres that already developed prior to any new genres or subgenres. These music distinctions already existed long before we were born.
Art Music
The term art music refers primarily to classical traditions, including both contemporary and historical classical music types. Art music exists in numerous parts of the world. It clarifies formal styles that invite technical and detailed deconstruction and criticism and demand undivided attention from the listener. In Western practice, art music is considered primarily a written musical tradition preserved in some form of musical notation rather than being transmitted orally, by rote, or in recordings, as popular and traditional music usually are.
Popular Music
Popular music, unlike art music, is intended for mass distribution to large and often socioculturally diverse groups of listeners, kept and distributed in nonwritten form, only possible in an industrial economy where it becomes a commodity, and, in capitalist societies, subject to the laws of free enterprise where selling music album of this type is rampant and mainstream. Popular music is found on most commercial radio stations, in most commercial music retailers and department stores, and in movie and television series soundtracks.
Traditional Music
Traditional music is a modern term for what has been called folk music, omitting the development of the term folk music to include much nontraditional material. Sometimes folk is labeled for Western music and non-Western music is considered "world music."
Other related topics: Music Band Website Templates, Music wall layout
Music Studio Logo Designs
Music Recording Studio Logo
Download
Music Art Studio Logo
Download
Music DJ Studio Logo
Download
Vintage Music Logo Designs
Vintage Music and Sound Logo Examples
Download
Vintage Music Note Logo
Download
Vintage Music Man Logo
Download
Music Website Logo Designs
Music Blog Website Logo
Download
Music Website Logo Vector
Download
Music School Website Logo
Download
Music Entertainment Logo Designs
Music Entertainment Brand Logo
Download
Music Entertainment Magazine Logo
Download
Music Entertainment Party Logo
Download
Music Event Logo Designs
Music Business Event Logo
Download
Music Sport Event Logo
Download
Music Themed Event Logo
Download
Different Music Genres
Now is the time to get an in-depth information about other music genres.
Jazz
This is a music genre that originated among African Americans in New Orleans, United States, in the late 19th and early 20th centuries, and developed from roots in blues and ragtime. During the 1920s jazz age, jazz was recognized as a major form of musical expression. It then turned up in the form of independent traditional and popular musical styles, all connected by the common bonds of African American and European American musical parentage with a performance orientation.
Rock
A genre of popular music that originated as "rock and roll" in the United States in the 1950's and developed into an array of different styles in the 1960's, particularly in the United Kingdom and the United States. It has its roots in 1940s and 1950s rock and roll; itself heavily influenced by blues, rhythm, and blues and country music. Rock music also drew strongly on a number of other genres such as electric blues and folk and incorporated influences from jazz, classical, and other musical sources.
Pop
A genre of famous music that originated in its modern form in the United States and United Kingdom during the mid-1950s. The terms popular music and pop music are often used reciprocally, although the former describes all music that is popular and includes many styles. Pop and rock were synonymous terms until the late 1960s when they were increasingly used in opposition from each other. Although pop music is seen as just the singles charts, it is not the sum of all chart music.
Hip-hop
Also called rap music, hip-hop is a music genre developed in the United States by inner-city African Americans in the 1970s which consists of a stylized rhythmic music that commonly accompanies rapping and a rhythmic and rhyming speech that is chanted. It developed as part of hip-hop culture, a subculture defined by four key stylistic elements: MCing/rapping, DJing/scratching with turntables, break dancing, and graffiti writing. Other elements include sampling beats or bass lines from records (or synthesized beats and sounds) and rhythmic beatboxing.
Disco
Disco is a genre of dance music which contains elements of funk, soul, pop, and salsa. It gained popularity during the mid-1970s to the early 1980s. Its initial audiences in the US were clubgoers from the LGBT, African American, Italian American, Latino, and hallucinogenic communities in Philadelphia and New York City during the late 1960s and early 1970s. Disco can be seen as a reaction against both the domination of rock music and the denunciation of dance music by the tradition during this period. It was popular with both men and women, from many different backgrounds.
Grunge
Sometimes referred to as the "Seattle sound," grunge is a subgenre of alternative rock and a subculture that came out during the mid-1980s in the Pacific Northwest American state of Washington, particularly in Seattle and nearby towns. The early grunge movement revolved around Seattle's independent record label Sub Pop and that region's underground music scene, but by the early 1990s its popularity had spread, with grunge acts in California and other parts of the US and in Australia building strong followings and signing major record deals.
House
House is a genre of electronic music created by club DJs and music producers in Chicago in the early 1980s. Early house music was generally characterized by repetitive 4/4 beats, rhythms mainly provided by drum machines, off-beat hi-hat cymbals, and synthesized bass lines. While house displayed several characteristics similar to disco music, it was more electronic and simple, and the monotonous rhythm of house was more important than the song itself.
Among these genres, for sure you have one that perfectly suits your style of music. Regardless of genres, still music is a universal language that is recognized by majority of people all over the world.
More related topics: Music Album Cover Template, Hip Hop Music Flyer Designs, and Cool Music Logos
Dance Music Logo Designs
Electronic Dance Music Logo
Download
Wedding Dance Music Logo
Download
Disco Dance Music Logo
Download
Music Club Logo Designs
Music Club Logo
Download
Music Club Social Logo
Download
Music Club House Logo
Download
Music Band Logo Designs
Music Band Tattoo Logo
Download
Music Band Bird Logo
Download
Music School Logo Designs
Kid's Music School Logo
Download
Music Therapy Logo Designs
Music Education Therapy Logo
Download
Music Health Therapy Logo
Download
Old Music School Logo
Advantages of Music
Now, we all know that today's music industry has gotten way more hyped up compared before. Hundreds of new talents have emerged in different areas. Plus, combined with modern music equipment, no wonder new music genres surfaced. Apart from being one of the best forms of art, music can bring positive attributes to mankind.
Studies show that when pregnant women have time listening to music, they are helping their babies' brain development. Experts say that when these babies grow up, they are smarter than others. Music can also help pregnant women to decrease their stress from pregnancy. When their time of delivery comes, they are more prepared and calmed. Research have proven that music aids the development of speech and memory. That is why, if young children are being trained to use any kinds of instruments, they are most likely to excel in academics.
With music, it is an imperative to memorize the notes and their pieces accordingly. In this manner, kids can apply their learning from music lessons to their other subjects at school. Apart from this, music can also teach kids to be disciplined.
When it comes to recovering from chronic pain and emotional distress, music indeed can help people in that matter. Through listening to music, they will be more relaxed and maintained adequate sleep. They are able to shift their attention to the pleasurable effects from listening to songs than their present misery.
Apart from all of these, music can also increase workout endurance. According to scientific studies, listening to music while doing your daily workout routine can boost physical performance and increase workout endurance during an intense session.
These are some of the benefits we get out from simply listening to music. How wonderful it is indeed to have music as a part of our existence. When we have nothing to do or otherwise, we can just listen to music and create vivid images in our mind. We sometimes tend to feel every beat of the music tune we hear. Just by imagining it, living in a world without music can be so lifeless and dull.
Perfect Music Logos Just for You!
In relation to music, we have what you called as music logos. This certain type of logo is essential to the music industry since they give an introduction to your music business. So for those building a music recording studio or simply just looking for music-inspired logos to use as a design, these music logo samples that we have are a perfect choice. There are numerous selections that contain awesome designs. We have stunning music icon logos that will suit best to your liking. Our music illustrations and Photoshop Music Note Brushes are also available to download. So what are you waiting for? Download a copy now!