Create Fast with FREE Agreement Templates
Template.net's user-friendly agreement maker will help you access and customize various free, professionally-written agreement templates to your liking. With our creator tool, enjoy editing legal agreements you can easily save, download, print, or share in just a few clicks!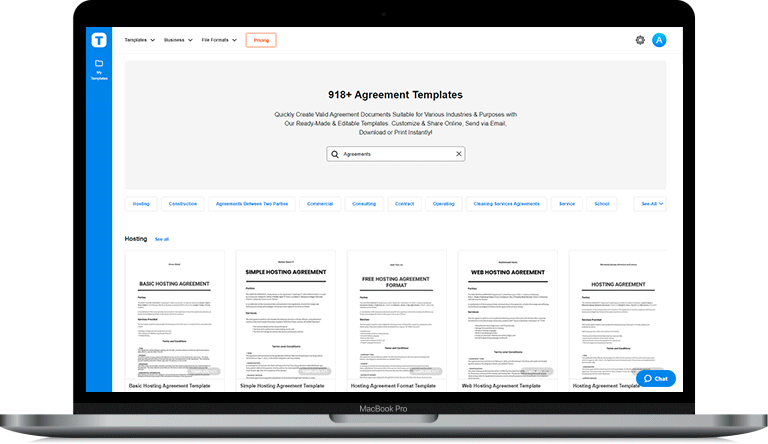 How to Create an Agreement
1. Select an Agreement Template

Having a written agreement is better than having an oral agreement since it details both party's rights and obligations, reducing risks when conflicts arise. To create one, go to Template.net and select from any of our 900+ professionally made agreement templates. Then, click the "Use This Template" button to be directed to our agreement editor tool.

2. Start Editing

Edit the suggestive content provided on our ready-made agreement template and organize your format with the correct font styles, sizes, and alignment. Keep your content simple, shorter, and understandable for your readers. Then, at the end of your agreement, insert a signature area for your signee to sign.

3. Proofread and Preview

Proofread and preview your work in both PC View and Mobile View before printing or sharing your agreement. Make sure to correctly identify the parties involved as well as your terms and conditions. Most importantly, don't be afraid to ask a lawyer to review your agreement if necessary.

4. Download, Print, or Email

Finally, download your edited agreement in various file formats onto any device in seconds by clicking the download button. If you opt to share your work, you may use the URL link provided. But, if you want to email your agreement straight from the editor tool, you may do so by clicking the send button.
Make Amazing Agreement Designs Easily
Protection from Legal Issues
Written agreements record all essential details applicable to your legal transactions as proof of your mutual understanding. This makes you more transparent with your negotiation, protecting you from any legal complaints that may arise in the future. To get started, Template.net offers thousands of compelling easy-to-use agreement templates for your convenience.
Enforce Confidentiality
Written agreements are a critical tool to ensure the non-disclosure of your business and legal transactions since undersigned parties are bound to protect confidential information stated in the document. Should anyone breach your confidentiality terms, your written agreement makes it easier for you to navigate and resolve disputes. Easily customize, download, or share your content using Template.net's editor tool.
Save Money on Legal Team
Our agreement templates are pre-made with content written with legal language designed to set agreeable terms, statements, and other details to protect your interests. Keep track of your drafts and save them for later uses or references using our editor tool. Here at Template.net, we made sure that all our products are affordable and versatile for any project, transaction, and other specific conditions.
Become a Pro Member
All in One Software for Creating Agreements, Contracts, Plans, Proposals, Reports. Business Documents and more.
$8.25

per month
What our Customers say
We get Thousands of Positive Feedbacks which helps us Motivate to do Better Everyday
Template.net has everything! From well-written agreements to amazing contracts all suitable for delivering my legal transactions in no time.
Paul Reyes
Business Owner
FAQs
Can I Create a Legally Compliant Agreement for Free on Template.net?
Yes, you can create a legally compliant agreement on Template.net for free by simply selecting a ready-made template from the agreements category.
Can I Print or Share the Agreement via Email for Faster Approval?
Yes, print or share edited agreements via email for faster approval by clicking the download, send, or share buttons on the upper right corner of the editor tool.
What is the Importance of an Agreement in Law?
Written agreements help the undersigned parties legally protect their properties, interests, or themselves during a transaction and enforce their rights following the law.
What are the Types of Agreements?
Some of the basic types of agreements include grants, contracts, memorandum of understanding, and non-disclosure agreements.
What Should an Agreement Include?
An agreement should contain the four key elements to make it legally binding. This consists of the offer, acceptance, consideration, and the intention to form legal relations with both parties.