Invitation Templates
23+ Birthday Party Invitation Designs – Word, PSD, AI, Vector EPS, Publisher
Designing birthday party invitations is not always an easy task. There are many aspects which make it difficult. For example, choosing the right design and finding the right words and pictures for the perfect invitation can be a tough task.
These things can be simplified with readymade Birthday Party Invitation Designs. Readymade designs can give you better results and you will need to put in less effort.
The easiest thing that you can do to make your invitation preparation perfect is downloading the Invitation Templates.
Boy Birthday Party Invitation Template
Black And White Birthday Party Invitation Template
Birthday Event Party Invitation Template
Free Bowling Birthday Party Invitation Template
Simple Birthday Party Invitation Template
The design of this template is based on unique Party Invitation idea. Birthday party invitation template is the perfect choice for you. You will get a simple space for name, age, event duration, activities, etc.
Kids Birthday Party Invitation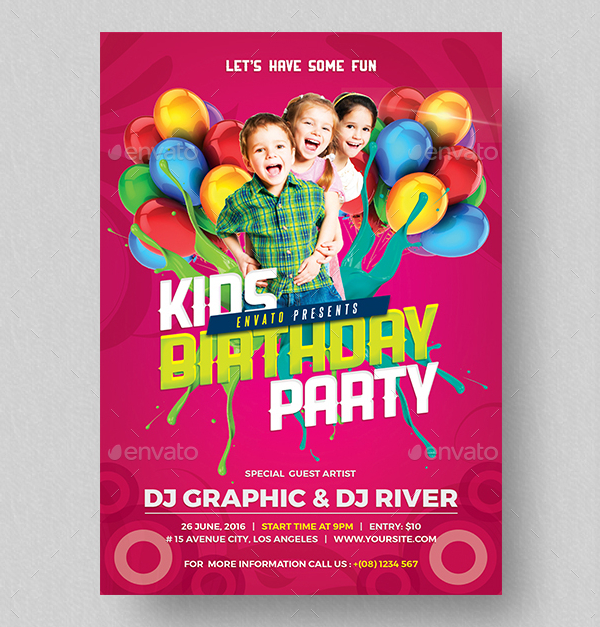 Kids always love creative and attractive invitations. That is why it is necessary that you choose a design that is perfect from the kids' perspective. Downloading this Kid's Birthday Party Invitation Template will give you the perfect opportunity of developing best birthday invitation.
Elegant Birthday Party Invitation
This is the most creative way of inviting someone to your birthday event. Every single detail of your event can be added in this simple Birthday Cards Template.
This template will offer you everything that you need at one place. Let your Birthday Party Invitation be perfect with this template.
Cute Birthday Party Invitation Template
This is a simple yet elegant design for invitations. Preparing birthday cards will no longer be a challenge for you. The readymade invitation card will make it easy for you to create the most attractive invitations for your birthday event.
Elegant 50th Birthday Party Invitation
Why do you need Birthday Party Invitation Templates?
When you download the templates, you get the privilege of choosing the best design. The Birthday Party Invitations will make your birthday party invitation development process quicker and easier.
The results of the procedure will be far better than your expectations.
There is a huge variety of templates that you can browse on the internet. These templates are available for you to download for free.
You can download the template as per your requirement. Downloading the template will save you a lot of time. Simply downloading the invitation will be enough for your perfect invitation development.
Minnie Mouse Birthday Party Invitation
Benefits of Birthday Party Invitation Templates
The most remarkable advantage is the freedom of customization. You can customize the downloaded birthday party invitations so that they fit your needs. You can make this task much more effective by choosing right Invitation Template.
A huge variety of templates is available at your disposal all the time. Most importantly, you will not need to worry about the limitation because they are completely free for you to use anywhere you want.
Printable Birthday Party Invitation
2nd Birthday Party Invitation Card
Vintage Birthday Party Invitation
Funny Birthday Party Invitation Template
Confetti Birthday Invitation
Lovely Birthday Party Invitation
Rainbow Birthday Invitation
Retro Birthday Invitation
Bowling Birthday Party Invitation
PSD Birthday Party Invitation Template
Vintage Happy Birthday Invitation
Princess Birthday Party Invitation
Printable Birthday Invitation Template Download
Download
Choices and privileges are endless for you with these perfect and free of cost Birthday Party Invitations Templates.
These templates are easy to use as well. You just have to download a template and then you can fill your details in it. That's it. You are ready to go!