Have you ever wondered why people on the business would always utter the words Good morning even if it's beyond lunch time already or even if it's in the evening? Maybe it has occurred to you that they just mistakenly uttered these words or greeting from time to time. you may also see Invitation Templates.
People in the business world would greet you "Good morning" given on any time of the day because of the belief or mind-set that our mind, body, and soul is fresh in the morning, especially during breakfast, hence you can do more in the morning. And basically how productive you are in the morning would bring more output and profit to the company. So get ready those Breakfast Invitation Templates, shout out to your colleagues, and get the work done during the most important meal of the day.
Corporate Breakfast Invitation Template
Free Formal Invitation for Breakfast Template
Free Company Breakfast Invitation Template
Ladies Breakfast Invitation Template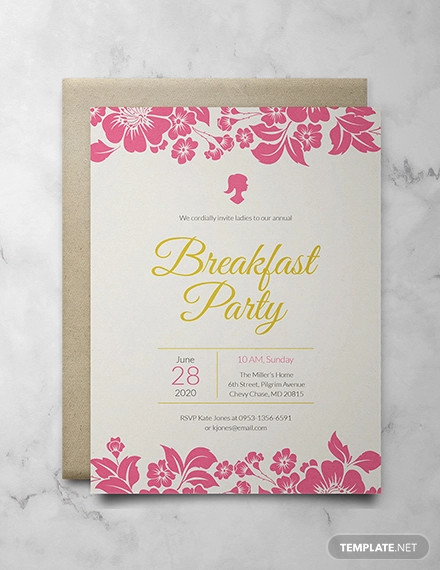 Free Formal Breakfast Invitation Template
Formal Business Breakfast Invitation
Download
Business Breakfast Invitation Wording
Download
Business Breakfast Meeting Invitation
Download
Professional Business Breakfast Invitation
Download
Make Breakfast Business Meetings Great Again
On a study from London Breakfast Meetings Week and as based on new research, morning meetings have a more positive outcome than meetings that are being held later in the day. There was also a survey which showed 65 percent of people were founded that it's easier to concentrate at a breakfast business meeting than any other meeting that's not being held in the morning.
As you're preparing yourself to make those Meeting Invitation Templates, here are some ways that you can try to make breakfast business meetings more effective:
Prepare fresh and healthy food. Fresh food are a great way to go when especially when handling a business meeting.
Have the invitations sent out at least a week earlier. So that your colleagues would be able to prepare and research before the actual breakfast meeting takes place.
The morning agenda. Informing your colleagues what the business meeting's agenda is would prepare them and would give them an idea of what the business meeting is about and so that it would also give them ample time to think about the things which they can contribute.
Team and information sharing. Since mornings are more productive for most people, you can expect a session that's filled with brainstorming ideas, information sharing, and discussing new concepts to creatively solve problems and achieve more goals for productivity.
Free Printable Business Breakfast Invitation
Download
Business Breakfast Invitation Card
Download
Customized Business Breakfast Invitation
Download
A New Perspective on Breakfast Meetings
Some startups and even newly ventured businesses would often opt for the breakfast business, where they can brainstorm and make some plans for the better of their company for maximum information sharing input and productivity output.
Handing out Business Invitations, a week before the breakfast meeting, is an ideal go-to, given the time for your colleagues to do research and also for them to RSVP. Also, for the said breakfast event to be successful, you'd need to call the cafe, the restaurant, or the caterer first on the menu that you would want to prepare and book them on that certain date.
Apart from that, having to request for any setting, if applicable (for example, if you want to have a refreshing vibe, you can go for a peaceful garden-type table setting or a closed, exclusive-table room setting), is also an excellent idea to make your colleagues feel comfortable at any given situation so that they will be able to work and perform more on the breakfast business meeting. And last, a report or a summary of what has been discussed may be necessary, but it is only optional.