Once in a while, it's inevitable to go to a business dinner. A business dinner invitations is roughly a formal dinner with the purpose of networking to other professional or entrepreneurs. It's usually where people from the same industry get together to discuss anything from career growth, business plans, or just under the sun—except controversial topics like politics, religion, and such.
Going to business dinners doesn't require much effort if you are prepared. Given the Invitation Templates Template.net offers, you'll be able to find some basic information that is needed for you to get prepared and show off what you've got.
Business Dinner Invitation Template
Business Christmas Dinner Invitation
Download
Formal Business Dinner Invitation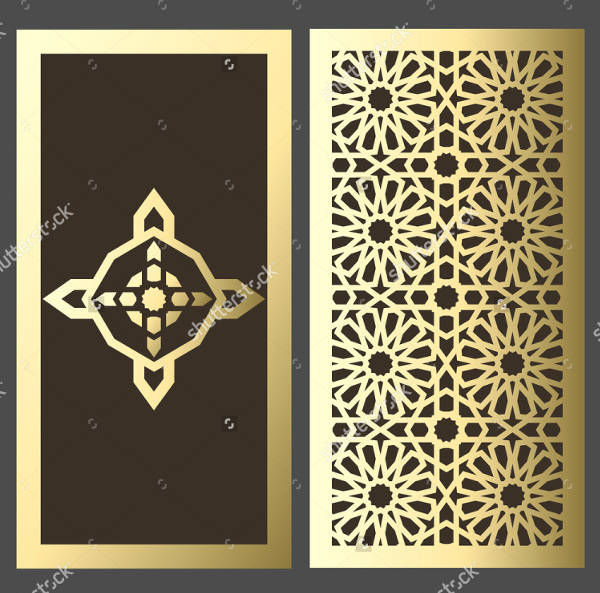 Download
Professional Business Dinner Invitation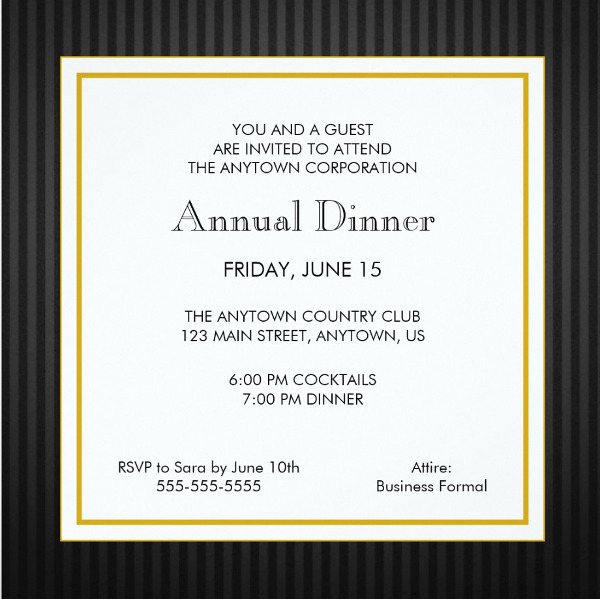 Download
Business Birthday Party Dinner Invitation
Download
Business Dinner Etiquette
Here are some business dinner etiquette that are very useful and will help you prepare yourself and make more opportunities and meet new acquaintances with a single event:
Prepare everything, especially yourself. Learn about the setting and read about dinner etiquette (if you're not familiar with it)
Before getting to the place of the business party, don't leave your stomach empty. If you're too hungry, you're not gonna have enough time or attention to engaging and pay attention to a conversation.
Research and do your homework about the organization and its culture.
Compose yourself in a calm manner.
Check your posture and exercise it.
Keep your phone turned off or in silent mode.
You can shake hands with anyone before the meal or the orders have arrived.
When shaking hands, it's advisable to keep a firm hand shake as a flimsy handshake is considered rude.
Don't talk or speak when your mouth is full.
Solids belong on the left and liquids on the right.
Keep your elbows off the table.
Eat at a medium pace.
Wait until you host has ordered an entree.
Follow you host's lead whenever possible.
Cutting through a small mouthful at a time is advisable.
After finishing your meal, have your table napkin folded and place it to the left of your plate.
Thank the host for the meal.
To help you get started, check out this collection of Dinner Invitation Templates.
Business Farewell Dinner Invitation
Download
Business Dinner Party Invitation Wording
Download
Business Holiday Dinner Invitation
Download
Printable Business Dinner Invitation
Download
A Walk in the Park
And most of all, always remember to have a good time. Meeting new associates are helpful too. However, since this isn't a game where you have to have a lot of people to meet. Take some time to have a good and quality conversation, share ideologies, experiences and thoughts. Another important thing is to never forget your business card. Since it's a business event, potential associates would be asking for your business cards and, in most cases, you would be exchanging business cards after a great substantial talk just right after a good, hearty meal.
And, of course, you've already planned these things out after checking the Business Invitation Templates. For sure, you've also pictured out some scenarios which you think might happen. It's pretty much an exciting experience learning a lot and meeting quite a number of potential associates with whom you can see building or creating something over a great talk and an amazing evening. After which, given ample time, once you've gain some few experiences joining business dinners, pretty sure, it would just as smooth as walking in the park for you.