The Catholic faith has four initiation rites—Baptism, Penance, First Holy Communion, and Confirmation. According to the principles of the Catholic faith, the last rite that must be undertaken by all who follow the religion, which is Confirmation, as "the faithful are sealed with the gift of the Holy Spirit and are strengthened in their Christian life." you may also see invitation templates.
If you are planning to have your own Confirmation rites soon or are doing the preparations for someone else, we have a ton of invitation templates for you to choose from that are well designed and free. Take a look from our collection below to see which suits your occasion best.
Confirmation Invitation Template
Printable Confirmation Invitation Template
Download
Catholic Confirmation Invitation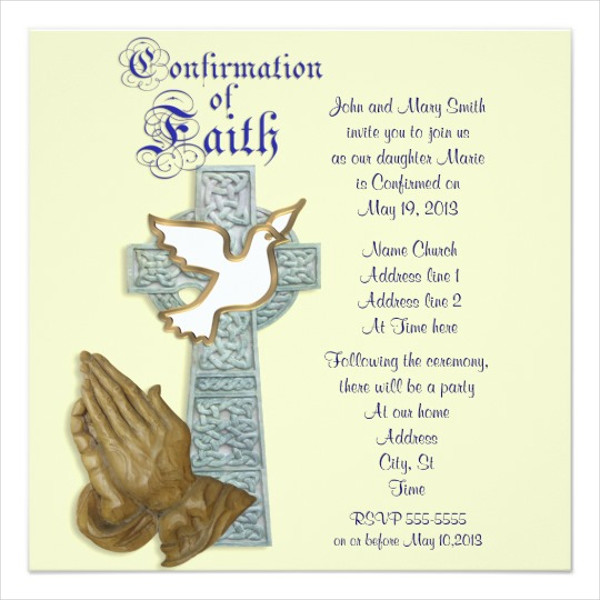 Download
Confirmation Invitation Card Template
Download
Confirmation Party Invitation Template
Download
Free Confirmation Invitation
Download
Different Types of Confirmation Invitations
Catholics most commonly get sponsors to witness them on this occasion and to assist them in every aspect of this rite, including the celebration right after. To invite your sponsors and other guests, our invitation templates will help you in doing just that. All you need to do is choose a design and personalize the details on the card. Here are some party invitation templates for your Confirmation:
C

atholic Confirmation Invitation

Template. T

here are instances when you would rather invite guests over at the church and disregard having a party altogether. This invitation template will bee the best to do that.

Confirmation Party Invitation Template. This template is best if you are having a separate party right after your Confirmation.
Baptism and Confirmation Invitation. If you are hitting two birds with one stone on this day by having the Baptism of an infant and the Confirmation of another individual, then this invitation will definitely inform guests without compromising style and design.
Modern Watercolor Cross Confirmation Invitation. For those who wish to go for a more artsy design on their Confirmation invitations, this template is for you. This template delivers form and function with its unique design but still enough space to insert party details.
Holy Confirmation Invitation Template
Download
Sample Confirmation Invitation Template
Download
Baptism and Confirmation Invitation
Modern Watercoler Cross Confirmation Invitation
Download
How to Make Your Own Invitations at Home
Our invitation templates are ready to be personalized and printed out, even at the comfort of your home. If you need more ideas on how to create the best home-made invitations that are hard for your guests to turn down, here are some points to keep in mind:
Choose the best template from our collection. Our site will give you access to all templates at any time of the day and for free. We even have templates for other Catholic or Christian occasions, like our Baptism invitation templates.
Put in the details of your party on the template. Ensure that you have got the date, time, and location right.
Get artwork or pictures, if you want to add them in your invitation. There are free images on the Internet that you can incorporate into your invitation. Pictures of you or whoever is about to have their Confirmation rites will add a nice personal touch too.
The purpose of your invitation is to invite your guests to your confirmation. Do not forget to inform guests that this is not an ordinary celebration you are having but your Confirmation. This tip will give guests enough information to decide what to wear and what to get you as a present.
Send your invitation in any of your preferred medium. If you want to send your invitations through e-mail or through personally delivering it to your guests, you can do both with our templates.