Wishing for a perfect wedding, perfect dress, perfect music, and the perfect partner has always been a dream for most people. And for such a special day, we want it to be perfect, down to the little details. It is the time where the bride and groom are allowed to go all-out in making their wedding an event to remember.
Wedding invitation is an essential part of weddings. It allows the guest to know what kind of wedding to expect, and it also shows a glimpse of the hard work you've put into planning your wedding. There are different kinds of wedding invitation templates, if you are having a hard time on how you want yours to look like, read through this article.
202+ Wedding Templates in Word, Google Docs, Apple Pages, PSD, InDesign, Publisher, Illustrator, Google Sheets - START DOWNLOADING
Sample Decorative Wedding Invitation
Download
Sample Wedding Shower Invitation
Download
Sample Vintage Wedding Invitation
Download
Sample Formal Wedding Invitation
Download
Vintage Wedding Invitation
Download
Sample Fall Wedding Invitation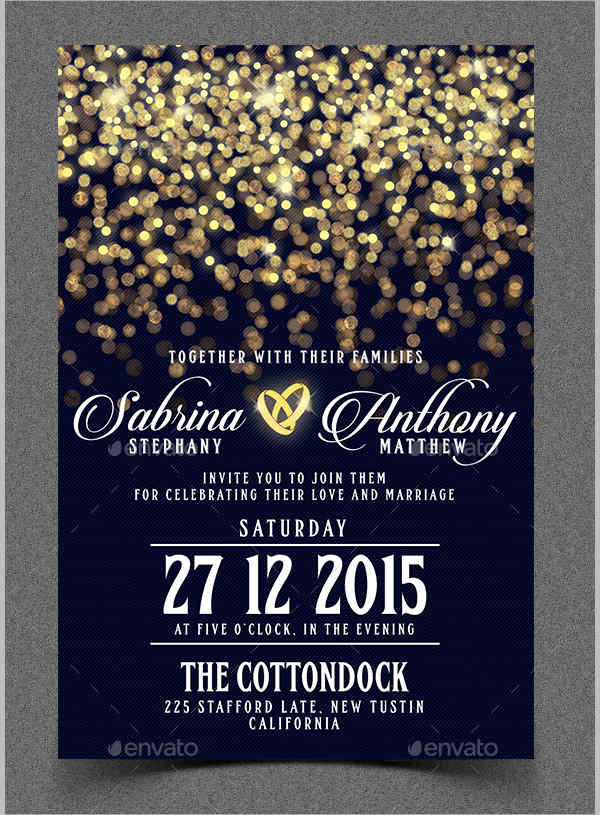 Download
 Shower Fall Wedding Invitation
Download
Who, When, Where
A wedding invitation is the very first impression your guests will have about your wedding and a well-made wedding invitation has the ability to exude what kind of wedding they should look forward to. Your invitation should be able to communicate to your guests as to what theme your wedding is.
It can also share and show them the feelings you and your future spouse have when making the invitation. A well-made invitation has the ability to set the tone of your wedding and create excitement and anticipation for your guests.
The who, when, and where are the three important things that should be indicated in your wedding invitation.
Who. Indicate your full name. It is of utmost importance that your guests know from whom the invitation is coming from. Your parents' name should also be included if they are helping in hosting the wedding. In customary, it's the bride's parents whom are considered the host, but if the groom's parents are helping out, they should be indicated in it too.
When. Your guests should be informed on the specific details on time and date of your wedding. It's never nice to come when all the fun is done.
Where. The complete details of the location of your wedding is crucial in allowing your guests to arrive without a hitch. It is strongly advisable that you include a small minimap with instructions on how to get to your venue. It allows your guests to know just how much time allowance they should spare to be able to arrive at your place in an appropriate time. See also modern wedding invitations for other samples that can help you in making your invitation.
Floral Wedding Invitation
Download
Sample Modern Wedding Invitation
Download
Elegant Wedding Invitation
Download
The Design
When it comes to designing, there's always the issue of which colors to use, which style of fonts to use, and which kind of paper you should use. Having that perfect design for your wedding invitation will solely rely on what kind of wedding you want to have. Are you going for a classic fairy-tale wedding? Then maybe going for white, gold, and silver colors with glittery card stock would be more appropriate to use in your invitation. Mostly, your invitation should show the motif of your wedding, and it is best to keep it in mind to be able to make a great wedding invitation.
If you are still feeling confused or just want to make sure you are doing it right, above are samples provided for you, among others available on our website. These templates are available to download for free while others require a basic licensing fee to download and use as a reference material. If you wish to see various samples of themed wedding invitations, you should check out our fall wedding invitations collection.