The term vintage is a tough one to define. Some people would simply put it as "things or events that were produced in at least 100 years or originating from previous eras." Whatever the definition for the term is, the design conveyed with the word will always be regarded as timeless, classic, and polished. This makes vintage design the kind that is desired strongly by a lot of people. you may also see Postcard Templates.
If you are thinking of throwing a vintage-themed party, then this article is for you. We have in store a whole bunch of vintage-themed invitation templates fit for so many occasions that are easy to edit and are absolutely free to use!
Postcard Invitation Template
Birthday Postcard Invitation
Vintage Postcard Wedding Invitation
Download
DIY Vintage Postcard Invitation
Download
Vintage Save-The-Date Postcard Invitations
Download
Vintage Hawaiian Postcard Invitation
Download
Different Types of Vintage-inspired Invitations
You have a ton of choices for Vintage-designed invitation templates in this article and even some templates of postcard templates. Here are some templates and the occasion that it accompanies best:
Vintage Postcard Wedding Invitation. Many couples opt to have vintage-themed weddings nowadays, and complementing their invitations to the theme would be a no-brainer. This template will fit right into this theme and with the option to change images, a picture of the couple would give the invitation a personal touch.
Vintage Save-the-date Postcard Invitations. Before engaged couples send out their wedding invitations, they opt to give out save-the-date cards so that their guests can mark their calendars way ahead. This is a great template as it also has the vintage theme that corresponds with the invitation which will be sent after.
Floral Vintage Postcard Wedding Invitation. This template is another option for wedding invitations. This template boasts a floral design but still keeping true to the vintage feel.
Vintage Postcard Graduation Party Invitation. If you are hosting a graduation party, then this invitation template should be your best option.
Vintage Postcard Birthday Invitation. Themed birthday parties are also common nowadays and having them vintage-themed is one of the most highly-picked options.
Floral Vintage Postcard Wedding Invitation
Download
Vintage Postcard Graduation Party Invitation
Download
Vintage Postcard Birthday Invitation
Download
Personalized Vintage Postcard Invitation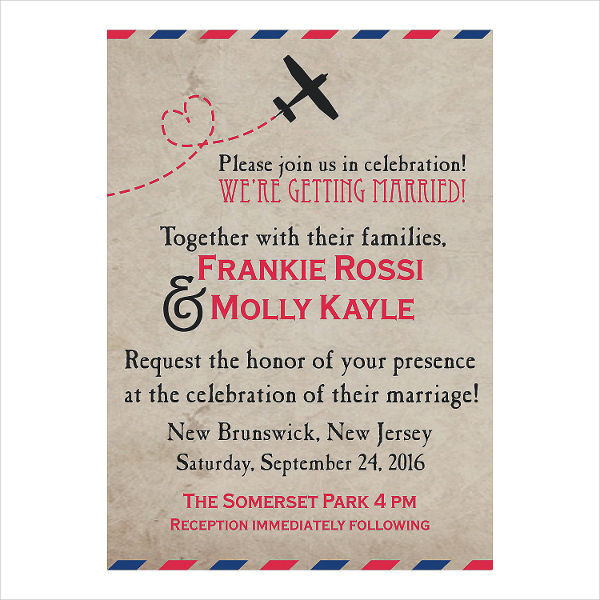 Download
How to Make Your Own Homemade Vintage Invitations
Finding vintage-themed invitations in a store may be frequent, but sometimes they lose that personal touch that many people are after. With our invitation templates, you get well-designed invitations that you can customize however you want for free. Here is how you can produce your own vintage invitations at home:
Choose a template from our collection. This article shows you so many options for vintage invitation templates that are sure to fit any kind of get together. We even have templates for postcard invitations that we are sure you are going to like.
Add in the details of your party so that your guests will be guided. If you wish to add in your own images into your invitation, you can definitely do so with our templates.
Create a mock-up of your invitation. When you are happy with your design, do try to print a sample to see if you need to do some readjustments.
You're ready to print! Once your design is ready to be mass produced, then you can print your invitations even with a home printer. If you wish to send these out through e-mail or through social media, you can do that too as you can save your designs in PDF format.