Welcome to the grand opening! An opening party for newly established establishments are a big event worth celebrating for. It is like a birth of a child being welcomed to the world, and openings are the birth of new beginnings in businesses, waiting and ready to tackle the hardship and struggles that may pass from the adjusting period and competitions.
It is important to have well-made invitation templates for an opening party. It is one of the best forms of advertising for yourself to your guests and future customers, and invitations show the glamour and the best you can from every single detail that even your invitation templates is able to exude and back up.
Grand Opening Invitation
Grand Opening Invitation Card
Restaurant Grand Opening Invitation Design
Gym Opening Invitation Template
Cafe Opening Ceremony Invitation Template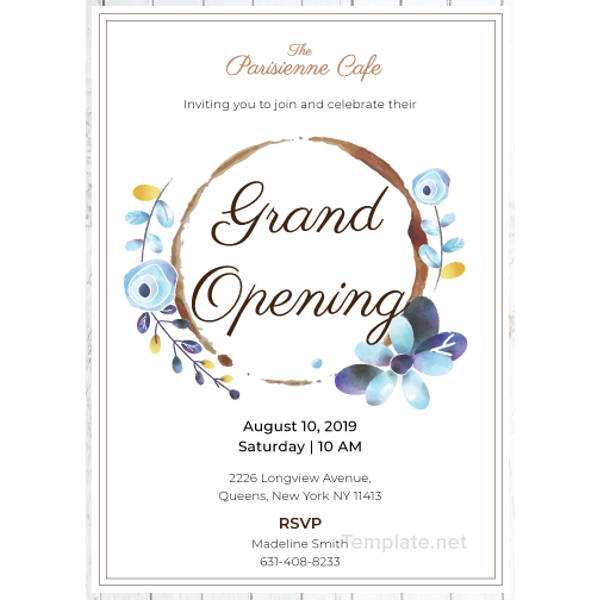 Hotel Opening Invitation Card Template
Restaurant Opening Invitation Template
Grand Opening Invitation Template
Download
Business Opening Invitation Template
Download
Office Opening Invitation Template
Download
Opening Ceremony Invitation Template
Download
Opening Event Invitation Template
Download
The Grand Opening of the Beginning
As new businesses show up and established each day, celebrating for their future success and smooth-sailing beginning is something worth celebrating for. An opening party is not just for fun and mingling; it is another form of selling and advertising your new establishment to the public and the market. It is then crucial to have a successful party where every person would talk about it days even after the celebration, and making a well-made invitation helps achieve this goal. Your invitation must be something your guests would want to have their hands on.
Here is a list of helpful tips when making your invitation:
Theme. Establish a theme and motif of your party, and tailor your theme that would best suit that brand or image you are trying to sell to your guest.
Greetings. Greetings may seem something unimportant and tends to be taken for granted, but a greeting is just as important as your invitation's content. It allows your guests to feel your enthusiasm in inviting them and allow them to feel the importance of their presence in your party.
Content. The whole content of your invitation does not have to be a wall of words—keep it short yet concise. Indicate only the important details you wish to emphasize to your guest. It is important to indicate from whom the invitation is from, for what is the invitation for, where and when is the party and who to contact for further inquiries.
Direction. It is advisable that you include a mini map at the back of your invitation with detailed nearby landmarks of your venue. Some people just get lost easily, and it is important that your guests come to your party conveniently to elevate their fun experience in attending your party.
Check out ceremony invitation templates for other invitation samples that may be useful for you.
Opening Invitation Card Template
Download
Restaurant Opening Invitation Template
Download
Company Opening Invitation Template
Download
Hotel Opening Invitation Template
Download
House Opening Invitation Template
Download
Creating an invitation card for an opening party can be stressful and time consuming, but it is not the hardest part of your overall events planning. However, it does not mean that you should settle for a perfectly adequate invitation card. Going all-out and creating the best invitation card would benefit you more in the long run.
If you are still unsure on how to make your invitation card, samples provided above can be downloaded all for free for you to use as a reference material, and if you wish to see other various samples, check out this collection open house invitation templates from our website.