Invitation Templates
29+ Dinosaur Birthday Invitation Designs & Templates – PSD, AI
Having a Dinosaur themed birthday party can be a challenging task. The final result will definitely be worth it and the joy of young children in the entire celebration will speak volumes in itself. You can always kick start your preparations with cool invitations made in innovative styles to attract and impress your friends and family and make them waiting for the party. You can also see Postcard Birthday Invitation Templates.
Chalkboard Dinosaur Birthday Invitation
Dinosaur Birthday Party Invitation Template
Animals Birthday Invitation Card Template
Colourful Dinosaur Birthday Invitation Template for Kids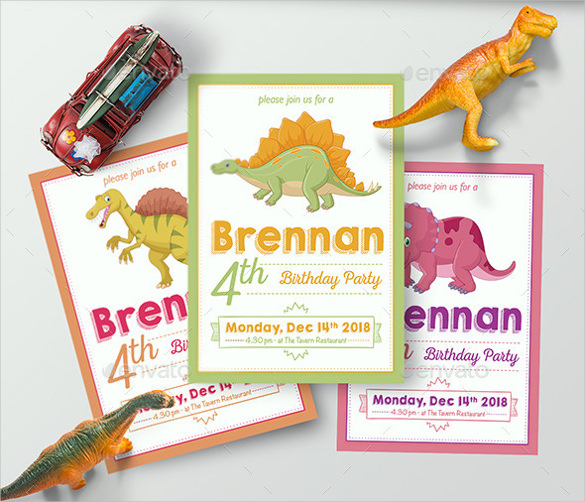 If you prefer to print your own birthday invitation at home, this is by far the best sample template to use. You can have your five-year-old customize the theme to their liking, or you can simply help them with the job to save time. This invitation templates in PSD for kids birthday is good for teens as well as kids under ten.
Digital Dinosaur 1st Birthday Invitation Template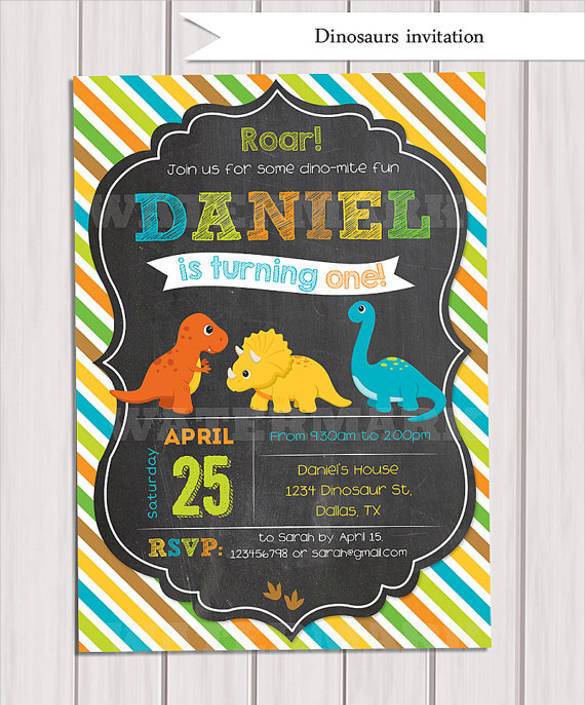 Matte Papered Dinosaur Birthday Invitation For Boys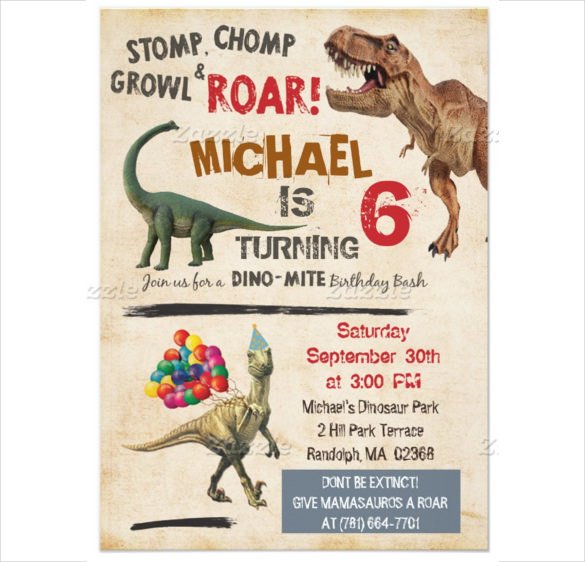 Simple Colourful Dinosaur Birthday Invitation with Custom Photograph

Custom photographs are easy to change. So, if you are looking for an editable template for kids' birthday invitation, Simple Colorful Dinosaur Birthday Invitation Design with Custom Photograph template makes a perfect choice. This template is best for inviting friends to attend birthday parties of preschoolers. The sample template is free to download.
Colourful Dotted Birthday Invitation For Small Kids
Self Editable Personalized Dinosaur Birthday Invitation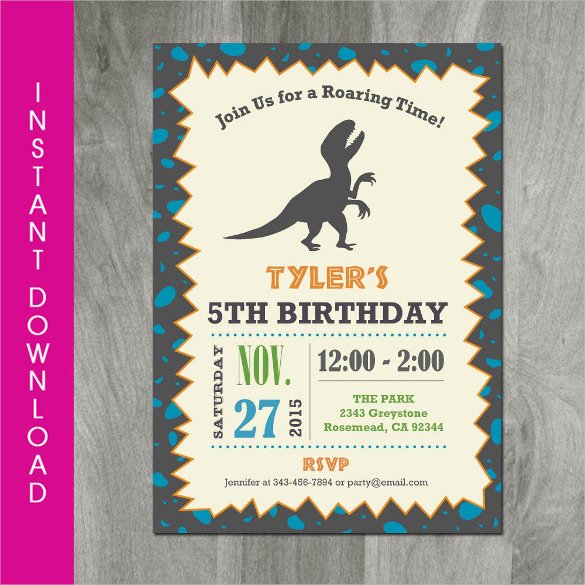 A Self Editable Personalized Dinosaur Birthday Invitation is a sample template that you can edit online, print, and then distribute to those who you would like to attend the birthday party of your child. With colorful drawings, fonts, and a picture of a dinosaur, it makes perfect sense to use this template for kids' party invitation.
Chalkboard Style Birthday Invitation For Kids
Dinosaur Birthday Invitation With custom Photo
Fossil Dinousaur Birthday Invitation Digital File

If you are looking for an easy-to-edit dinosaur digital file for retro birthday invitation, this is for you. Whether you want to invite people to a three-year-old birthday party or a teen's party, you can use this template for a wonderful visual. Not only is the file easy to edit, but also it takes less time to do so.
Simple Yellow Dinosaur Birthday Invitation for Kids With Photo
Simple Blue Dinosaur Birthday Invitation For Download
Green Paper Dinosaur Birthday Invitation Card
Jurassic Park Printable Dinosaur Birthday Invitation in Various Colours

Jurassic Park is a popular name in the Xbox One games for children. So, such pictures make perfect choice for birthday party invitation because they are almost every child's favorite. Because it is easily editable, you can let your child decide how they would their printable birthday invitation to look.
Blue And White Dinosaur Birthday Invitation For Kid
Simple Pink Dinosaur Birthday Invitation for Girls
Kids Colorful Party Dinosaur Birthday Invitation With Photograph

Let your kids customize their birthday invitations by this amazing dinosaur birthday invitation. Because it is fully editable and easy to customize, you can change the text and include a custom image on the template if you wish. This card is perfect for inviting people who you would want to attend the 3rd birthday party of your son or daughter.
Colourful Dinosaur Birthday Invitation With Envelope
Animated Colorful Dinosaur Birthday Invitation For Kids
Custom Printed Dinosaur Birthday Invitation
Printed Colourful Stegosaurus Dinosaur Birthday Party Invitation
Printable Dinosaur Birthday Invitation Template
Personalized Dinosaur Birthday Party Invitation With Thank you Note
Beautiful Hand Made Dinosaur Art Birthday Invitation Design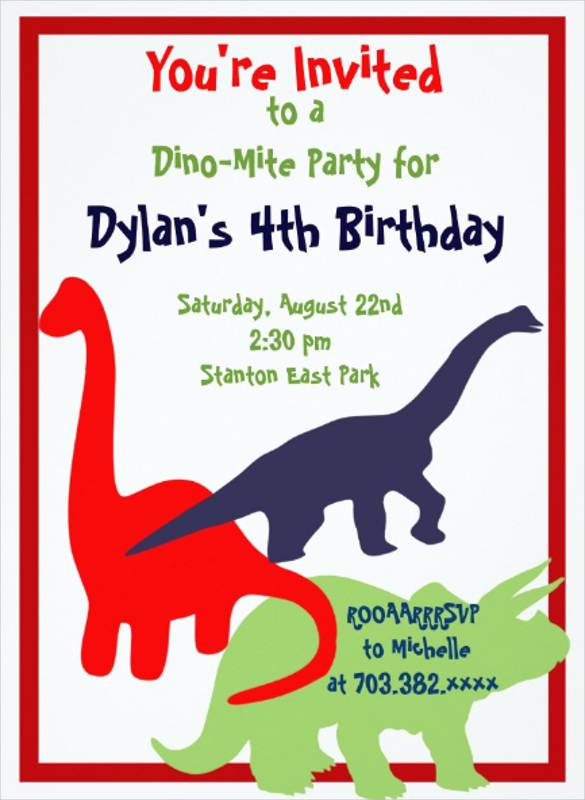 Good Dinosaur Invitation For Birthday Digital file
Free Printable Dino Birthday Invitation
Free Dinosaur Birthday Party Invitation Template
Blue Coloured Birthday Invitation With Photo For Small Children

One of the most crucial parts of such a theme is to create fun and stylish invitations and our proficiently crafted Dinosaur Birthday Invitations are right at your rescue. Create exclusive invitations for birthday templates with the help of our examples given to you in different formats.