Adobe
How do I edit a PNG in Photoshop?
Find out how to edit a PNG in Photoshop. It's a basic move that you will end up doing a lot with this software.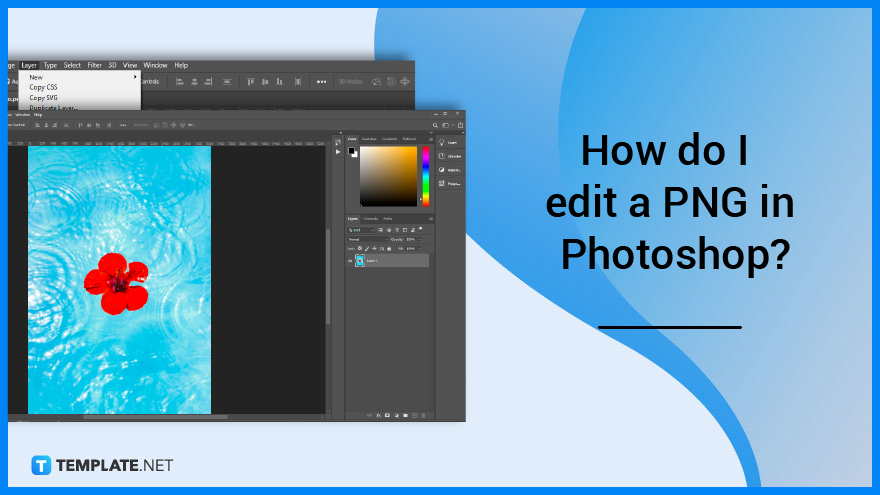 Download the Free How do I edit a PNG in Photoshop in PDF

Download
How do I edit a PNG in Photoshop?
Editing a PNG is pretty easy and takes a few minutes. Follow these steps to start your way to becoming a skilled editor.
Step 1: Open PNG image in Photoshop


To get started on how to edit your PNG file, open it on Adobe Photoshop.

Step 2: Add Adjustment Layer


Move your cursor to the top part of the screen where the menu bar is. There click on 'Layer' and a dropdown will appear. Next click on 'New Adjustment Layer'.

Step 3: Press 'Hue/Saturation'


Another dropdown will appear after clicking on 'New Adjustment Layer'. Click on 'Hue/Saturation' and a dialog box will appear. In this dialog box, you can make your adjustments on the layers and then click on 'OK'.
FAQs
What Does Hue/Saturation Mean?
Hue/Saturation refers to an option in Photoshop where users can control the settings of the colors on an image they are working on.
Why Add a Layer to an Image in Photoshop?
Adding layers to an image allows users to selectively edit parts of an image without affecting the rest unintentionally.
Can You Edit Other Image Files Besides PNG in Photoshop?
Yes, you can edit image files such as JPEC and SVG files on Photoshop as well.