Invoice Templates
9+ Auto Repair Invoice Templates
Since many people prefer to own a vehicle, automobile servicing, repairs, and maintenance are one of the booming fields of today. By having a specific format of invoice shows that you have standardized your procedures and are an organized unit rather than some off-road garage. So browse through these auto repair invoice templates to get some fresh ideas to prepare your own.
Table of Content
5 Steps to Write an Auto Repair Invoice
Step 1: Mention Vehicle Details
Auto repair has a vehicle at its heart and mentioning all the details of the vehicle are a must. This also helps you from any problems later on. It helps you identify whom the vehicle belongs to. Any customer complaints regarding the vehicle, later on, can be handled if you have all the details.
Step 2: Detailed Description of Work Done
One of the recurring complaints of vehicle owners is about what work is done during auto repairs. So it is beneficial to give a detailed description of works performed on the automobile. Also, this helps in billing as vehicle owners cannot claim arbitrary billing. This transparency also helps in gaining the trust of customers.
Step 3: Give Tax Details
Be it repair, servicing or sale of spare parts, taxes are levied by the government on each of them. If you are going to charge the taxes to the customers then it is important to give tax break up to present a clear picture of billing. Not just of the spare parts used but also tax levied on labor charge should be mentioned.
Step 4: Shop Name, Invoice Number, Signature and Seal are Important
Do not use general receipts and invoices. Have a specialized invoice printed for your own shop which features the name of your business and its registration details. Include the invoice number, space for signature and your seal. This fortifies you during any legal issues later on. An invoice with none of the above details is just a piece of paper and is no use legally while asking payment.
Step 5: Parts Used Should Be Mentioned
Auto repair many times involves replacing spare parts. Also, consumable parts like oil are many times a bone of contention between customers and service providers. Always give details in the invoice of the parts used while repairing. Mention the serial numbers of the parts and manufacturer details along with the price and taxes for the parts.
9+ Auto Repair Invoice Templates
Modern Auto Repair Invoice Template
Creating an invoice for your business has never been this easy. This modern styled auto repair invoice template can easily be customized in text and color with a host of software like MS Word, Google Docs, Pages, Numbers, MS Excel, and Google Sheets. This A4 and US letter sized paid template has a portrait orientation which provides more space for writing work details.
Garage Invoice Template
Contemporary Auto Repair Invoice Template
This highly elegant and contemporary looking auto repair invoice template has a separate section for terms and conditions. Tabulated structure of the main invoice makes it easy for amount calculations. This is also available in editable PDF format which enables quick editing on the go. The attractive yellow boxed title immediately catches everyone's attention.
Auto Repair Invoice Template
invoicingtemplate.com
One of the highly unique repair estimate template out there is this one. Apart from general sections, the table has a special column to denote whether the service or part used is taxable or not. You also get space to mention insurance information. Vehicle details like make, model and color are to be mentioned in a separate table.
Professional Auto Repair Invoice Template
invoicingtemplate.com
You can get this professional looking auto repair receipt templates in the PDF format. It features a standard and readable font and a table for mentioning all details of services rendered. Tax calculation space is provided at the end. To reduce the ambiguity of the amount to be paid, there is a separate box for mentioning the amount in words.
Sophisticated Auto Repair Invoice Template
bar.ca.gov
This computerized auto repair receipt template looks one of the best amongst others. It has a perfect balance of artistic look and professional approach. The printed text gives it a corporate appearance and shows that your business relies on automation to perform tasks. This will surely boost your credibility of delivering quality service amongst your customers.
Printed Auto Repair Invoice Template
iapasb.com
A full paged auto repair estimate invoice template as this one is very useful when the description of the work done has to be given in detail. It also features technical details about the engine apart from general vehicle details. The total amount for labor and the total amount for parts is calculated separately. In the end, a distinct section is provided for mentioning any additional costs.
Auto Repair Mechanic Invoice Template
onlineinvoice.com
If you are searching for an editable DOCX invoice template, then this is the right place. This sample auto repair invoice template can easily be changed on the go as per your need in MS Word. Two separate tables are provided for mentioning labor details and parts used. This provides ample space for mentioning specifications of spares used.
Aesthetic Auto Repair Invoice Template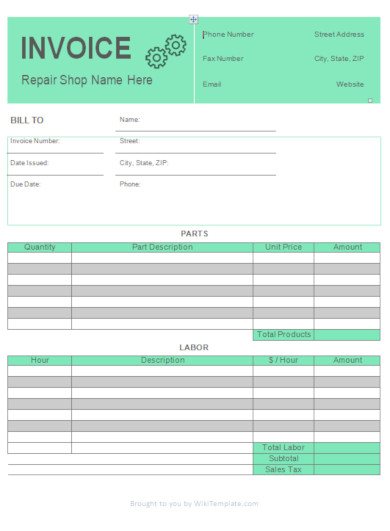 wikitemplate.com
The green, grey, and white combination of the mechanic invoice template gives it an alluring effect. The clip art of gears is a deft touch. This aesthetic, suave, and catchy auto repair invoice template will surely give a distinct identity to your business. Being a two-page invoice template, there is sufficient space for any additional details, terms and conditions, etc. to be mentioned.
Official Auto Repair Invoice Template
montgomerycountymd.gov
A government invoice as a reference is always the preferred option. This sample auto repair invoice has neatly arranged sections. The landscape orientation enables better space usage. Separate sections for parts used and work description help in calculating separate amounts. Notice to customers regarding the warranty, labor time, etc. is explicitly provided on the invoice to avoid any disagreements later on.
More in Invoice Templates