Invoice Templates
17+ Business Invoice Templates
Business invoice templates offer complete information about what and how to include in your invoices. They allow you to collect the bill from the clients professionally and quickly. Your invoices outline the product or services available, their prices, the total owed, the payment methods and much more.
Table of Content
5 Steps to Write a Business Invoice
Step 1: Mention the Important Dates
You need to mention when you created your invoice that's the invoicing date. The first date might differ from when you actually provided your goods and services, which is the supply date. You also need to mention the due date for your invoice which is generally 30 days after creating the invoice. Include all these dates on the top right corner of the business invoice.
Step 2: Provide Contact Details
In the top left corner of the business invoice template, mention your client's details. Place your own contact details in the footer. Contact details include your name, address, email, and phone number. Include your company number if you're a limited company. Also, include both the details if you trade under a different name but registered under one name.
Step 3: Provide Payment Details
Mention all the useful information such as bank name, account number, beneficiary name, IFSC code, and how and when you would like the invoice to be paid. Next, to your contact details, mention your payment details in the footer. To track your bank account, add a reference number for the payment. Also, include the purchase number if you have.
Step 4: Specify Legal Requirements
To ensure that you are legally compliant, you need to add some more information to your business invoice. You need to follow certain guidelines when it comes to record keeping and taxation. Make sure there is a unique number in every invoice and stick to that sequentially numbering. Also mention the applicable tax rate, unit price excluding tax, and the gross amount due.
Step 5: Build a Brand
Invoicing always brings the advertising potential along with it. Business invoice template represents the brand of your business, so don't forget to mention the details of your business. It will reflect what you want to say about the business. Add your company's logo and select an appropriate tone for the product descriptions.
17+ Business Invoice Templates
1. Small Business Invoice Template
2. Bakery Business Invoice Template
3. Business Advisor Invoice Template
4. Startup Business Invoice Template
5. Business Consultant Invoice Template
6. Business Networking Invoice Template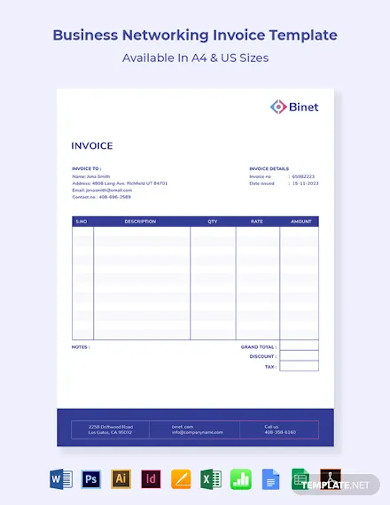 7. Small Business Sales Invoice Template
8. Modern Commercial Invoice Template
With this commercial invoice template, create your own professional business invoice. This modern invoice template comes to you in A4 and US sizes. It is highly customizable and works with all the versions of MS Word, MS Excel, Numbers, and Apple Pages. The template is very easy to edit and helps you invoice your clients professionally.
9. Simple Estimate Invoice Template
The template is perfectly suitable for both personal and commercial printing. This estimate invoice template is not available free of cost. The estimate invoice template comes in various formats such as MS Word, MS Excel, pages, and numbers. This sample offers a CMYK color space and 300 DPI Resolution. The template is easily customizable and editable.
10. Free Business Invoice Template
The business invoice template is available in A4 and US sizes. The business invoice template is easy to use and offers instant download in any file format. The template supports Google Docs and sheets which can be fully customized in all versions of MS Excel and MS Word. It is very easy to change the colors and to print the template.
11. Basic Business Invoice Template
Download the template in all file formats and sizes such as MS Word, MS Excel, Google Docs, editable PDF and more. The template also includes excel functions and formulas, along with the eye-catching title with suggestive content and headings. The basic invoice template is available in premium quality with free standard Google Fonts.
12. Business Service Invoice Template
The template is available in all sizes and formats. Download these well-formatted and accessible templates for your company easily. The service invoice template offers easy editing option and supports both Windows and Mac OS and is ready to print. Plus, trust this invoice sample for instant download anywhere, anytime, in all file format.
13. Standard Business Invoice Template
The corporate invoice template comes with auto calculation and auto sum features on MS Word and Adobe InDesign. It is a high quality, 300 DPI resolution invoice, ready for digital use or for print. You can easily update or edit the invoice to suit your corporate fonts and corporate colors. This small business invoice template uses free fonts and comes with a User Manual.
14. One Page Business Invoice Template
The invoice template is a 1-page template available in .docs and .PSD format. The invoice templates are completely customizable where one can edit, reshaped, resized or delete the images, texts, shapes, colors, and icons. The templates are not available for free. This template offers 111 pcs icon set and a PDF that includes download links to fonts.
15. Professional Business Invoice Sample
The template is available in A4 size with 0, 3 cm bleed. This professional invoice template uses free fonts and is easy to edit Photoshop .PSD file. This invoice sample uses two different types of fonts namely Bebas Neue and Roboto. These templates include 1 Photoshop file and 1 readme file.
16. Brief Estimation Invoice Letterhead Template
This sample estimate invoice template help you arrange all the information related to your customers and products, save time and create the invoice by just inserting product ID and customers ID. The invoice letterhead supports multiple applications like MS Word, Adobe Photoshop CS3, Adobe Acrobat Reader, and Adobe Illustrator. It is available in 5 colors, however, you can edit the color as per your brand.
17. Editable Business Invoice Examples
The business invoice template is available in unlimited color, however, you can change the colors easily in Photoshop. It features automatic date and automatic calculation such as grand total, tax, and subtotal. This complete designed small business invoice template is available for free. Moreover, this template has an automatic fill-in invoice and separated datasheets for the customers and items.
18. Standard Simple Invoice Template
The simple invoice template is available in A4 and US sizes with 0.25-inch bleed size. This is ready to use templates which uses Open Sans font face. It is available in 6 colors where each of them is well-organized and fully editable. The template offers 300 DPI print-ready features and has font file web links and well-documented instructions.
More in Invoice Templates