Marriage is one of the most exciting, not to mention, beautiful events in a woman's life. Wedding gowns, long veils, colorful bouquets with the most exquisite flowers—it is truly a spectacle that highlights the beauty of love outpouring from both the groom and bride. Weddings highlight the bride because she becomes the center of everyone's attention. You may also see invitation templates.
Not only that, it is a lot of pressure and responsibility for her as she needs to be hands-on with everything that encompasses her simple wedding. From the venue to the foods, down to the guest list and invitation cards. That is why a day (in which she did not mostly organize) is ideal to get the bride-to-be off the stress boat and just have a little fun.
Vintage Bridal Shower Invitation
Rustic Bridal Shower Invitation Sample
Wood Bridal Shower Invitation
Which is where bridal showers come in, an event commonly organized by the closest friends or the appointed maid of honor of the bride-to-be. With a bridal shower, the women friends of the bride-to-be gather together to send her well-wishes and shower her with gifts. This is also done to anticipate for the coming wedding, which will in a way, help the bride-to-be be better prepared with the wedding and the next chapter of her life. So, if you are a friend planning to organize a bridal shower for your friend that is getting married or is someone appointed as a maid of honor and is seeking invitation card designs and templates to use for the bridal shower, here is a list for you.
Elegant Bridal Shower Invitation
Simple Bridal Shower Invitation
The Tradition of Bridal Showers: Then and Now
How bridal showers are being celebrated now is far from how it was being celebrated back in the day. The idea was mainly derived from that of the Victorian-era where women gathered together with the bride-to-be to send her well-wishes and shower her with gifts for her coming wedding. The girls would put their gifts inside a parasol and place it above the bride-to-be's head to make it look like she is being showered with the gifts, thus the term "shower". You may also see bridal shower invitation templates.
However, now in a more modern setting with people constantly steering away from tradition, bridal showers are being celebrated differently— no parasols and literal showers —just gifts and well wishes. The bride-to-be and her friends simply gather together to, in a way, anticipate the wedding, and also be able to bond before the bride-to-be steps into a whole new chapter of her life. You may also see PSD bridal shower invitations.
Back in the day, bridal showers were strictly only for the bride's women friends. Never were men invited to take part in the festivities that surround the bridal shower. One reason for this is the theory or the possibility that men might disrupt the flow of dynamics especially with the kind of topics women choose to discuss. That instead of being free and comfortable, they become conscious and careful that they might hurt a man's ego or feelings. You may also see beautiful bridal invitations.
But now, there are more and more bridal showers celebrating it with both men and women in attendance (i.e. Jack and Jill shower), where the guests from both sides simply get to enjoy each other's company. Also, bridal showers now have games in them to make it a truly fun-filled and memorable event that both the bride and the groom-to-be get to share. You may also see bridal shower invitations.
With the constant efforts of individuals to steer bridal showers way from its traditional setting, it has led to one that fits the modern times. Now, bridal showers are not biased to a specific gender, more fun and exciting. You may also see bridal shower invitation banners.
Minimal Rustic Bridal Shower Invitation
Retro Bridal Shower Invitation
Rustic Bridal Shower Invitation
Rustic Theme for Bridal Showers
The rustic theme is so big in any kind of event with numbers of people going for it whether for birthday parties, weddings, or even bridal showers. Rustic is actually a term used to relate to the countryside or even with just the great outdoors. Individuals who opt to apply such theme to their event, such as a bridal shower, find different ways to commemorate the setting to heavily imply the rustic idea for the event. Sometimes, people hold their events outdoors or just simply incorporate design elements that remind every guest of the great outdoors.
For a bridal shower, there are also a lot of ways you can incorporate the rustic theme to the event. You can also set it up as an outdoor event with elements such as hays, wood slices, watering cans, and wicker baskets to name a few that you can use for your rustic bridal shower. You can also incorporate foods that can in a way cohere to the rustic idea such as hams, cheeses, and biscuits to name a few. There is just a lot of possibilities you can go for. You may also see bridal shower invitation postcards.
Rustic Lace Floral Bridal Shower Card
Floral Rustic Bridal Shower Invitation
Creative Bridal Shower Invitation
Invitation Cards
Amidst the growing influence of technology and social media platforms, invitation cards are still revered as a medium for invitations. Its relevance up to this day should be a testament to its greatness and value, especially in terms of effectivity; how it has remained steadfast and firm with its purpose: to inform guests about a coming event.
In line with that, simple invitation cards are opted by people who usually are assigned to organize events despite the obvious domination of social media platform in people's lives because of different reasons that will mostly benefit the guests. First is how it is able to help guests anticipate for the event. With an invitation card relaying the information that there is an event coming up, it simply helps guests to anticipate about your event for which in this case is a bridal shower.
You get to hype them up and raise their excitement for what's to come. It is also able to set the tone of the event, especially when you have a really specific theme. An invitation card is just able to cohere to any kinds of themes (e.g. rustic theme) and relay it to the guests. When you have a rustic theme organized for your bridal shower, you are just able to express that in your invitation card. You may also see formal invitations.
More importantly, an invitation card is able to inform your guests about the event and all the details it encapsulates. From the date to the venue, down to the dress code. An invitation card simply becomes a medium that is used to relay information. Lastly, an invitation card can also be kept for keepsakes, which is one of the assets of this medium. Your guests will be able to look back on the beautiful memories that your card entails, ultimately making invitation cards a vehicle for nostalgia. You may also see bridal shower invitation samples.
Premade Invitation Card Designs and Templates
There are tons of ways you can acquire your very own invitation card, but among the different ways that are known to people (i.e. having it custom made or buying one in card kiosks), the pre-made option is seen one as practical and efficient. And here are the reasons why the pre-made option is the most ideal and the one you should go for. You may also see rustic bridal shower invitations.
1. It is Affordable
Premade designs and templates are generally affordable mainly because it does not have an intensive process that others have, especially the custom-made option. The graphics artists who create these designs are not being obliged to follow the demands and requirements of their customers. You may also see bridal shower tea party invittaions.
2. It is Workable
Working with a premade option does not require extensive knowledge about different design software used in making different mediums, because with a basic knowledge it can already help you make the invitation card you need. Also, since it is premade which means there are initial designs already laid out, it will be much easier to work with since you can simply finish the initial design of the graphics artist or use it as an inspiration to base yours off of. You may also see printable bridal shower invitations.
3. It is Editable
Premade invitation card designs and templates are fully editable and customizable to your preference. You can edit the texts, the cool fonts, the colors, the sizes, and even a few other elements of the design. Sometimes it comes with smart object layers or vector files that enable you to move around elements in the design to create a more personalized and unique-looking invitation card.
Floral Rustic Bridal Shower Card
Printable Bridal Shower Invitation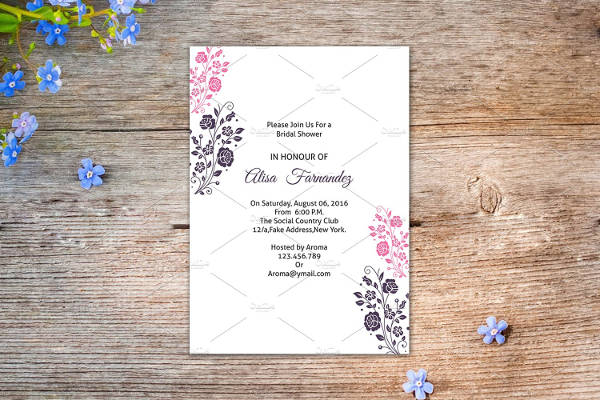 Rustic Bridal Shower Sample Invitation
If you find this article helpful in any way, do not forget to bookmark this page for future references. And, kindly share this with other individuals tasked to organize a bridal shower for their friend getting married and is seeking the best invitation card designs and templates with rustic designs to use.