Invoice Templates
14+ Travel Invoice Templates – Docs, PDF, Word
For those who are in the business of travel agencies or travel coordinators, you will need a good travel invoice for showing your clients the bill they must pay in order for them to travel smoothly and enjoy every moment of their free time wandering all around the world. By looking at general invoice template this agencies can total all the expenses that are to be paid by their customers. You may also see invoice samples.
Travel Invoice Template
Travel and Tourism Invoice Template
Travel Service Invoice Template
Simple Travel Agency Invoice Template
Free Travel Agency Invoice Template
Tours and Travels Invoice Template
Sample Travel Invoice Template
Business Travel Invoice Template
Printable Travel Invoice Template

montclair.edu | You are getting a detailed travel invoice template here which includes all the major parameters of a standard travel invoice such as explanation of items, day and type of expenses, grand total of expenses and many more.
Travel Invoice Tempalte Free Downlaod

This travel invoice template comes up with an elaborate structure where you have all the important parameters of a proper invoice like date, region of departure, time, area of arrival, means of transport, amount etc.
Travel Agent Invoice Sample

This travel agent invoice sample begins with details on your reservation on the left and details of the travel agency is on the right. Then, you have the flight information, followed by fare data and finally net service fee.
Sample Travel Agency Forms Templates

This travel agency form proceeds with name and contact details of the travel agency. It then jots down the invoice details and information on the customer. Then, you have a table on services purchased and finally special notes.
Travel Agency Invoice Form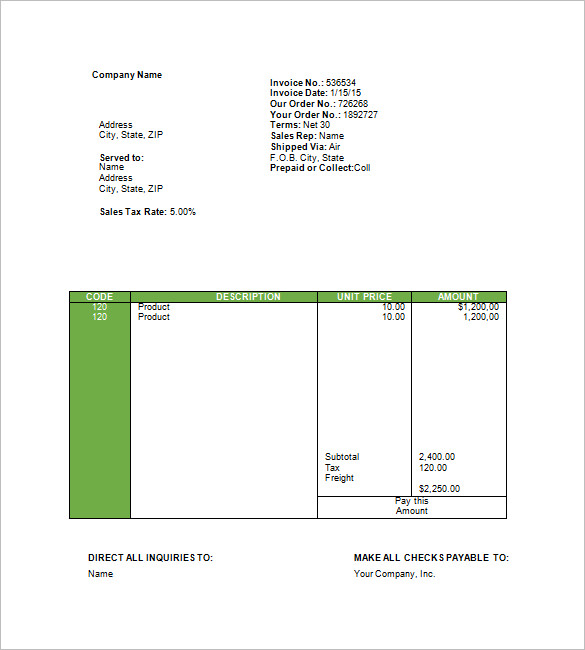 This travel agency invoice form begins with name of your company, invoice details and information on your client. Then, you have to enter sales tax data and finally there is a table on product description, unit price & amount.
Travel Services Invoice Template

invoicetemplatepro.com
Travel Agency Invoice Templates
They can have it online the list of ready-made samples and download the said template; it can contain the expenses that are included in the travel package like hotel accommodations, travel fee, food cost, etc. the invoice templates will surely help you manage the bills for each customers travel plan. If you have any DMCA issues on this post, please contact us!