A simple letter of intent comes with the information about a proposed contract and you will get free letter of intent template today to help you in formatting a LOI easily. It could be for a real estate transaction or a business deal or for a cover letter to be sent with a resume. The letter is meant as a prelude of the contract that would be signed later.
A simple letter of intent example includes details about the parties to be involved in a contract or deal. Such a letter also provides information about the purpose of the deal such as a business merger or property purchase and so on.
Letter of Intent Acquisition of Business Template
Download
Letter of Intent Template
Download
Simple Letter of Intent to Purchase Property Sample Free PDF
wkblaw.com - If you want to purchase some property, you should begin by writing a letter of intent to the seller. This includes the basic details of both and terms. The template is available in PDF format.
Simple Letter of Intent Sample Employment for Government PDF
publications.qld.gov.au - If you are seeking employment in a government department, this PDF template will guide you to write the right letter of intent. Download it today and fill in your details.
Simple Letter of Intent Sample For University Undergraduate PDF
accp.com - In order to get into a college program to study a degree a letter of intent is required. This PDF template is designed to help you easily write the letter.
Simple Blank Letter of Intent to Lease Template Sample Download
opitzrealty.com - In order to lease a property, you as the landlord should prepare a letter of intent to lease that has the basic terms and details of both parties. This PDF template has all that you may need.
Formal letter of intent to Purchase Template Free Word Download
formalletter.net- If you want to purchase some asset or property, start by writing a letter of intent to show your interest. Using this Word template as a guide, you can write a good letter.
Simple Letter of Intent for Job New Position Sample for Free
answers.com - In order to show your interest in a new job position available at a company, a letter of intent is needed. Use this Word sample to produce the letter as required.
Scarlett High School Simple Letter of Intent Sample Download
depscarlett.ca - So as to express your interest in working as a teacher at Scarlett high school, a letter of intent is necessary. We have this Word sample letter to help you say what's in your mind.
Simple Letter of Intent to Purchase Real Estate Word Doc
classicrealtyva.com - Before going into the negotiations to buy some real estate, a letter of intent form one of the parties is necessary as it sets out he terms. Use this Word template as a start.
Sample Letter of Intent for Promotion Purposes Template Download
esampleletters.com - If you want to let your superiors know of your interest in the vacant position of promotion, use a letter of intent. With this Word sample letter, all you have to do it replace the words with yours.
Statement /letter of Intent Template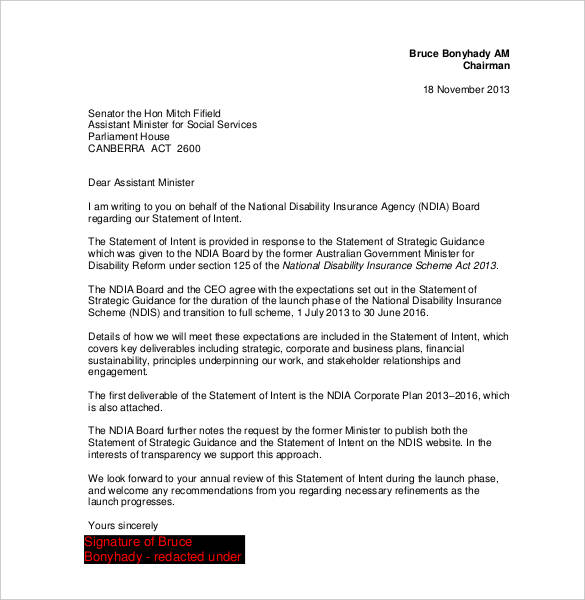 ndis.gov.au
Draft Letter of Intent
grover.org
Free Printable National Letter of Intent
msu.edu
IT Senior Project Letter of Intent
usf.edu
Business Letter of Intent
6717000.com
Resume Letter of Intent
sait.ca
Professional Insurance Letter of Intent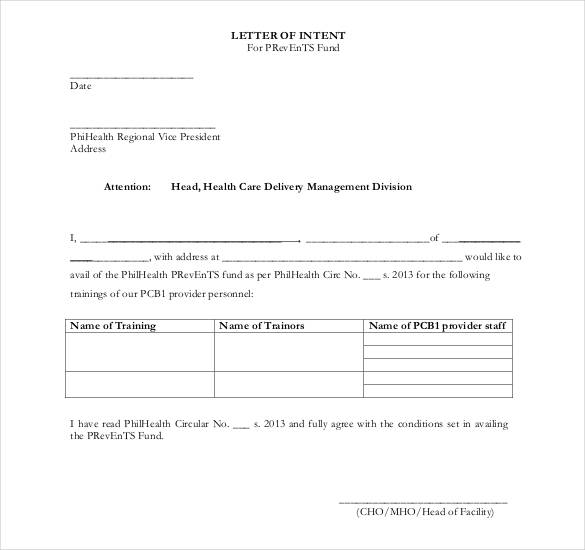 philhealth.gov.ph
Letter of Intent for Retirement
leaveretirement.dadeschools.net
What is a Letter of Intent to a College?
A letter of intent to a college is also known as a college interest letter which is often a requirement to gain admission into high school, medical or graduate college or even a dental university. The letter is written by the candidate expressing his interest in a particular course and his qualifications to join it. He may also be required to explain why he wants to join the college. The format for such a letter can be easily found in the various Letter of Intent Templates in Word that are readily available online. However, he may have to do some research before beginning to write the body of the letter.
How to Write a Letter of Intent?
Whether you are writing a letter of intent to gain a dealership or to grab the attention of an investor for organizing an event or to request for a donation for a hospital, it is important that you follow the perfect format while also composing an impressive letter. Taking a quick look at Real Estate Letter Of Intent Templates  gives you an idea of the format. Here is how you can write a letter of intent.
Start with the date on which you are writing the letter.
Below this give the name and contact details of the recipient.
This should be followed by the subject that expresses the reason for writing the letter.
Next should be a proper salutation. Make sure to address the recipient directly.
The first line of the letter should clearly state the reason for which you are writing the letter.
Then go on to write the body of the letter which should be followed by a proper conclusion.
What should be done before Signing the Letter of Intent?
A person who is involved in writing a letter of intent can get some cue about the format and the layout by taking a look at Sample Employment Letter Of Intent Templates. However, a person should take some special care before signing a letter of intent. Here is what he is supposed to do.
Ensuring that all the regulations and directions have been met with
Making sure that you are in sync with the authority to which the letter has been addressed
Make any kind of negotiations that are needed to avoid future conflicts
Clarifying any doubts and queries that you may have
Tips
Irrespective of whether you have drafted a letter of intent using the Letter of Intent for Job Templates or any other template for that matter, you can surely do with some tips to write an impeccable letter. Here are a few tips to help you out.
Make sure to address a letter to a person. The clauses like "To whomsoever it may concern" do not look good and can have an adverse effect
When it comes to introducing yourself or explaining about your qualifications and interests, there is no need to write a long paragraph for it. Try to be precise and clear
The conclusion of a letter of intent is as important as the beginning. So, close the letter on a positive note
Uses
The letter of intent is an essential part of the business world and has a lot of uses. Let us take a look at what these are.
A Purchase Letter Of Intent can come in handy for buying of a business
To get into a joint venture
Purchasing a real estate property
Leasing out a property
Requesting for a scholarship
Appling for a job
Seeking admission in a college
Seeking finance for a business
Not sure how to write a Letter of Intent? Well, we have a vast collection of such letters in our collection. Check this out and pick the one that is perfect for your needs. Designed by experts, these letters are totally in sync with the latest industrial trends. Thanks to the ease of downloading and customization that these offer, you can easily draft an impressive letter of intent.