Excel
12+ Google Docs Templates
If you don't know what Google docs actually is then it's the time to get familiar with it. This is a place where you can collect and store any documents online for free. For preparing Google docs you don't have to begin the plan from scratch, all you have to do is download Google sheet template.
Sample Proposal Template in Google Docs
Download
Proposals are used to persuade the audience to buy into their idea. This sample proposal template is useful for businesses. It is going to be a great thing to add to your library of templates. Proposals make it easier to show the idea you have in mind to the others so that they understand it better.
Rental Agreement Template in Google Docs
Download
The rental agreement template will help you create the best rental agreement for your home/tenant or any rental agreement concerns. The above template is totally editable and customizable so that you can use it in the best way that suits you perfectly. All you have to do is download this template, edit the yellow highlights and your agreement is ready.
Free Formal Thank You Letter in Google Docs
Thank you letters are written when you want to show that you are grateful to someone for playing their role of perfection in your life, in whatever role and place it might be. The above template will help you create such a beautiful letter to those special people. It is easy to download, and you can make it into a personalized formal letter showing your gratitude to the addressee.
Professional Resignation Letter in Google Docs
Resignation letters are usually given by those professionals who wish to leave the job they are working in, due to their own perosnal reasons. The above template is a well-formatted resignation letter that you can download for free. Get to write a formal and professional looking letter to effectively convey the details of your resignation, including the date, reason, etc.
Vacation Leave Letter in Google Docs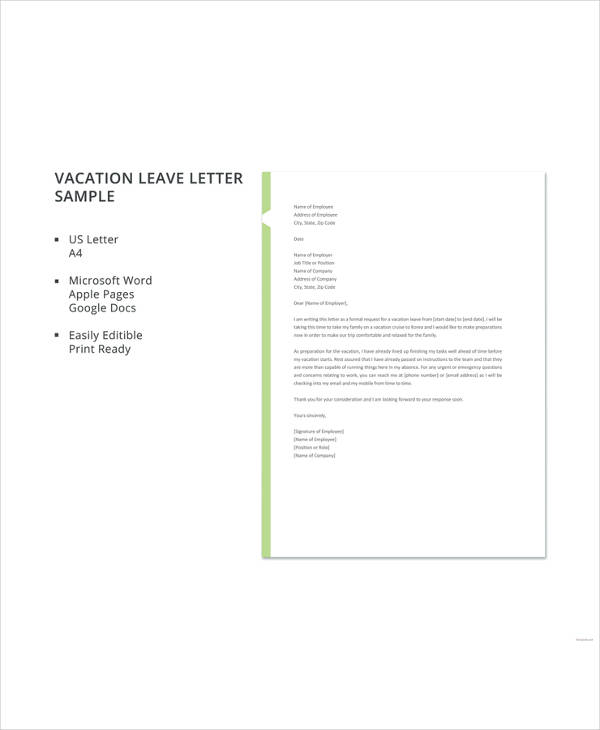 A vacation leave letter is given when the employee decided to take some time off work, to get off the stress apart from other things. He/she might be going for a vacation or might be taking a long leave for personal reasons. Get to create a well-formatted letter to formally request for vacation leave with the above template. It is very easily editable and can be customized the way you like it.
Various Features of Google Docs
There are various features of using Google Docs. These could be – collaborations, add-on features, conversions, extensions, revision history, clear formatting, suggestion mode, offline mode, rolling your own substitutions, etc. It is a very helpful feature given by Google to all its users. It can be used in resumes, agreements, contracts, etc. It would be easier for organizations to conduct the SWOT analysis of their employees too.
It has various advantages over people in different professions. For students, especially it is very helpful as they can finish their project on time with the help of Google sheet templates. For office going professionals, it can be of great help when they can share their work with their co-workers. It makes editing an easy job as it can self edit itself with just a single click. Having said that, you can try them out for yourself. All you need to have is a Gmail account. Yes, it is that easy!
Sample Experience Letter in Google Docs
An experience letter is a type of a formal letter that is given by the employer to the employee which says that the employee has worked for a given time in the organization, thus having so much experience in the current organization. These kinds of letters are usually used by employees at the time when they are searching for a job. Download this sample letter to help you draft one for an employee. This is perfect for detailing the necessary information relevant to that employee's position and time spent in the company.
Sample Project Timeline Excel Google Doc Template

You are getting a detailed pre-structured project timeline template here where every important point- such as deliverables, owners, duration & planning phases- have been mentioned beforehand for your ultimate convenience.
Student Report Google Doc Template Example

This student report template would be beneficial if you have been asked to present a report on chemistry formula. It's neat, clean & designed by pros to ensure the best results for you.
Free Download Fitness Google Doc Template

If you are struggling to maintain a proper & organized fitness regimen, this workout sheet template here would be the perfect solution for you. This detailed weight training routine has been smartly divided into 3 sets.
Sample Calendar Portrait Google Doc Template
Sample Student Certificate Google Doc Template
Employee Certificate Google Doc Format Template
Teacher Topics Google Doc Template
If you have no time to create a cover letter all by yourself, this cover letter template here will be handy for you. It comes with a readymade and easily customizable structure so that you don't have to create anything from scratch. If you are too busy to draft your company newsletter right from the scratch, this pre-defined newspaper template here would be beneficial. The template also comes with a readymade space for image or company logo.
You will be getting all the new features like adding tables, changing font sizes and putting bullets. You can simply alter the common factors which you can to do while working offline. Also, you can check google spreadsheet templates which will be of great help to you if you are working with Excel. All these benefits are available for free with the PSD Google docs template which is fully protected.