Invitation Templates
28+ Conference Invitation Templates – PSD, AI, DOC
Invitations play an important role in pulling people to attend the events you are hosting. Conference invitations are also very important in this way, the people you are sending the invite to, know what kind of conference it is going to be. Once they know the central theme, then they can make up their minds. You can also see more on Conference Flyers.
There are various sets of invitations templates that are available online and these can be used to the best of their abilities as you wish. They make your job easier, as all you would have to do is download the files, edit and customize as per your needs and wishes. They give details of the event, directions, etc. as these make it easier for the guests to reach the venue with ease. You can also see more on Conference Invitations in Illustrator.
Conference Invitation Sample Template
Printable Conference Invitation Template
Formal Business Conference Invitation Template
The above-mentioned conference of business invitation template is great for any business or conference meeting. When holding business conferences, remember that you need to have a professional invitation, so as to gather the crowd you want. Make sure that you have the right template in hand to make the best invitation needed. We got just the thing for you. You can take the help of the above-mentioned template and make the perfect invitation you need for any kind of a business conference. You can also see more on Photo Invitations.
Modern Conference Invitation Template
Corporate Conference Invitation Creative Template
Scientific Conference Invitation Design Template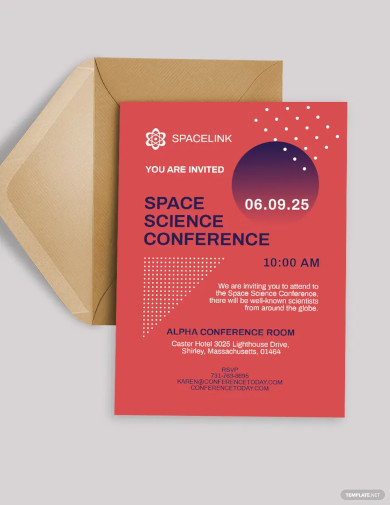 Modern Womens Conference Invitation Template
Healthcare Conference Invitation Template
Conference Invitation Template
Are you in search of the perfect sample invitation to invite potential clients and guests for your conference? Then we have just the thing for you. The above-mentioned invitation template is ideal for any individual or company planning to host a conference meeting. Check invitation in PSD. All you would have to do os simply download the template, edit and customize it as you wish. Try it out now!
Conference Invitation Flyer Template
Free Conference Invitation Instagram Story Template
Medical Conference Invitation Template
Legal Conference Invitation Template
Youth Conference Invitation Template
Women's Conference Invitation Template
Professional Conference Countdown Flyer Template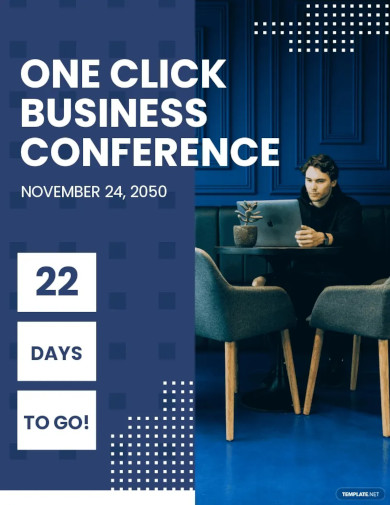 Editable Luncheon Meeting Invitation Template
Simple Business Meeting Invitation Template
Corporate Breakfast Invitation Card Template
Annual Official Conference Invitation
Grab this premium annual conference simple invitation template and start sending stunning out quality cool invitations to your guests and clients whenever needed. It is very easy to use and can be easily edited and customized as per the needs and requirements of the user. You can even share this digitally through email or on other social media platforms. It is also available in many file formats and you can choose the best one out of the lot.
Annual Business Meeting Invitation Template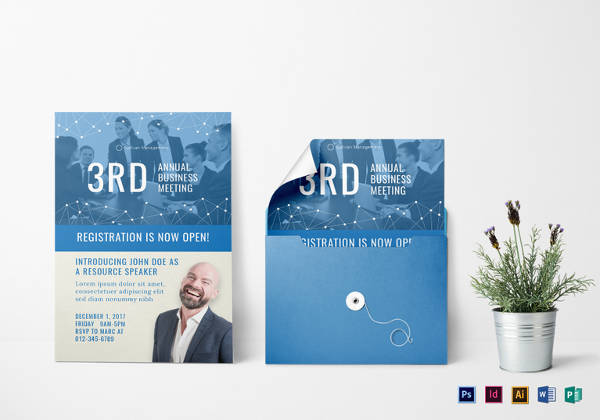 While making the invitation layout, you need to mention who the speaker for the conference would be, as this might increase curiosity in the guests to know more about the theme of the conference. Get this cool, blue annual business meeting invitation template perfect for annual meeting invitations. It is fully customizable and can be easily edited to fulfill your needs perfectly. It is available in many file formats and it can also be downloaded anytime, anywhere effortlessly. Check it out now!
Business Breakfast Invitation Poster InDesign Template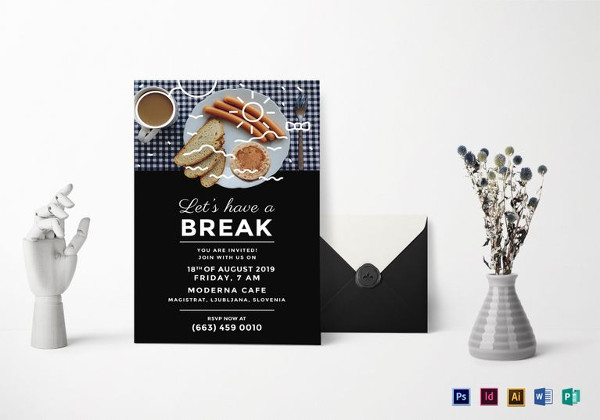 Talk business over breakfast with the help of this easy-to-edit breakfast invitation template. This easy to edit invitation comes with standard fonts and licenses. Invite your prospective clients or guests to a breakfast or brunch conference, so that you can get to know them better in the most common way – over food. Easily download the file and edit with your favorite software application. Available in formats like Publisher, MS Word Format, Pages, etc, this template can be easily modified to match your preferences perfectly. Try it out now!
Business Lunch Invitation Illustrator Template
Entice invitees with this appetizing and mouth-watering business lunch invitation templates. Download this template now and get instant access anytime and anywhere. Food is the best source of conversation as it can either make or break deals. A business lunch involves a lot of professionalism, so make sure that you use the right template to create the perfect invitation design needed. This above-mentioned template is not just limited to a computer, but it can also be downloaded with ease on any electronic device effortlessly.
Create a Conference Invitation in 5 Steps:
Step 1: Target Audience
Before you start designing the creative invitation, you must know the kind of audience you are inviting. Since conferences deal with a lot of topics, you must make sure that all your audiences understand what industry is the conference you are hosting dealing with. This could be business, medical, technology, fashion, food, etc. You must identify the right audience for your planned conference.
Step 2: Event Details
Event details play an important role in the invitation, as this way, it would be easier for your audience, guests and clients to understand where is the event taking place. Details like the name of the venue, the location, the address, landmarks, etc. should be mentioned in the modern invitation. Also, you must mention the type of conference this is going to be so that people will know.
Step 3: Purpose and Theme
You need to know why you are making the invitation in the first place and also, why you are hosting a conference. This way, it gets easier for you to choose the details that will get into the invitation format. The main purpose of the invitation is very important. This could either be for general awareness, charity, fund-raising, etc. Select a theme for your conference and carry that into your invitation as well. This way, the guys will understand what the conference is about easily.
Step 4: Conference Details
This is the step where you give details of the conference in brief. The date, time, location, etc. should be mentioned in the invitation. Also, mention who the speaker would be, as this might inculcate curiosity in the audience. Mention if there is any dress code to be followed and also if there would be any food/stalls that would provide food to the audience. Your invitation has to be formal and also, simple. Do not forget to give the option of RSVP to the audience in this way, you will have a headcount of the number of people that would be possibly attending the event.
Step 5: Sponsors
Sponsors play a crucial role in the conference, as without them, you wouldn't possibly have the funds to make the event a success. So, you have to mention the co-organizers and the sponsors that helped you successfully throw this conference. Give all the basic information needed. Keep the invitation example short and brief. Give only the details that one needs to know. Be creative and pick the right fonts, texts, and color for your invitation. You can also see more on Sample Invitations in Illustrator.
Free Event Conference Invitation Letter Format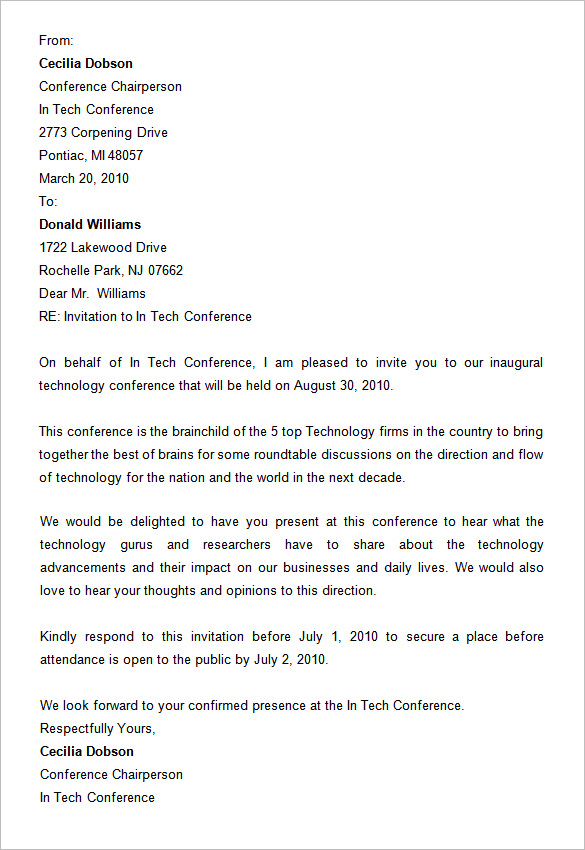 Sample University Conference Invitation Program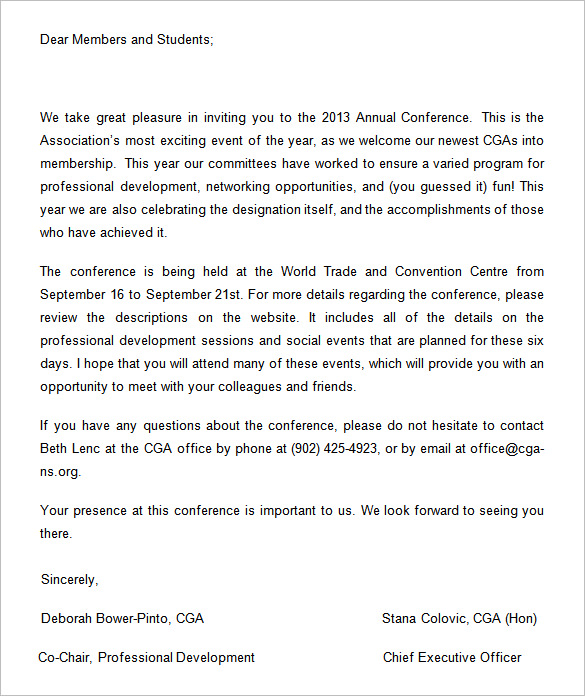 Free PSD Conference Meeting Office Retirement Party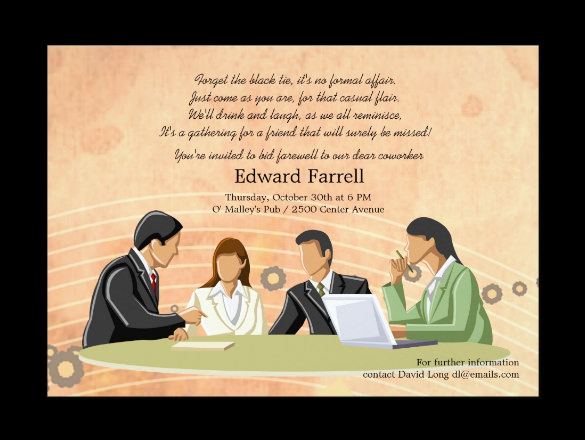 Free Email Conference Announcement Invitation Letter

cdc.gov
Free Conference Invitation for Markets and Consumption

uci.edu
Wrapping Up:
Conference poster templates that are available online can be of great help to you in making the right poster needed for the conference you are hosting. Fill in the basic details and you are set to go. You will have the option of adding every detail possible about the meeting to the RSVP section. You can also see more on Confirmation Invitations.
Invitations can be used to entice the audience into attending the conference so that they can also learn something from it. You can also see invitation in Word for more. Adding basic information to the invitation is very important, so make sure that you add the necessary details without fail in the invitation. You can also see more on Conference Invitations in Psd.