Invoice Templates
Contractor Invoice Templates – 21+ Free Word, Excel, PDF Format Download
If you have the work of a contractor, then making invoices must be a regular part of your business routine; whether it be for individual users or companies and other contractors samples. So you can Download the readily available Free contractor invoice templates and get the best sample invoices made easily by using your own ideas and combining with the templates.
Blank Contractor Invoice Template
Electrical Contractor Invoice Template
Basic Independent Contractor Invoice Template
Personal Contractor Invoice Template
Construction Subcontractor Invoice Template
Self Employed / Employment Contractor Invoice Template
General Contractor Invoice Template
Professional Contractor Invoice Template
Sample Fillable Contractor Invoice Template
Sales Invoice Template
Service Invoice Template
General Employee Invoice Template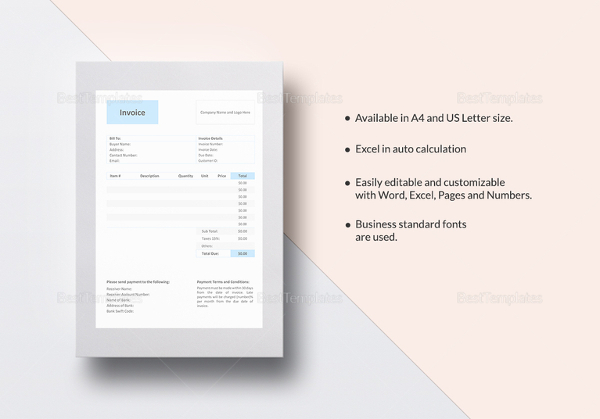 Blank Invoice Template
Invoice Example Template
Free Simple Plumbing Contractor Invoice Template PDF

This particular specimen of the Contractor Invoice is in PDF format. It is a ready-to-use high quality template which you can easily download and customize adhering to your requirements. Be it inserting a company logo, name or title – all of this and much more can be accomplished in a jiffy.
Printable Contractor Invoice Template Word

The Contractor Invoice Template in the Word Format lays down a professional format for your business including the project details, agreement and work order number, descriptions of the work performed, the completion period and the total amount.
Contractor Invoice Downloadable in Excel Format

If you want to add formulae, currency convertors and auto calculator, you can use the contractor invoice in the excel format which allows you to incorporate such facilities and print them out or mail them as per your requirements.
Free Independent Contractor Invoice Receipt

If you are an independent contractor and looking for a simpler and easy to fill contractor simple invoice template, then this format could be your answer to send a customized contractor basic invoice to your clients.
Contractor & Freelancer Hourly Invoice Download

The Contractor Freelancer Invoice Template is for you if you are a freelance Contractor and need to prepare a customized modern invoice for a project of a comparatively longer duration for your clients.
Free Labor Contractor Invoice Template to Print & Use

Preparing a contractor creative invoice template can be grueling. The tedious process of setting the statements, placing proper rows and columns and making the correct calculations can be made easy with the Contractor Invoice Format template whose customized friendly template is all you need to make a professional impression with your invoices.
Sample Roofing Contractor Invoice Template
Simple things like inserting numbers in the right places, ordering the items, making sample statements and setting proper row and columns for the work is made very simple using the Sample contractor invoice design templates on the internet. Easily make and disburse your templates to the people 1. For all the busy and regular contractors, you can readily set precedents and get your professional invoices made easily by inserting your own logos, title, names and other items at desired places in the invoice automatically.
2. You can also put in auto calculators and currency converters for easy calculations while filling in the invoices automatically which will ease your work and burden. 3. You can also set different type of Contractor Invoice templates Word,Excel,PDF and Google Docs for the specific kinds of people like individuals, companies and other contractors, making them all slightly different from the other for easier identification If you have any DMCA issues on this post, please contact us!