Halloween templates are a true space for designers to show cases their creativity and design skills. In most of the other kinds of templates, the shades and themes used are at the discretion of the designer. However, in case of Halloween wedding invitation templates, even the shape, size and orientation of the wedding template is at their disposal. Designers can locate plenty of pre-defined samples and best articulated templates online which can be used to customize their designs.You can also visit beach wedding invitation.
These wedding invitation templates are mostly designed using PSD images; keeping in mind the various color combinations, themes, font styles and texture, and ensuring that all complements each other.
202+ Wedding Templates in Word, Google Docs, Apple Pages, PSD, InDesign, Publisher, Illustrator, Google Sheets - START DOWNLOADING
Halloween Wedding Invitation Template
Romantic Couple Halloween Wedding Invitation
Ask your family and friends to join you for your big day's celebrations in a funny, hauntingly beautiful manner with this romantic couple Halloween wedding invitation that looks quite attractive.
Steampunk Antique Skulls Halloween Wedding Invitation
Make sure that your wedding invitation card looks hauntingly beautiful with an air of grace about it with the help of this steampunk antique skulls Halloween wedding invitation theme.
Skeleton Till Death Halloween Wedding Invitation
If you have a morbid fascination for death and the mysteries of it, show that to your family and friends in a funny manner with the help of this skeleton till death Halloween wedding invitation that features two skeletons together in the middle of cobwebs and the entire deadly aura.
Couple Halloween Wedding Invitation
Ask your friends and family to join you in your wedding celebrations with a morbid and beautiful wedding invitation theme. This couple Halloween wedding invitation features a skeleton couple sitting holding hands and looks beautiful.
Custom Printable Halloween Wedding Invitation
If both of you are fond of literature and if Edgar Allan Poe's Raven fascinates you, portray your love for the dark and mysterious force of death on your wedding card using this custom printable Halloween wedding invitation theme.
Skeleton Couple Halloween Wedding Invitation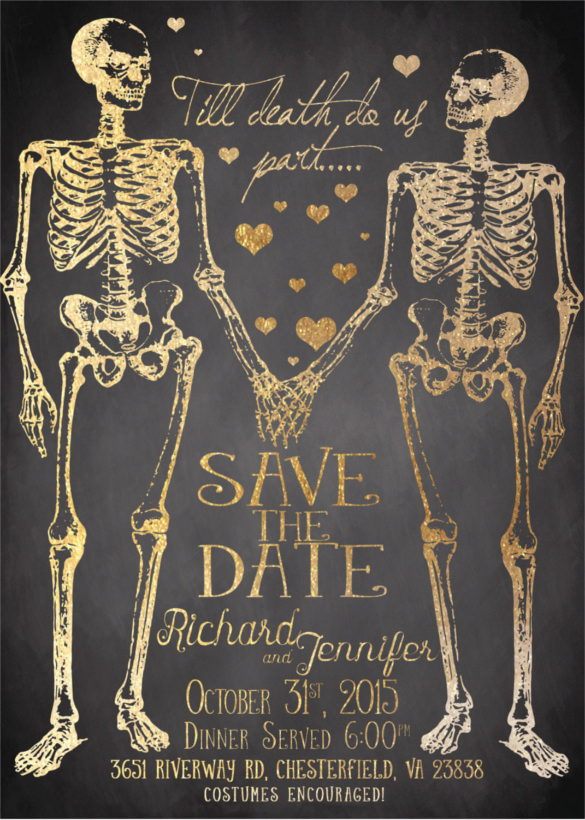 A wedding is for a lifetime, and the vows do say 'till death do us part'. Say that on your wedding invitation cards as well and tell your family and friends that this bond is for a lifetime in a very subtle manner with the help of this skeleton couple Halloween wedding invitation.
Skull Couple Halloween Wedding Invitation
Keep your wedding invitation simple yet stylish with the help of this skull couple Halloween wedding invitation theme that shows a couple of skeleton heads with red decorations all about them!
Digital Printable Halloween Wedding Invitation
Use the theme of a dark sky with a fatal air and Ravens all about it to invite your friends and family to your wedding in a way that is different from others. Use this digital printable Halloween wedding invitation for the best effects.
Skeleton Halloween Wedding Invitations Template
If you are getting married in the period of Halloween, make your wedding invitation peppy and perky by depicting a Halloween theme on it. Use the skeleton Halloween wedding invitation card to make a lasting impression on all your guests.
Halloween Wedding Invitation Suite with Skull And Bats
If you're getting hitched when Halloween is just around the corner, use purple hues and bats to decorate your wedding invitation card in a theme of Halloween with this Halloween wedding invitation suite with skulls and bats.
Dancing Halloween Wedding Invitation
Halloween Wedding Invitation Printable Template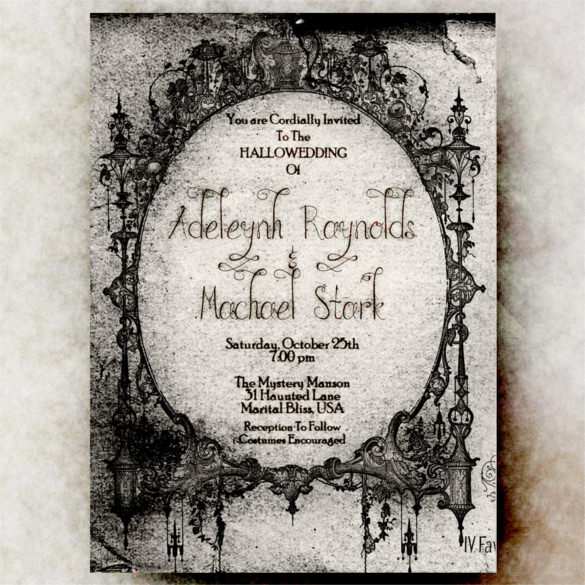 Custom Raven Halloween Wedding Invitation Template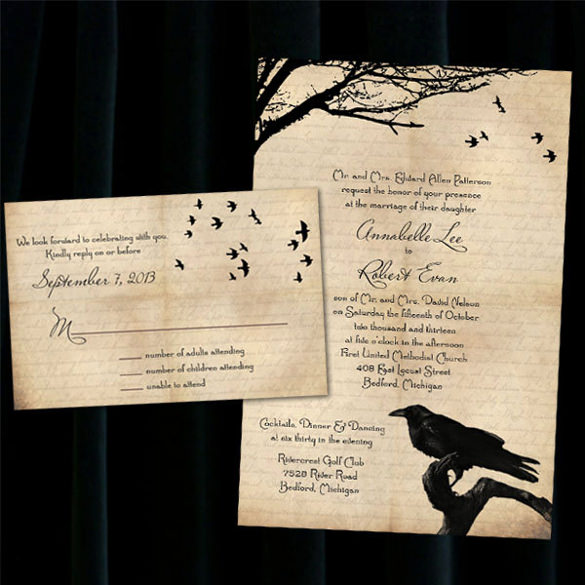 Gothic Skull Couple Halloween Wedding Invitation
Bewitching Halloween Wedding Invitation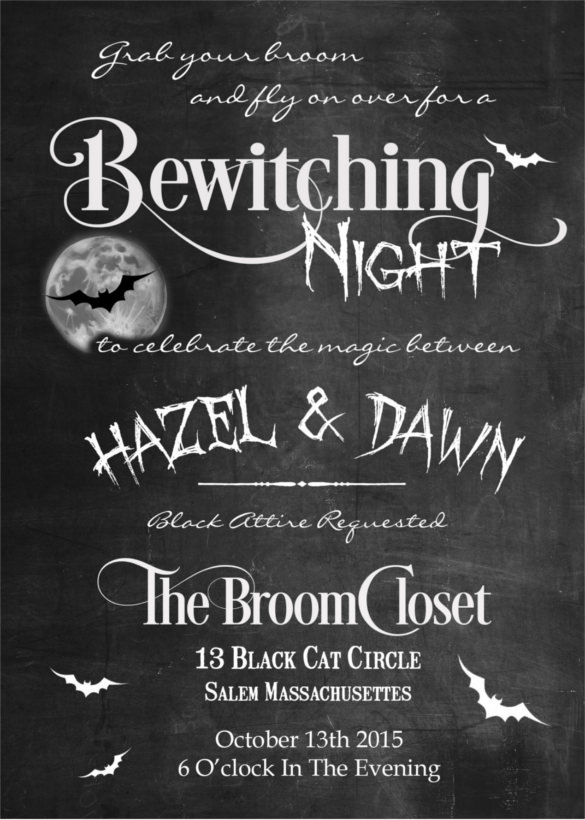 True Love Never Dies Skeleton Halloween Wedding Invitation
Sample Skull And Cross Bones Halloween Wedding Invitation
Digital File Flower Butterflies Halloween Wedding Invitation
Save the Date Halloween Wedding Invitation
Halloween Invitation Printable Wedding Template
Skull Halloween Invitation Printable wedding Template