Accounting for time is always an important aspect that every person has to keep in mind. Wasting time is never a fruitful move, and if you do not have a plan on how you are going to spend your time, you will more likely find yourself spending your time the wrong way. A Timesheet Templates is an important tool that can help you plan, spend and account for the time you have spent on a particular session or task.
Time Sheet Word Template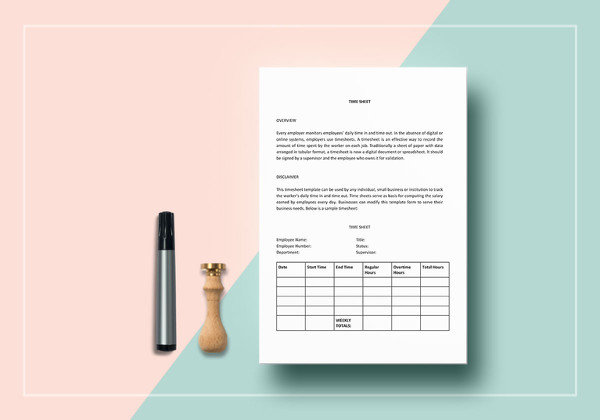 Buy Now
Sample Time Sheet Invoice Template

Buy Now
Overtime Sheet Template

Buy Now
Hourly Timesheet Template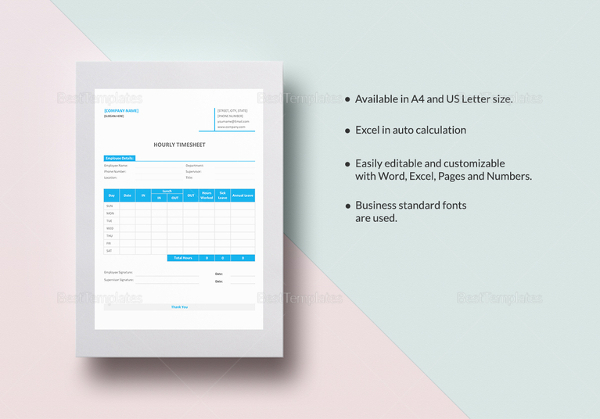 Buy Now
Monthly Timesheet Template

Buy Now
Consultant Timesheet Template

Buy Now
Project Timesheet Template

Buy Now
Employee Sign in Sheet Template
Weekly Timesheet Template Free
Managing a big business and unable to keep every small things in mind on regular basis? Need not to worry; we have solution also for that. Our weekly timesheet template is one very simple and easy to maintain. It is a routine like template with space for noting the name of the job, in and out time, regular hours of work and also over time if necessary. It also gives the opportunity to calculate the pay for the entire week and also has a space for any remarks if so.
Biweekly Timesheet Template with Lunch
This Bi-weekly Employee timesheet template is a unique one in the category. Along with all other details to be listed like name of the employee, company name and address, time in and time out, the time when the lunch break starts and when it ends is also listed in this template. It consist space for all small details like normal pay and overtime pay with weekly overtime threshold.
Free Payroll Timesheet Template
Timesheet Template Free Download
Printable Consultant Timesheet Template
Daily Timesheet Template PDF
Project Timesheet Template
Sample Timesheet Template
Employee Timesheet Template
Timesheet Template Download
This timesheet template download is a very helpful one in the lot. This is an all ready to use template which you may just download and print for your use. This has all the fields filled in for your time saving purpose you may just download and enter your particulars about the Project and name of the employees and get it printed to start working with. The use of subtle colors in it makes it more professional.
Free Timesheet Calculator
Simple Timesheet Template
Staff Timesheet Template
This template can be stored in your computer for use time and again. This template is designed singly for a particular staff seeking more detailed information about the work and the employee. This can be used for more than a week or for a month in a single sheet. If there are a number of employees involved in the project you will have one sheet for each and piled as a booklet for your convenience.
Hourly Timesheet Template
Monthly Timesheet Template
No-break Weekly Timesheet Template
Simple Timesheet Calculator Template
Timesheet Template for Employees
Timesheet Spreadsheet Template
Weekly Timesheet Template with Breaks
Nobreak Weekly Timesheet Download
Consulting Timesheet Template
qualitestgroup.com
Medical Daily Timesheet Template
morganconsulting.com.au
Non- Exempt Extra Duty Timesheet
augusta.edu
Company Attendance Weekly Reminder Time Sheet Excel
dovico.com