Want a truly original theme for your wedding? If yes, why not try out a nautical wedding theme. Take a look at and be inspired by the numerous beautiful and well-designed nautical wedding invitation templates that we have compiled for this article. Read on and find out more! You may also see invitation samples.
202+ Wedding Templates in Word, Google Docs, Apple Pages, PSD, InDesign, Publisher, Illustrator, Google Sheets - START DOWNLOADING
Nautical Wedding Invitation Template
What is a Nautical Wedding Theme?
A nautical-themed wedding encompasses a lot of things. But its main distinguishing element is the use of text, graphic design, and layouts that reminds us of the ocean, sea-faring vessels, sea creatures, beaches, the sun, and the tropical island vibe. With these design inspirations, anyone can create thousands of design permutations that will make for a memorable nautical wedding template and invitation design.
Also remember that just like choosing any kind of wedding theme, it is equally important to make sure that all the other decorative and stationery designs used for the wedding remain consistent. Doing this will help create a sense of unity for your wedding event.
Check out these Downloadable Nautical Wedding Invitation Templates
To give you an idea of how a nautical theme can be applied to your wedding stationery design, take a look at these printable wedding invitation templates that we have embedded throughout this article. Each template is downloadable and customizable to match the specific look and feel you want for your wedding invitation cards.
Anchor Wedding Invitation Template
Customizable Nautical Wedding Invitation Card Template
Deep Blue Sea Navy Wedding Invitation Template Suite
DIY Nautical Wedding Invitation Template
Light Blue Nautical Wedding Invitation Kit
Maritime Wedding Invitation Template Set
What to Include in a Nautical Wedding Invitation
Whether you are manually creating your wedding invitations or you are using a pre-made printable invitation template, it is important to know the key pieces of information that should be included on your wedding invitation. That is why we have compiled the most important things that should be written or included in your wedding invitation.
1. Relevant Graphic Design Elements
Any wedding invitation would look drab and boring if you only write your wedding details in simple block letters – making it look like a newspaper ad. That is why it is important to make sure that you add other graphic design elements to make the card template stand out.
If you are following a nautical theme, for example, it would be best to add vector illustrations, flowy typefaces, and other relevant water patterns. Doing this will give the invitation card template more life and will make it more interesting.
Remember, your wedding invitation card will be the first line of communication between you and your wedding guests. Therefore, when you create a well-designed nautical wedding invitation with the matching graphic design elements, you are somehow showing your best behavior as the wedding host.
2. Wedding Details
The next piece of information that should be included in your wedding invitation card should be the wedding details. This includes the name of the couple, date of the event, location, reception venue, and time. The importance of the inclusion of these wedding details is self-explanatory. After all, there will be no wedding invitation card if those pieces of information are not mentioned.
The main wedding details are usually the first thing that a guest will see when he or she opens and reads a wedding invitation. Therefore, graphic designers and wedding planners should make sure that they are written conspicuously.
3. Wedding Planner's Contact Information
Your wedding planner's or the wedding's contact person's (perhaps the maid of honor) contact information is another crucial piece of information that should be included in your nautical-themed invitation card. This next piece of information deserves its own entry because most wedding planners tend to forget to include it on their invitation cards.
It does not have to be a phone number. You may use an email address, a website URL, or even a social media profile page. By doing this, you are giving your guests a more convenient way to contact you for any questions, clarifications, or comments.
It is also a more efficient way to organize those who can attend the ceremony and those who cannot. Stating contact information or return address on the sample wedding invitation can also be useful if your guests want to mail the couple their wedding gifts instead of giving them personally.
4. Type of Ceremony and Dress Code (if applicable)
Lastly, your nautical wedding invitation card should also state the type of wedding ceremony and dress code you wish to follow. This is important so that your guests will know what to expect at the wedding ceremony and the wedding reception that will follow.
Also, remember that it is considered a wedding etiquette faux pas to force wedding guests to dress up in a certain color or clothing type just so that they will match with your wedding color motif. What you should do instead is make sure to politely suggest the dress code.
For example, if you are holding the wedding ceremony on the beach to match your nautical wedding template themes, then you can include phrases like 'dress comfortably', 'fashionably formal', or 'beach formal' on the invitation card.
Now that you have that specific piece of information or design element to include in a nautical wedding invitation card, you can now create or customize your own wedding invitation card template. Check out this related article for more information on the proper etiquette when writing a wedding invitation.
Mint and Navy Starfish Nautical Wedding Invitation Card
Modern Nautical Blue Printable Wedding Invitation Template
Nautical Maritime Wedding Stationery Set
Nautical Save the Date Postcard Invitation Template
Nautical Vibes Wedding Invitation Suite
Nautical Wedding Boarding Pass Ticket Invitation Template
Guidelines for Choosing and Creating a Nautical Wedding Invitation
Creating a nautical-themed wedding invitation card is just like creating a greeting card. It is relatively easy as long as you have prepared all the things that you will need before sitting down to actually create the thing. Check out this linked article if you want to learn more about how to create a handmade greeting card.
To guide you through this process, we have listed all the conceivable steps that you need to do if you wish to create your own nautical wedding invitation using a pre-made printable template.
Here are the steps:
1. Choose Between Handmade and Printable Templates
This first step bears repetition because whether you are the couple or the wedding planner, you need to make it clear if you are using a printable wedding template or if you are creating handmade card designs for your wedding invitations.
Once you have firmly decided on this, you are now truly ready to begin the first step in creating a nautical themed wedding invitation.
2. Determine what Type of Graphic Design Elements You Want on the Invitation
As we have mentioned earlier, nautical invitation styles can vary a lot. For instance, a wedding invitation can be called nautical themed if it contains a background picture depicting a seashore asking with nautical patterns indicating the text elements.
An invitation may also be called nautical themed even if it features a simple page of text written fancy fonts on a navy blue background.
It is a brief theme and there are a lot of possibilities for your wedding invitation design. That is why you should be clear from the get-go on what specific design elements you want in your invitation. More information about these nautical themed design elements will be discussed in the latter part of this article.
3. Factor in Your Wedding Budget
Now that you have decided on what design elements you want to be present in your printable wedding invitation, it is now time to be practical and think of money.
Pre-made wedding templates, just like any aspect of weddings, cost money. But the good thing is that these printable templates may be priced significantly lower than using the services of a professional graphic artist. Hence, their use will save you a lot of money. You may then use this money to pay for the invitation printing costs or for other wedding-related expense.
4. Calculate the Amount of Time You Have for Editing
The next step is to factor in the amount of time you need for editing the pre-made wedding template that you have chosen. Take note that some invitation templates may take a lot of time to edit while others will require little to no edits.
The amount of information you wish to include on your modern wedding invitation will also matter since more wedding details translate to more time required for editing.
Once you have found out the estimated total number of hours or days it may take you to create and edit your invitation templates and you determine that you do not have enough time to do the task yourself, make sure that you assign the task to a reliable person. This way you will not have anything to worry about getting the invitations out on time.
5. Create or Edit the Template Design
Now that you have assessed the different pre-purchase aspects of using an editable wedding invitation template, it is time to purchase the template and then begin editing it. Also, remember that you need to have a compatible graphic design and editing software program installed on your computer before you download the template file.
To illustrate, you will need to have Adobe Photoshop installed on your computer before you can edit a wedding invitation stored as a Photoshop template file.
The template customization process may take from a few hours to days. This will all depend on the degree of personalization you want for your wedding party invitation. To help shorten the entire process, it is best to prepare all the text, images, font styles, and vector illustrations that you may need when editing the template.
For instance, you may already type all the wedding details and save this in a .txt file. You may also save and name all the images and illustrations ahead of time so that you will not have a problem finding them later on.
6. Proofread or End-User the Template
The penultimate step in the wedding invitation card creation process is proofreading. This is an essential step because no one wants to see wrong information printed out on a wedding invitation card and confuse your wedding guests.
Also, make sure that you let another person diligently review your wedding invitation template. Aside from grammatical and typographical errors, the proofreader should also check for formatting and layout issues.
7. Get Ready for Printing!
And once you have completed all the different steps above, it is time to print out your wedding invitation templates! You may use the services of a third party print shop who will take care of the printing for you. Or, if you want a more cost-effective option, you may print out the templates at home using your own printer.
If you opt for the latter option, make sure to run test prints to make sure that your printer settings are adjusted to match your preferences. You may also choose from different modes of printing (embossed, letter type, laser, etc) and different paper textures or types.
And yes, you now have ticked one task on your list of wedding tasks. Rejoice because you are one step closer to your wedding day now that you have your newly printed nautical wedding invitation cards.
Navy Pocket Wedding Invitation Template Set
Octopus Nautical Wedding Invitation Suite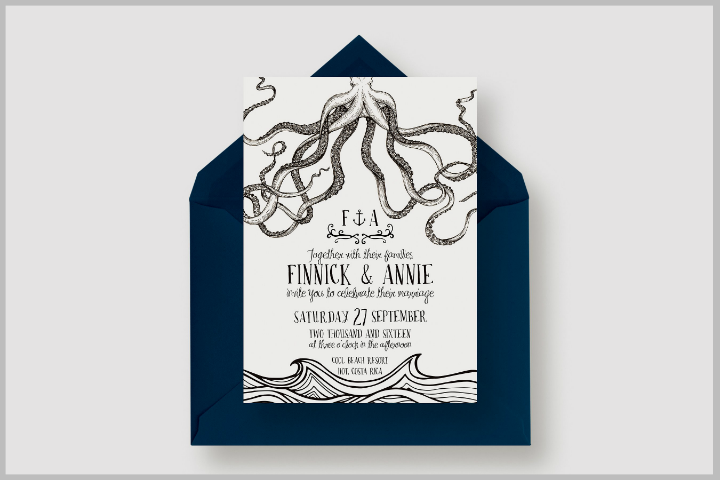 Rustic Nautical Anchor Wedding Invitation Card Template
Sailor Pattern Nautical Wedding Collection
Striped Nautical Anchor Wedding Suite Templates
Specific Design Elements that Can be Used in a Nautical Wedding Invitation
As we have mentioned earlier, there are a lot of design elements that can transform a wedding invitation card template into something that fits a nautical wedding design theme. To help you decide on what specific design elements to use, we have prepared a list of these design elements below. Check them out and feel free to use them for your own wedding invitation template designs.
Sea creatures
Sailor or navy patterns and colors
Appropriate typography fonts
Monochrome banner designs
Official couple monogram
Anchor designs vector patterns
Flaglets and banners
Mini life vests and life preservers
Sea or beach-themed cake toppers
Water patterns and other related design elements
Typography Nautical Wedding Invitation Template
Watermark Nautical Wedding Suite Template
Waves and Anchor Save the Date Card Wedding Template
Choose a Nautical Wedding Invitation Template Design Now
When planning for your wedding, always remember that the wedding invitation card design you choose does not really matter. A wedding just occurs in a day, what lasts and what couples should pay more attention to is the marriage that results from that event.
Nevertheless, if the task of creating the best nautical-themed wedding invitation card gives you joy and fulfillment, then go for it and choose the best invitation template you could find. Just don't lose touch with what is truly important, okay?
Best wishes! And do not forget to tell your single friends about this article so that they can start planning for their own nautical-themed wedding too! You may also like examples of wedding invitations.