Invitation Templates
20+ Romantic Wedding Invitation Designs & Templates – PSD, AI
Weddings and romance almost always go hand in hand. So if you are looking for a wedding invitation card design that beautifully exemplifies the romantic notions in a couple's union, you are on the right web page.
In this article, we provide multiple examples of downloadable and customizable romantic wedding invitation templates that any couple can use for their own wedding. Check them out below!
Romantic Wedding Invitation Template
Camo Wedding Invitation Template
Fairytale Wedding Invitation Template
Floral Wedding Templates (Includes 20 Designs)
Floral Wedding Invitation Card Template
Floral Wedding Invitation Template
Gold Floral Wedding Invitation Template
Summer Floral Wedding Invitation Template
Blue and Gold Romantic Wedding Invitation Template
Elegant Romantic Wedding Invitation Ticket Template
Why Use Romantic Wedding Invitation Card Templates
Prior to the use of printed wedding invitations, it was customary to have a town crier announce an upcoming wedding ceremony. It was a common practice at that time perhaps because printing and the use of paper have not yet been developed. But as technology advanced, the use of paper and printing has made it easier to communicate wedding announcements among other things.
In the digital age, the creation of wedding invitations had even taken a great leap in the form of digital templates. These are pre-made digital files that contain all the graphic design and formatting layouts needed to create a document.
In this article, we focus on the creation of wedding invitation cards by using pre-made wedding invitation templates. Furthermore, we have listed the top advantages of using these printable wedding invitation card templates below. Read on to find out how using convenient it is to use these romantic wedding invitation templates.
1. Cost-effective.
Majority of weddings are held under a strict budget. And if you are following a budget, using a wedding printable templates can be a cost-saving strategy since you do not have to pay for a professional graphic designer to create your wedding stationery. For about $20 or less, you can already have a complete wedding template set to create your wedding invitations to your wedding place cards.
2. Time savings.
Using pre-formatted wedding invitation templates ultimately lets you save precious time in designing a wedding template. As mentioned earlier, these digital files will already follow a pre-made layout and will include text boxes and image layers. All you have to do is input your wedding details before you can print them out. You do not have to go through all the hassle of creating the template from scratch. This is especially helpful for those who are planning their own wedding and would want to focus on other areas of the wedding preparation process.
Gold Floral Romantic Wedding Invitation Template
Hand-Lettered Romantic Wedding Invitation Template
3. Easy to edit and print.
As mentioned earlier, most pre-made wedding invitation templates are fully customizable. They are also available in ready to print formats. So if you are pressed for time or just want to follow the stress-free route when creating your wedding invitation cards, using pre-made romantic wedding invitation templates is the way to go.
4. Compatibility with most editing software tools.
Another advantage of using printable wedding invitation templates is that they are created and stored using industry standard software programs. To illustrate, most templates will be available as PSD, EPS, INDD, JPEG, DOC, or PDF files. These documents are created using the most common graphic design and desktop publishing software programs that many people are already familiar with.
And if you do not know how to use these software tools, looking for free Photoshop or Illustrator tutorials is just a quick Google search away.
5. Improves graphic design skills.
Using pre-made wedding invitation templates will also allow you (the end-user) to gradually improve your graphic designs skills. This especially applies to those who are going to edit their own wedding invitation templates. This is a good trade-off since you graphic design is a good skill to learn and it is something that you can do as a side hustle in the future.
Hopefully, the different advantages of using pre-made wedding invitation card templates listed above have convinced you of the practicality of using these pre-made templates. And if you choose to follow this invitation card-making route, do not forget to have fun along the way.
Nautical Wedding Invitation Card Template
Simple Romantic Beach Wedding Invitation
Romantic Floral Save The Date Invitation Template
What To Look For In A Romantic Wedding Invitation Template
Choosing an invitation card design is one of the first steps that a couple must do when planning a wedding. Special attention must be given to this task since the wedding invitation is sent to guests before the wedding takes place. So if you want to create the best impression of our upcoming wedding to your guests, you should make sure that you choose an appropriate wedding invitation design.
To help with that task, we have compiled the top seven characteristics of a wedding invitation card design that any couple or wedding planner should keep in mind. Check them out below!
1. Relevancy To Your Wedding Theme
The first thing that couples and wedding organizers should keep in mind when looking for a wedding invitation template is that the template design should match their own wedding theme well. To illustrate, if you are going for a romantic wedding theme, all your wedding stationery design and even all your wedding reception venue decorations should also show off a romantic design theme.
Also, you should keep in mind that there are several ways to create a romantic wedding look. And most importantly, you should already have an idea what specific kind of romantic look are you going for. You may also see wedding invitation samples.
For example, using lush red flowers and fine pieces of furniture at your wedding reception may create a romantic look. Or, fairy lights, violin background music, and white blooms can also help you achieve the same effect. You may also see sample wedding invitation wordings.
So if you want to use a romantic beach wedding invitation template design for your romance-themed wedding, always remember to pick a template design that already uses (more or less) the same design weekend that you are using or following add your wedding theme or motif.
2. Customization Options
Another aspect to look into when looking for a wedding invitation template design is the template's customizability. This is an important factor to consider since most pre-made wedding templates still need to be edited so that the end-users can input their own wedding details.
By choosing a highly customizable wedding template, you can freely make all the necessary changes you want to do in a pre-made wedding template. You can even add more graphic design elements like a wedding monogram or wedding logo design of you want to.
When looking at a template's customization options, you should also factor in your own editing skills. If you already how to use graphic design software tools like Adobe Illustrator and Adobe Photoshop, it will be more convenient for you to select an invitation card template that is customizable in Photoshop. However, if you are not familiar with these graphic design software tools, you can choose any wedding invitation template that will be customized by its original creator.
3. Ready To Print Option
If you are like most couples who are planning their weddings, you would surely want to choose a wedding invitation template that is convenient and easy to print out. This is a crucial factor to consider when picking out any kind of wedding stationery design since most weddings are held under a strict timeline.
So when you are looking for a wedding invitation template, make sure to consider how the template is formatted for printing. You may look for printing sizes and formats like A4, letter size, landscape, portrait, or even fillable card versions. By looking into this feature ahead of time, you are saving time in editing and in returning to the print shop in case something goes wrong with the printouts. You may also see western wedding invitation templates.
Also, remember that the description "ready to print" does not always mean the template is ready to print right away. After all, minor customizations on the template are still needed like adding your own wedding details. So when picking out a wedding invitation template, choose one that will give you the least difficulty when printing time comes. You may also see country wedding invitations.
4. Multiple File Download Types
Another factor to consider when selecting a wedding invitation template is the kind of file type the template is available for download. Most pre-made templates are available as Illustrator, InDesign, or as Photoshop templates. Choose an invitation template that is available in your preferred file format type.
To illustrate, it is best to choose a PSD template of you already have Adobe Photoshop installed on your computer. This makes it easier to open and edit the template for later on. Using an incompatible file type may lead to formatting issues on the template later on. You may also see photo wedding invitations.
5. Romantic Design Elements
If you are following a romantic wedding theme, it only makes sense to pick an invitation template that includes design elements that evoke romantic bliss. Romantic design elements that you should look for are floral patterns, gold and silver ornaments, not too gaudy color schemes, and even subtle reminders of the couple's budding romance.
As a wedding planner, also remember that different people have different notions of what can be considered as romantic. So make sure to consult your client what they like or what they think of as romantic so that you can accurately depict this vision during the wedding.
6. Original Design.
All couples want their wedding to be special. That is why when choosing a printable wedding invitation template, you should pick a template design that is the most original out of the different template choices you have. Choose a template design that will best showcase your wedding theme and your individual personalities.
We all know that pre-made wedding templates can be used by a lot of people who will purchase the same template. Therefore, in some ways, a pre-made invitation template will never be truly original. What you can do instead is make sure that the template has enough unique design elements that you can enhance and tinker with to transform the invitation into something distinguishable.
7. Affordable Price.
Printable wedding templates generally cost only a few dollars. This makes them a more cost-efficient alternative to creating handmade wedding invitation cards. So if you are having a DIY wedding or just following a strict budget plan for your wedding printables, you should look for wedding invitation card templates that are priced reasonably lower.
There are different online marketplaces where you can purchase wedding templates. And usually, printable invitation templates are marketed as part of a wedding template suites or packs. These wedding template sets will include almost every wedding stationery that couples will need for their wedding. Examples of wedding templates included are invitation templates, save the date card templates, RSVP card templates, table card templates, and even wedding menu card templates.
Choose wedding template sets if you want to save money for your wedding stationeries. This also allows you to make sure that all your wedding stationeries follow the same romantic wedding theme (or whatever theme you are following for your wedding) design.
So there you have it, the top seven things that you should watch out for when selecting a wedding invitation template. Read through this list carefully so that you can effectively choose the right invitation card template to use for your own wedding. Note that these tips or guidelines may not apply to every wedding scenario. Be flexible enough and feel free to remove or add other factors that will help you make a better decision when it comes to choosing a romantic traditional wedding invitation card template.
Romantic Wedding Invitation Template Pack
Watercolor Romantic Wedding Invitation
Vintage Romantic Wedding Invitation Template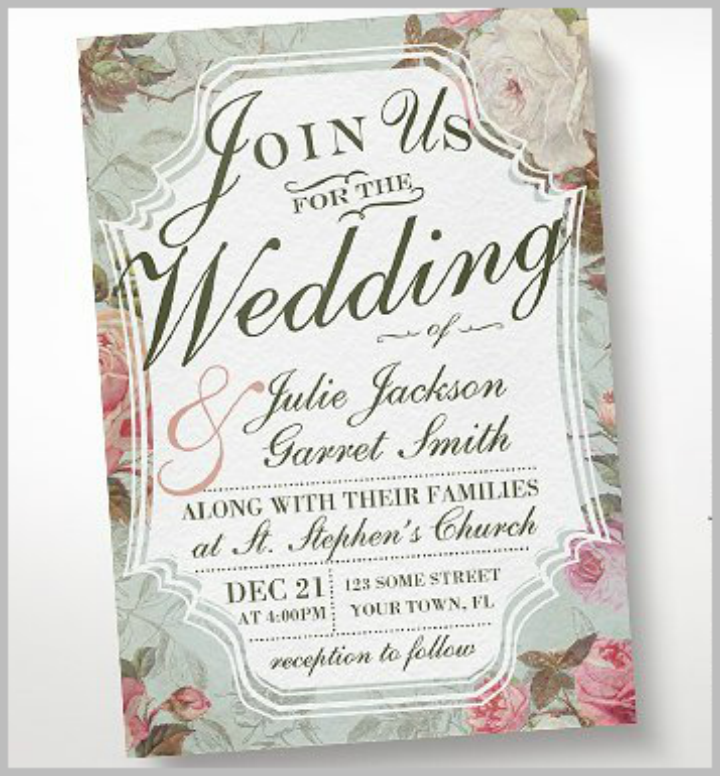 Spring Floral Romantic Wedding Template
The Best Romantic Wedding Invitation Template
The most romantic wedding invitation template design will vary with each person or couple. The different examples of romantic wedding invitation cards we have included in this article are only the tip of the iceberg. Feel free to search our website for more exciting wedding templates that you can choose from.
If you found this article useful, do not forget to bookmark this article and share it with your friends and colleagues through social media. Also, Best Wishes for your upcoming nuptials!
More in Invitation Templates