Academic responsibilities are often seen as important and mundane. The very fact that it can lead to opportunities with greater heights and open doors for you, is a testament to how much value it has. You work hard both day and night to pass subjects, finish projects, and meet deadlines, at the most extent, deprive yourself of sleep just to be able to comply of what is asked of you. You may also see you may also see Invitation Templates.
Success academically does not come overnight and it does not just come in a silver platter. You have to work for it—you had to and did. You may also see college graduation invitation templates.
College Graduation Invitation Template
Graduation Celebration Invitation
High School Graduation Invitation Template
Graduation Invitation Template
Graduation Party Invitation Template
Finishing your academic responsibility is one great feat. Four or more years of enduring nights turned to days and just basically staying alive amidst the hecticness of it all is not just an achievement in itself, but something to be truly proud of. You may also see graduation invitation samples.
That is why, when given the news that you will be graduating (and will either be moving on to another academic pursuit or start life as a full-fledged adult) the most common natural reaction is relay the very same message to your parents, then to your relatives, then to your friends, and so on. Success is indeed best when it is shared, as Howard Schultz firmly said, it is truly best when you have the people dear to you to celebrate your success with you. You may also see printable graduation invitations.
Graduation Party Invitation Example
Graduation Invitation Black
Elegant Graduation Party Invitation
The Importance of Finishing your Academic Responsibilities
People are commonly drawn to the idea of finishing school or graduating for the mere fact of finishing and moving onto another phase of their lives. But most people fail to realize the value there is in graduating. However, there are also times that people are left with no other choice because of how hard, in general, life is. Academic fees nowadays are no joke: the tuition fee itself is at a considerable amount and it does not include the books, the resources needed to help the person's study (i.e. books, laptops, and materials for projects). You may also see sample graduation invitation templates.
There is just so much that goes into studying that other times people get discouraged because of how spend-centered it is. But, sometimes it is not reason enough to just really halt one's studies because there are others who come from nothing and was able to find a way to actually finish their education. Maybe people just need a little push, a little encouragement of sorts to get them to their goal of finishing their education. You may also see graduation party invitations.
1. It Gives You and the People Around you Pride
Going to school is no easy task, but other than the given fact that it is a fun place to be is also the fact that it is a responsibility. You are asked to deliver day in and day out of all the necessary requirements, otherwise, there will be certain repercussions from failing to do so. You may also see printable graduation invitation templates.
At the end of it all, when success comes your way, you will feel an outpour of pride not only from you but also from the people you are surrounded by. You will be filled with pride knowing that you did everything you could to get to that point. Anything that you have invested time, money, and effort with that is succeeding will really bring and give you pride, and finishing your academic responsibilities is one of those. You may also see graduation photo invitations.
Graduation Party Invitation Sample
Graduation Invitation Flyer Design
Graduation Party Free Invitation
2. It Can Provide you With an Array of Job Offers
Being in a position where a job is needed to survive the struggles of life, sometimes employers impose the need of an educational attainment. However, all hopes should not be lost as there are some employers who are fine with potential employees not having a higher educational attainment than high school.
But, the downside is you are being restricted with only a few options and will be forced to do a job that you are will not be happy to do, that you are not passionate about, and lastly, offers a salary below the average pay. Unlike when you are able to graduate, there is just an array of jobs you can choose from. Jobs that go well with the line of work you choose to do and jobs that offer a good and sometimes better than most pay. You may also see graduation invitation designs.
3. Graduating Provides you With Jobs That Offer Great Pay
In line with the idea that graduating offers you an array of job options to choose from is also the fact that with it entails great salary offers. With either an educational attainment or degree to back you, it simply makes you a candidate for a salary raise, and that does not yet include your credentials. After finishing your education, there is just an abundance of possibilities and opportunities for you. You may also see graduation invitation postcards.
4. It Makes you a Fit Candidate for Promotions
Businesses are composed of a ladder of positions. You start at the bottom, slowly making your way to the top. When you are able to successfully finish your academic responsibilities, it simply makes you a fit candidate for higher positions. You have the possibility of landing a managerial position or even at the most extent be an executive of some sort. You may also see free graduation invitation templates.
Given the fact that you are able to finish your education, nothing is greatly impossible; as they say, the power is in your hands. With an education backing you up, there are just so many opportunities for you to choose from. There is a broader horizon that awaits you. You may also see free invitations.
5. Graduating Simply Means Limitless Opportunities For You
When you graduate from your academic responsibilities and move on to another chapter of your life, it simply implies that you are packed with enough knowledge that can help lead you to your goals. A knowledge that can provide you with a better understanding of how the world works, or more specifically, how the industry you wish to be apart of works. There is just an abundance of opportunity waiting for you to delve into, which solely means, you will not be limited to something so little. The opportunities that await you are as broad as the sky and as endless as the sea. You may also see formal invitations.
Senior Graduation Invitation Template
Printable Graduation Invitation
Vintage Graduation Invitation
Inviting Guests Over with an Invitation Card
The best way in order to do this is to celebrate the milestone with the people you love (family and friends). Include them in your success to make it more meaningful and special; the more you are with the people dear to you, the more it becomes a significant affair. And just like any event being organized, whether a birthday party, a bridal or baby shower or even a wedding, guests make everything more fun-filled and memorable. That is why, having them in your event is highly ideal and also these individuals are some close and special to you, which will ultimately help in making the celebration of your milestone one that will be unforgettable.
In order to make your event a true success, you just have to invite guests and there are different ways that you can do so. Ways that greatly differ also because of how advanced technology and social media platform are nowadays. Now, in an instant, you can just simply relay a text or chat by using any social media platform or technology available to you. With the incrementing growth and influence of these modern phenomena, there is also the inevitability to push whatever is traditional to the side, irrelevant and often forgotten.
Due to the accessibility provided for everyone today, there are the tendencies for most people to lean towards the more accessible. They would go for the one that they can easily collectively inform a group with a single chat or text. However, despite being incessantly pushed to the side over and over again, sample invitation cards have remained a go-to in terms of a medium for an invitation. Invitation cards have remained steadfast and firm in its intent to relay the information to a group of people. And more importantly, sample invitation cards have remained to be revered in the industry of events amidst the constant advancements in the surroundings.
Free Graduation Invitation Format
Sample Graduation Invitation Template
Black and white Grad Invitation
What Makes an Invitation Card an Ideal Medium?
There are different reasons that makeup to why an invitation card sample is still as important in the tradition of organizing any event despite being traditional. These reasons altogether justify why it is still completely acceptable and relevant to opt for a traditional medium despite everyone going for a more modern one.
1. Invitation Cards Set the Tone of the Event
With invitation cards being the first feature guests will see and know of your event, it has the capacity to set the tone for its entirety. Whether you go for a simple or grand celebration, your invitation card will be able to relay just that to your guests. With which in the end will give them a slight idea of what to expect from the event. In the case you go for a somewhat celebratory graduation, your invitation card will be able to evoke just that to your guests. You may also see free invitation templates.
2. Invitation Cards Help the Guests Anticipate
Since the main purpose of an invitation card is to inform your guests about the upcoming event that you are organizing, it has the ability to make them anticipate and be hyped and excited for what is to come. The fact that the invitation card is first to inform them of the upcoming event is enough already to excite them. Also considering that invitation cards serve as a prelude to your event, it provides your guests a slight hint about the spectacle to come. You may also see sample invitations.
3. Invitation Cards Inform Your Guests
Being that invitation cards are a medium used to inform guests about the event you are organizing, it is the very basic purpose and intent of the medium. It can contain different pieces of information that help inform your guests about your event. Information such as the name of the celebrant or in this case, the graduate, date of the event; the address of where the event will be held, and also the different contact information to cater to your guest's inquiries (i.e. telephone number, cell phone number, and email address).
4. Invitation Cards Can Be Kept For Keepsakes
Invitation cards being a more tangible medium for invitation has an edge that opting to invite digitally does not have. It is indeed one invitation card's asset that it can be kept for keepsakes. Especially when guests (or even you) are faced with moments of solitude, there is something to look back to on the event. A tangible memory that can contain all that is been done during the event. Invitation cards ultimately become a vehicle for nostalgia. You may also see invitation formats.
5. Invitation Cards Can Cohere to the Theme of the Event
An invitation card starts off as a blank piece of special paper—pretty much like a canvas waiting to be painted on—it can most definitely cohere to any kinds of theme for any kinds of events. It can be designed with flowers for those who prefer their invites floral and feminine or it can also be done with stripes to somehow imply power and authority. You may also see invitation card examples.
However, in this case, your invitation card can be designed with the different pieces that encapsulate an academic gown: the academic cap, the academic gown itself, or even the diploma, can be placed as design elements. Most importantly, an invitation card will perfectly go well with the other design elements present in your event.
What Pieces of Information Should Go On An Invitation Card?
An invitation card will only be as effective if it contains the necessary pieces of information in it. Without them, an invitation card is just another piece of paper, specially designed that serves no purpose at all. However, with the different pieces of information in the invitation card, it ultimately does two things: first, it is able to add to the different design elements that are already on the invitation card and second, it is able to serve its purpose, which is to inform the guests about the details with regards to the event you are organizing. You may also see invitation template samples.
1. Your Name (Name of the Graduate)
Since the celebration is intended for you (or perhaps for someone graduating), it is important that you include the name of the person the celebration is for. it is just a common courtesy to inform guests for whom the celebration is for. For this instance, it is of great importance that you give your guests the idea of who is graduation or for whom the celebration is for. This way, not only is it helping guests identify but it is also making it much easier for them to buy for gifts. Most importantly, this piece of information is one seen as basic and mandatory which should be on your invitation card. You may also see graduation invitations.
2. Date of the Event
Having the date of the event on your invitation card will help greatly help you and your guests. And it is actually important to do so in order for guests to be informed in advance when it will take place. Also, by putting it on your invitation card will allow our guests to set their schedules and block the date especially for you to avoid conflict of sample schedules. This will assure them (and of course, you) that their attendance will be expected. Having the date on your invitation will also allow your guests to better prepare as they are given an ample time to do so; they can pamper themselves, buy clothes to wear, and even buy a gift to give you.
3. Location
Although there are navigation apps that your guests can easily resort to, what is the point when you do not inform them about the whereabouts of your event. The location of where your event will be held is as important as the rest as it informs your guest about and guests need to be informed of your event's setting—the exact location, famous landmarks, et cetera. This will also be of great help for guests especially when they do not have even the slightest clue of where the location is, with which they can just turn to their navigation apps to search for. With the information you will provide, they can just easily look it up online for guidance. You may also see graduation party invitation samples.
4. Contact Information
It is quite inevitable for inquiries to emerge from guests, they always have questions however vague or specific it is. The main intent of having a set of different contact information on your invitation is to simply cater to your guests' inquiries. It will simply provide them options to ask about questions such as the kind of dress code you are implementing on your event, the exact address of the location or even the date and time. To do so, you can simply add on your invitation card your telephone number,  your cell phone number, and your email address, all of which should be up to date and should be in active use, so you can effectively cater to your guests. You may also see simple invitation designs.
Graduation Celebration Invitation
Graduation Announcement Invitation Example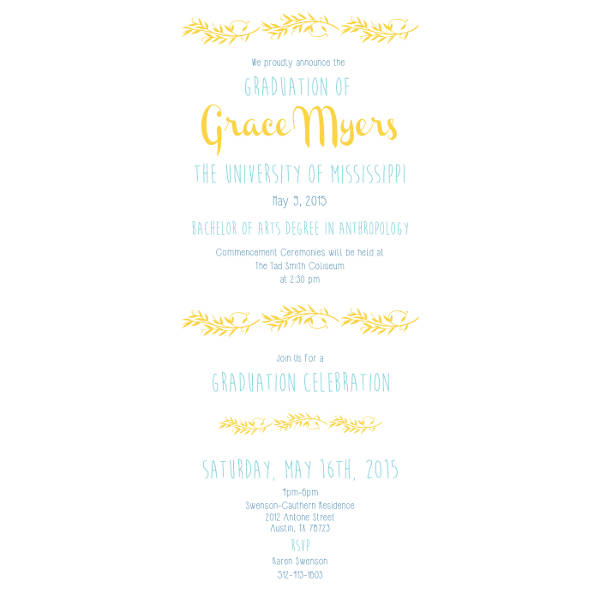 High School Graduation Invitation Template
Pre-made Invitation Card Designs and Templates:
In acquiring your very own invitation card for your event, there are actually tons of ways you can do so. It just mostly depends on what you prefer the most and what your simple budget allows. But, if you are the kind of person that is ardent about staying in the more practical and efficient lane, then the pre-made option is definitely for you. To go for the pre-made option means simply buying designs and templates that are pre-made and readily available online for use.
1. The Pre-made Option is Generally Affordable
The affordability of the pre-made option is one of the reasons why most people gravitate towards this option. Compared to other options that are known to people (e.g. having it custom-made by a professional graphics artist or buying bundles in card kiosks), the pre-made option is much more affordable. Another factor that contributes to its affordability is how each graphics artist that make these designs and templates make them on their preference, how they do not have to follow any demands, requirements, or even deadlines. What they have is an ample opportunity to do whatever they want, whenever they want. You may also see Microsoft invitation templates.
But in this case, you do not necessarily have to worry about the affordability of these premade designs and templates as they come in for free. No payments needed, as all you have to do is simply download the one the best resonated to you. You may also see chalkboard invitations.
2. Pre-made Designs and Templates Are Very Workable
Because it is pre-made by the graphics artists, it only means it is very easy to work with. You simply do not need to have the most extensive knowledge about the different design software that will be used in creating designs for any graphics medium for a basic understanding can already help and provide you with an invitation card. What it truly needs are creativity and the willingness to create your very own invitation card. You may also see sample chalkboard invitations.
Imagination can take you to places, they said, so allow your imagination to run wild when you are designing your own invitation card. And more importantly, because it is pre-made which means designs and templates are already initially laid out by the graphics artists, you simply have the option to finish off what they have laid out for you or just use it as an inspiration to base your own design off of. You may also see invitation cards in PSD.
3. These Pre-made Designs and Templates Are Fully Editable
All these pre-made designs and templates are actually fully editable and customizable to your preference. That is mainly because it is already partially finished, which gives you an opportunity to do whatever you want with the design. You are given the liberty to edit the texts, the fonts, the colors, and even the sizes and a few other elements of the design to how you wish to do it. At times, it comes with smart object layer and vector files that enable you to move around elements in the design that will help you create a more personalized and unique-looking invitation card. You may also see free invitation cards.
4. The Pre-made Option Comes With an Array of Options
With the pre-made option, you are given an array of options to choose from for its designs. There is just a lot of design variations that you get to chose from that will best cater to your preference. There are simple designs and templates for those who want their invitation cards to be clean, minimal, and streamlined. There are also modern designs and templates for those who want their graduation invitation to be fresh, contemporary, and unique from others. There are also designs that come in varying print designs that range from floral, stripes, glitters, polka dots, perfect for those who want their invitation cards unique and playful. With these options at the ready, there is definitely one for every different preference.
If you find this article helpful in any way, do not forget to bookmark this page for future references. And, kindly share this with other individuals graduating and planning a celebration for their milestone and is in need of invitation card for such event.